Motorcyclist who died in crash on Gravois Road 'loved deeply and fought fiercely,' family says
A motorcyclist who was killed in a crash Saturday on Gravois Road in Affton was a Lindbergh High graduate who "loved deeply and fought fiercely," his family said in his obituary.
Justin Beger, 25, who was listed by police as being from St. Charles, was pronounced dead at 12:21 p.m. Saturday, May 1, at Mercy Hospital South, the Missouri State Highway Patrol said.
A 2006 Mercury Grand Marquis driven by a 27-year-old from St. Louis was stopped in traffic eastbound on Gravois around 11:59 p.m. Saturday and started to make a left turn across the westbound lanes of Gravois, according to a police account.
Beger, who was riding a 2003 Kawasaki motorcycle, was headed westbound on Gravois and began to slow and then began to skid. The Kawasaki hit the rear passenger side of the Grand Marquis.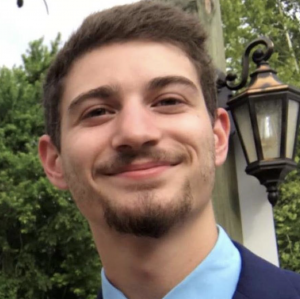 The Affton Fire Protection District took Beger to Mercy South, where he was pronounced dead at 12:21 p.m.
The motorcycle had extensive damage, while the Grand Marquis had minor damage from the crash. The Marquis driver was not injured.
The driver of the car was wearing a seatbelt, and the crash report noted that Beger was also wearing a safety device.
Beger lived in St. Louis County and graduated from Lindbergh High School, according to his obituary at Archway Memorial Chapel in Hazelwood.
"His loss was completely unexpected and the family is shocked and deeply saddened," the family wrote in the obituary. 
Beger was passionate about playing hockey, riding motorcycles and spending time with family and friends. He worked for Inventory Sales Company after high school and more recently began employment with Holt Electrical Supply.
"Justin enjoyed filming bike rallies and events and was currently producing his own YouTube channel, which featured his motorcycle rides.  He also loved working on cars and motorcycles and camping with family," the family wrote in Beger's obituary. "Anyone who knew Justin, knew that he was incredibly kindhearted, always had a smile on his face, and put others ahead of himself.  Justin preferred hugs over handshakes, loved deeply, and fought fiercely.  He had an immense passion for his work and was always a source of positivity. Justin's family and friends will miss him more than words can say."
Memorial contributions may be made to Bikers Against Child Abuse, or BACA, at https://missouri.bacaworld.org/missouri/st-louis-chapter/. Select the Donate to B.A.C.A. button in the center of the page.
Visitation will be held 4-8 p.m. Monday, May 10 at The Sanctuary Church located at 965 Anglum Road, Hazelwood, 63042. Funeral Services will be held at 10 a.m. Tuesday, May 11, at The Sanctuary Church. Services will conclude at the church. Guidelines from the U.S. Centers for Disease Control are to be followed with social distancing and masks required for entry.