Mehlville kicks off COMPASS II sessions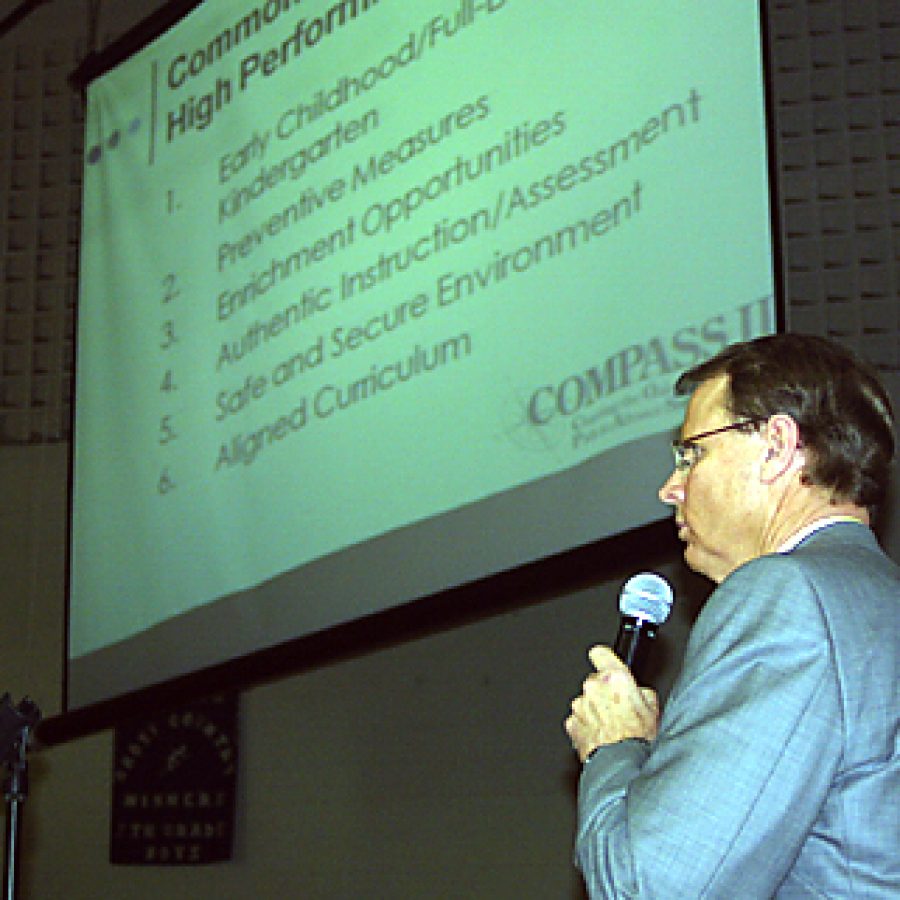 Board of Education President Tom Diehl isn't satisfied that the Mehlville School District consistently performs "near the middle of the pack" when compared to other St. Louis County school districts.
Mehlville can be a top-performing school district, but it needs the community's help, Diehl told roughly 150 people who attended last week's kickoff of the second round of Mehlville's community engagement program COMPASS II — Charting the Oakville-Mehlville Path to Advance Successful Schools.
"… As you know, the Missouri Department of Elementary and Secondary Education recently released the annual re-port card data for Missouri schools," Diehl said. "Compared with other St. Louis County districts, Mehlville is consistently near the middle of the pack when it comes to student performance.
"At the same time, our starting teacher salaries are among the lowest in this area and our district is near the bottom in per-pupil spending — only Bayless School District is lower. Given these facts, we are fortunate to be even near average with respect to student performance," he continued. "My question for you as a board member, a parent and a community member is this: As a school district, are we satisfied with being in the middle of the pack?
"I know I'm not and I know we can be a top-performing school district. And that's what COMPASS II is all about," the board president told those who attended the Jan. 19 event at Bernard Middle School.
During the first chapter of COMPASS, which was conducted in 2007 and 2008, hundreds of participants — residents, parents and district staff — helped craft a long-range plan with guiding principles designed to make Mehlville a top-performing school district.
The Board of Education later voted to adopt the four-phase long-range plan as the district's "shared vision."
The COMPASS Facilitating Team recommended sending two proposals to voters: a transfer of 31 cents per $100 of assessed valuation from the district's debt-service fund to the operating fund and a 37-cent tax-rate increase.
The school board voted to put the transfer proposal on the ballot, and more than 62 percent of voters approved the measure — Proposition T — in November 2008. Prop T is expected to generate roughly $5.6 million a year for the operating fund to stabilize the district's finances.
The 37-cent tax-rate increase would have restored the district's levy to the 2006 amount of $3.64 per $100 of assessed valuation, funded the first phase of COMPASS recommendations and helped fund the remaining three phases. But board members rejected the proposal after a survey found that 59 percent of 400 participants would oppose it.
Noting the many changes that have occurred since the end of the first round of COMPASS, Diehl said, "COMPASS II will update the community on the district's efforts to implement the recommendations made by COMPASS I as well as describe changes and new developments that have occurred since 2008. We will also work together as a community to find the best way to put the COMPASS recommendations into action and make Mehlville a top-performing district."
To be successful, the board president said COMPASS needs the support of all segments of the community — "parents, patrons, residents, district staff and students."
"The strength of this plan that emerges from COMPASS II depends on your input and your participation. I want to stress that COMPASS II is not a board-driven process or an administrative-approved process, but rather a community-driven process," Diehl said, noting two community co-chairs — former Board of Education member Candy Green and former Beasley Elementary School Principal Jim Schibig, who also served as co-chair for COMPASS I — are leading the engagement process.
At the kickoff session, Superintendent Terry Noble discussed the common characteristics of high-performing school districts. He also presented an overview of the original COMPASS recommendations and addressed the current state of the school district.
In addition, Noble provided answers to several questions posed by Facilitating Team members, including whether the funding assumptions for the COMPASS recommendations are still valid.
"… Well, our assessed valuation overall has dropped by 3 percent. In our plan for funding the COMPASS program, we were projecting 2 percent growth annually, and you can see that's no longer the case. So we need to modify that to zero growth, at best," he said.
Furthermore, the COMPASS I plan called for $40 million in capital improvements to be funded by asking voters to extend the district's capital-improvement tax rate for eight years. But that cannot be done now because of the decrease in the district's assessed valuation, Noble said.
Because of the delay in phasing in the COMPASS plan, he noted capital-improvement costs have increased roughly 14 percent and the costs for programs and services have increased roughly 18 percent.
During a Board of Education meeting Jan. 20, Schibig gave a report about the kickoff session of COMPASS II.
"First of all, thank you all for your support. It was neat seeing everybody there involved in the whole process," he said. "I would also like to shout out to all the principals for getting as many people there from the community last night, and staff, it was good to see. I don't have exact numbers, but — ballpark figure — I think it was around 150 people in that area. And to be honest with you I was really pleased with the crowd. I wasn't sure how many we would have, but 150 was a great crowd.
"The one thing I did hear was 'a lot of staff.' Well you know what? I see that as a real positive. Mehlville is such a unique, neat community, that a lot of people who teach and work in the Mehlville School District are also parents in the school district and, doggone it, they should have a voice too. And it was neat to see all of them there. We appreciate their support," Schibig added.
Regarding the turnout on Jan. 19, Director of Communications Emily McFarland told the Call, "It was about a third parents, and then two-thirds staff, many of who were parents."
Noble told the Call he was pleased to see a lot of new faces at the Jan. 19 kickoff.
"I thought the thing that was positive about the first session was we had a lot of new faces there. And even though there were a lot of staff members there, too, many of the staff members that were there were also parents, taxpayers in the district," he said. "So they weren't just there because of their status as a staff member. I thought that was encouraging. I've received several comments saying that people thought the session went well.
"I was more a participant in this than an observer, so others might have a different opinion. We seemed to have at least made the point with the participants that we have a good plan and we need to find a way to bring it to fruition. I also think that some of the comparative data was a surprise to people — not to all, but to some of them."
Ultimately, Noble said he hopes the community learns more about the COMPASS recommendations.
"What I really hope comes out of COMPASS II is that more people are informed about what's in the plan. And to me if we accomplish that, it's a success," he said. "If we can get our community as a whole informed about what's in the plan, that will be a great accomplishment. And following that … the more people that are informed and involved, the more likely the plan will be supported. We're taking it a step at a time."
Staff Reporter Evan Young also contributed to this article.