Mehlville High students team up with preschoolers for Special Olympics events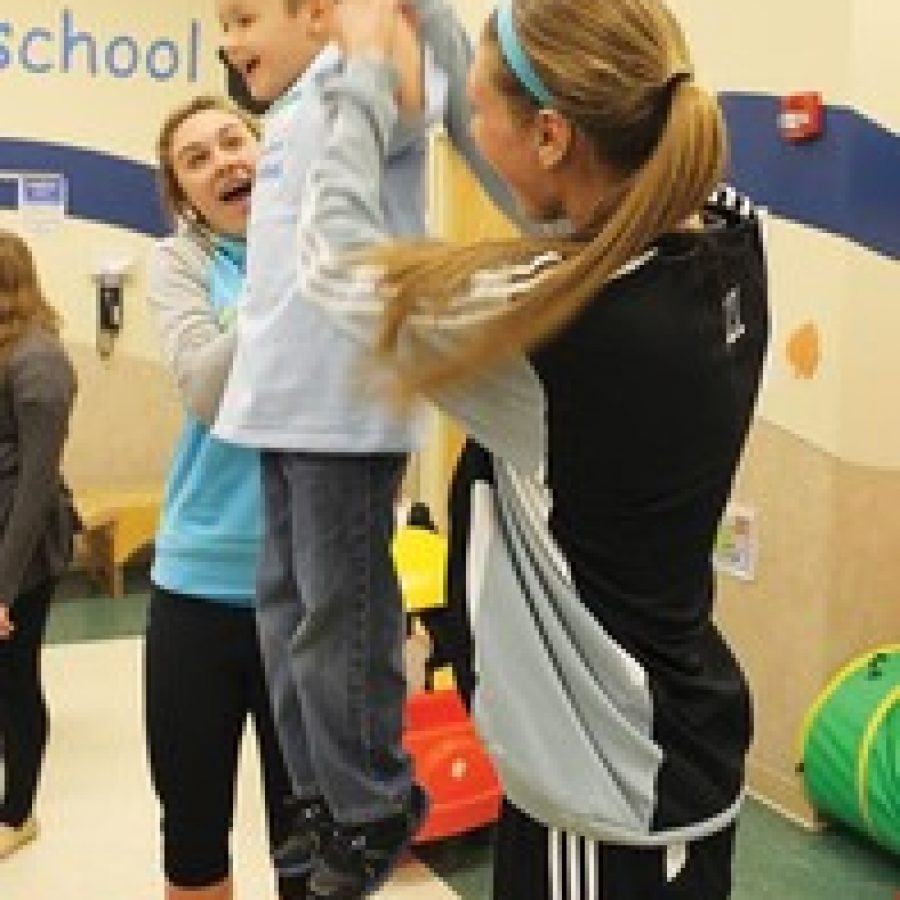 The chant can be heard on Wednesdays this spring in the halls of Mehlville School District's John Cary Early Childhood Center.
"Young athletes, young athletes, we are strong. Running and jumping all day long."
Surprisingly, it is uttered by distinctly teen-age voices, according to a district news release. They belong to students from Mehlville High School who were chosen to serve as members of the MHS Special Olympics student steering committee. For six consecutive Wednesdays, those students are pairing up with children who attend JCECC to put on a mini-Special Olympics event.
Aimee Loyet is Special Olympics Missouri Program Outreach Manager.
"We promote inclusion so we want typically-developing peers to play alongside our athletes," Loyet stated in the release. "The Young Athletes program is for children ages 3 (to) 7 who do have, and don't have, intellectual disabilities. It is designed to get them involved in sports and introduce them to the fundamentals before they're eligible for competition in Special Olympics at age 8."
Loyet said the Young Athletes program is relatively new to Special Olympics.
Involvement in such programs is not new for MHS junior Karli Suter. On the first Wednesday, March 12, it was Suter's turn to serve as leader and spokeswoman of the Special Olympics student steering committee.
"We usually do the May Special Olympics track event," Suter stated in the release, "but this year we're coming to John Cary ECC and doing it for the younger athletes. We're just making sure they have fun, get involved in physical activity, and learn what it's like to be a part of a team."
Suter said student steering committee members have been preparing for the JCECC Special Olympics event for weeks, organizing activities for the younger children. They do the prep work during TAP, which stands for Teacher Advisory Period. School officials describe TAP as a structured study hall.
"The younger kids are each set up with a high school buddy to make sure they have a good experience," Suter stated. "We set up an obstacle course. They're going to play with a parachute. They're doing bowling. We're going to play Red Light/Green Light and Duck-Duck-Goose."
Loyet said the Young Athletes program at JCECC is a great partnership with the Special School District Special Olympics track and field event planned at Mehlville High School later in the spring.
"I work with a lot of different high schools across the St. Louis area and I am beyond thrilled about how great the Mehlville students are doing," Loyet stated. "They are showing great leadership and communication skills and they've been a pleasure to work with thus far."