Mehlville fire board candidates square off at forum
Kolb looks to unseat Hilmer in election for MFPD board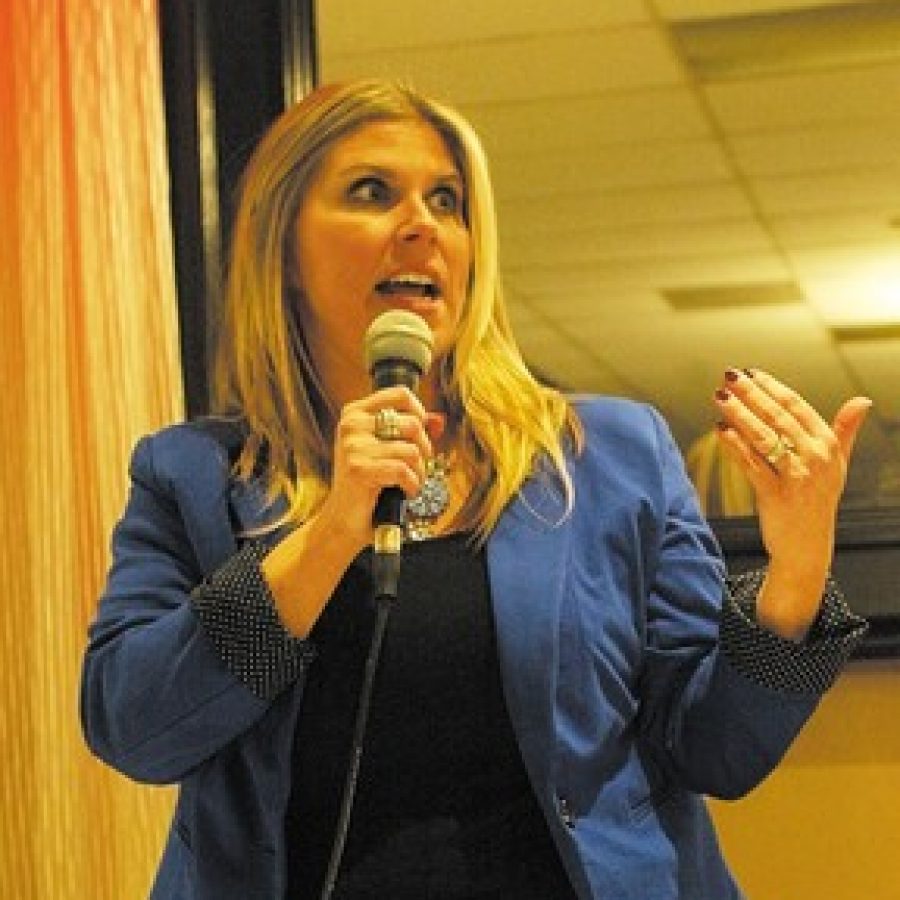 The Mehlville Fire Protection District can either stay as it is or change, Board of Directors Chairman Aaron Hilmer and his challenger in the Tuesday, April 4, election, Jane Kolb, contended at a forum last week.
Hilmer told the roughly 100 voters who packed Andre's South for the March 22 forum, co-sponsored by the League of Women Voters and the Call, that they should re-elect him for a third six-year term because the MFPD is "better than it's ever been," with improved services even as he made history with a voter-approved tax-rate decrease.
Kolb said she would cater more to the needs of firefighters who are "running out the door" to work for districts that treat them better.
"I'm going to tell you right now my biggest regret, and that is that in 2005 that I did not trademark the phrase 'drain the swamp.' Because there was no bigger bureaucratic swamp that existed to serve itself first and the residents second than Mehlville Fire," Hilmer said. "The services were subpar, the infrastructure was crumbling …
"And then they lied to you: They told you they needed a 33-cent tax increase and that it was a difference between life or death. When (board Treasurer) Bonnie (Stegman) and I ran for the board, we told you that we would increase your services and decrease your taxes, and boy did we deliver the goods — four new firehouses, eight new fire trucks, 11 ambulances. We tripled the amount of paramedics."
But changes are needed at the district, starting at the top, Kolb said: "You can choose if the status quo is good enough, or you can vote for me and I'll work to bring life back to this district."
Kolb, who is backed by the firefighters' union and whose husband, Tim, is a Monarch firefighter, has made turnover her central campaign issue, claiming that 50 percent of employees are leaving and that the district wastes millions of dollars in turnover costs.
"I decided to run after hearing firsthand from the brave men and women of the MFPD, and I'm shocked to hear what they've been putting up with," Kolb said. "I was even more stunned about the number of people who are running out the door."
But in the last five years, the MFPD has averaged 2.6 employees leaving for other districts out of 130 employees, Hilmer said.
"Let me repeat that rounding error for you — 2 percent," he said. "For someone to make an issue out of that, much less make it a centerpiece of their campaign, shows you how uninformed they are of district matters and ill-equipped to manage your 911 service and a $21 million-a-year budget."
He added, "I hear people say, 'Well, before Hilmer came to Mehlville, no one would leave.' Well, before Hilmer came to Mehlville, only 13 percent of the people there were even qualified to apply at other fire departments. There's a reason they weren't leaving — they couldn't."
Hilmer oversaw the first voter-approved property-tax decrease in Missouri — Proposition 1 and Proposition 2 totaling 40 cents per $100 of assessed value in 2009 — that has saved taxpayers $109 million.
"The firefighters' union sued to stop it. They said it's against the law to decrease your taxes, so I went down to Jeff City and we changed that law," Hilmer said. "And for the last 11 years, you have had the lowest property taxes in St. Louis County."
At the same time, "you're looking at a destination district," with 147 applicants for three jobs, he said.
"Look at our firehouses, look at the level of care we provide," Hilmer said, noting MFPD is now the only district in the county with a critical-care paramedic program. "We have a totally upgraded infrastructure that was done with no debt, and all I asked you for was a tax decrease. You want an example of a destination district, you have it here in south county."
But "shiny firehouses" do not make a destination district, Kolb said.
"They're not going to come into a building to save you, they're not going to stick an IV in Grandma, they're not going to revive your child — the people living in the firehouses do that for you," she said. "I don't feel that 147 people want to work at Mehlville. I think they are looking for jobs. So they'll come here, they'll get trained, and they will move on."
While Hilmer said electing Kolb would mark a return to when the union ran the district, Kolb said she has "no plan to raise the tax rate, at all." She was neutral on Hilmer's reforms, and said, "I'm not saying that MFPD did or did not need to have its purse strings tightened, but my opponent has severed the relationship between our first responders and the board in the process. He's effectively driven experienced firefighters to other districts."
Money is not necessarily the issue, she said.
"As much talking as I've done with our first responders, that's not been the complaint," Kolb said. "They're talking about working conditions. So I'm not going to stand up here and say they're underpaid … Are they underpaid in other ways? I believe they are."
Hilmer countered that 41 employees made $90,000 or more last year, and the "vast majority" make between $120,000 and $150,000 in salary and benefits.
LWV moderator Louise Wilkerson asked a question from the audience: Have they talked to current MFPD firefighters?
"The employees that I talk to, they absolutely love working there," Hilmer said, with only a "small minority of bitter and disgruntled" ex-employees complaining. "I'm running to stand up for the silent majority who work at Mehlville who … work hard for you every day."
"I have not talked to current employees about their level of happiness," Kolb said. "It is much easier to find ex-employees who are unhappy, so I've talked to them about it."
Hilmer said he has spent much of his time "beating back one union shill after another," who feel disparaged when he publishes their salaries and benefits.
"What's ironic is that this is the same firefighters' union who paid to
after they smashed it out of my car … who told St. Anthony's that
or we're not going to (take) patients to the ER … whose vice president
and burned him in his pickup truck. I don't have to disparage this group of people, they take care of it themselves."
Kolb questioned MFPD's transparency, accusing Hilmer of not taking public comments and "stifling" taxpayers' voices, saying, "Manipulating our First Amendment right to avoid hearing the truth about MFPD is not exactly getting the public involved."
But Hilmer said he has had public comments on the agenda at all 250 meetings that he's run.
"If someone feels that stifled in their voice, perhaps they should attend more than one Board of Directors meeting before they run for the fire board, making these kind of claims," he said. "Anyone is welcome — anyone."