Mehlville candidates are sworn in; Huddleston steps down from board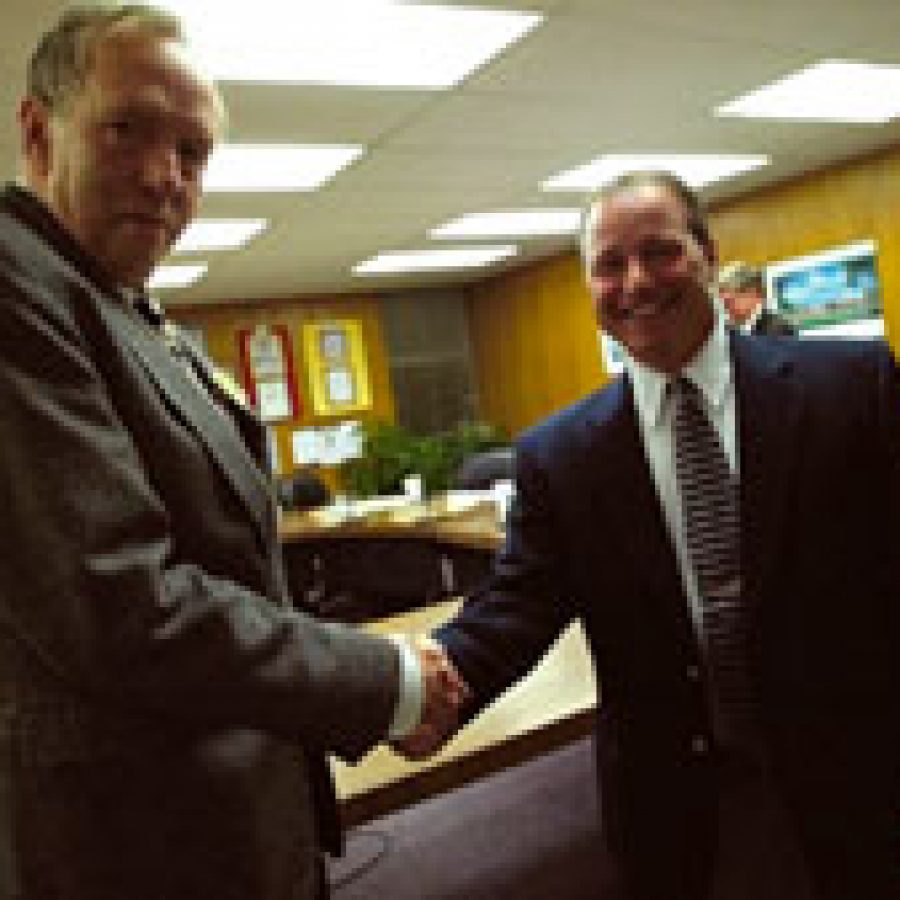 Tom Correnti will be the only visible sign of change between the previous Mehlville Board of Education and the newly reorganized Board of Education.
Rich Huddleston said his goodbyes last week as he participated in his final board meeting, ending his six years of service as a board member — making room for Correnti to be sworn in and take Huddleston's seat on the board.
Rita Diekemper, the highest vote-getter in the recent school board election, also took her oath of office during the April 13 meeting, committing to a second three-year term on the board.
Though board members elected new officers last week, the gavel won't leave Cindy Christopher's hand until April 2005 as she unanimously was elected to a second one-year term as board president.
Vice President Matt Chellis and Secretary Marea Kluth-Hoppe also unanimously were re-elected by board members to remain in office for one more year.
"I'm flattered and I appreciate that they have the trust in us," Christopher told the Call. "I take it as a recognition that they appreciate what we've done, I don't know if that's true."
Board member Mike Heins nominated Christopher to serve as board president for a second, one-year term.
"I think we had such a wonderful board last year," he said. "I think we built on previous boards. And considering our voting record. I think rarely we did not have a 7-0 vote. And I think past President Cindy Christopher was a true consensus builder. And I don't think we can do any better than to re-elect her as president."
The re-election of all board officers is unprecedented in recent Mehlville history.
Ending his six years on the board, Huddleston, who did not seek re-election this year, thanked voters, board members and administrators.
"In the last two weeks I've been asked for a defining moment …" he said. "I was fortunate to be a part of the board of 2000, which helped pass Prop P. That was one defining moment obviously in my service … Prop P has done many good things for the district. I know we've had some recent setbacks and some recent issues. But I still think it was a major watershed event — at least in my time on the board. And some point in time a future board is going to have a nice job in determining in what to do with the excess funds. Whether they roll the tax levy back or whether they develop or purchase something, that is for another board to decide."
He also noted last year's superintendent search and redistricting process, the start of a voluntary student transfer committee and a nearly perfect Missouri School Improvement Program score all were defining moments in his tenure on the board.
"Now these are defining moments, but these are not the ones I want to be remembered as," Huddleston said. "… I think I can correctly say, I can brag a little bit, that in my six years on the board I don't think I ever missed a meeting or was late … And with that as a background, what I want to tell you is what I want my defining moments to be looked at is when each pupil achieved, I don't care who they are … when each teacher excelled in teaching. And I want to be remembered as a board member who loved the students and the teachers, that gave of his time in the buildings (and) in his heart for them to achieve. Thank you and goodbye."
His fellow board members responded by thanking him.
"You'll be greatly missed," board member Bill Schornheuser said.
Chellis said, "No two board members always vote the same way on every issue. Well, not the same as me anyway. But when I have disagreed with the direction of our administration, you were always there to listen and to understand where I was coming from. We've been lampooned together, cartooned together — I'm almost surprised we haven't been harpooned together. As a proud father … and as an informed an open-minded board member, you have served this district well."
Christopher said, "The district has come a long way under your guidance … You've always been known to make the right decisions."
Diekemper added, "I have to say when I think about you, one of the defining times for me is — I thought during the superintendent's search you were a calm, reasonable leader that was needed at that time. And I thank you for the results of that search."
Huddleston told the Call he had some advice for the current board members, particularly regarding the district's future involvement with the Voluntary Interdistrict Choice Corp.
"I would like them to follow the (VICC) committee's recommendation with a 15 percent reduction and phase that out," Huddleston told the Call. "Another thing the board really is going to have to look at is Proposition P that is going on and monitor closely and stay with that to make sure the cost overruns are no more …"
He noted bidding for work for a new early childhood center and "the sale of the St. Johns property" are two upcoming important matters for the board.
"The St. Johns property — I would like it to be sold," Huddleston told the Call. "I don't believe we really have any purpose for it any more. It would be totally — extremely expensive … I think as long as we can get a satisfactory purchaser in there who would satisfy us and the neighborhood, it would be the best thing for the district."