Mayor asserts Sunset Hills board ignores presumption of his innocence
Aldermen 'assumed my guilt,' mayor says in text messages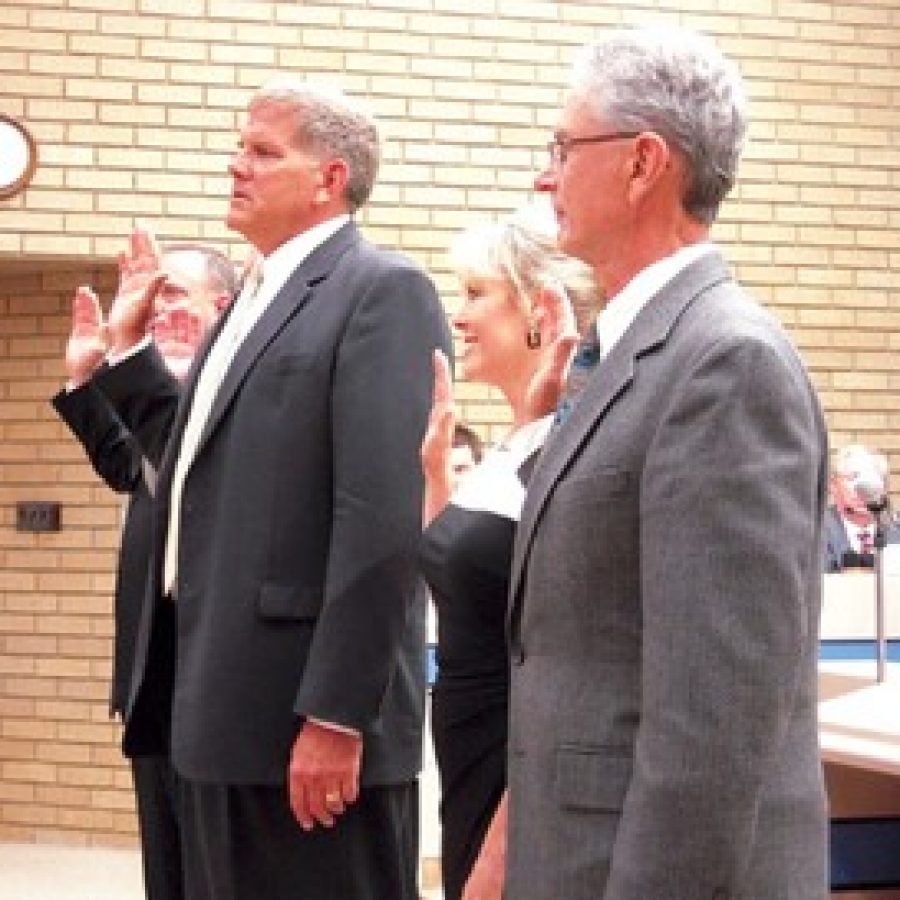 Sunset Hills Mayor Mark Furrer said actions taken last week by the Board of Aldermen ignore the presumption that he is innocent until proven guilty.
At the first Board of Aldermen meeting since Furrer was charged with two felonies three weeks ago, the board voted 6-1 Oct. 14 to approve a vote of no confidence in Furrer and, in a separate vote, to hire an outside attorney to begin impeachment proceedings against him.
"So much for the presumption of innocence," Furrer said in his only comment on the subject during the meeting, directly after the two consecutive votes. Ward 2 Alderman Tom Musich opposed both motions. Ward 3 Alderman Kurt Krueger was absent.
In the days leading up to the meeting, Krueger joined all the other aldermen, except Musich, to write a letter formally asking Furrer to step aside.
Furrer was charged Oct. 1 with felony assault and property damage for allegedly hitting a bicyclist on Old Gravois Road in Sunset Hills July 29, allegations that the mayor has repeatedly denied.
A Change.org petition demanding that aldermen ask Furrer to resign is up to 190 signatures.
In a letter replying to aldermen about their resignation request, in a series of text messages to acting board President Scott Haggerty and in statements to reporters at last week's meeting, Furrer was consistent that he will not resign. He said he plans to finish his term and will be cleared of the charges against him.
Furrer, a write-in candidate, defeated former Mayor Bill Nolan in April for a two-year term.
"It's a personal issue, it has nothing to do with city business, and I'll fight it till the end," Furrer said after the meeting, in his first public comment about the bicyclist incident since the county issued the charges. "It's unrelated to the city. They have no cause to present me with a no-confidence vote."
Haggerty, who would become acting mayor if Furrer resigned or was impeached, made the motion for the vote of no confidence, which was seconded by Ward 1 Alderman Richard Gau.
Ward 1 Alderman Dee Baebler made the motion, seconded by Gau, for a vote to hire outside counsel — separate from City Attorney Robert E. Jones — to seek legal advice on how to impeach Furrer. The city does not have an impeachment process codified in its ordinances.
Although more than 70 people attended the meeting, few got up to speak. Two residents spoke in favor of Furrer and, directly before Baebler made the motion for the impeachment vote, one citizen asked Furrer to resign. Baebler said all the calls she received after the meeting were supportive of the board's action.
Haggerty and Baebler both said during the meeting that aldermen are not trying to interfere in the legal process.
The decision was based less on the charges from the bicyclist incident than on the series of events since Furrer asked Police Chief William LaGrand to work night shifts, Baebler told the Call.
"This has been a very eye-opening experience," she said of the last few months. "We've had to do all kinds of research, starting with: Who does the police chief report to? No, a mayor cannot ask a police chief to step down. No, the mayor cannot dissolve the Police Department. Who does the city attorney report to?
"No, you can't have private meetings outside aldermen's ears or in a closed session when it has to do with a business license. No, a mayor can't go in and say to City Hall employees, 'I'm going to give you off for my birthday because it's my birthday.'"
Later in the week, Musich told the Call that he was not clear on what grounds aldermen were impeaching the mayor since they said it was unrelated to the bicyclist incident, and that he fears for what could happen to the city if aldermen try to go through with impeaching Furrer.
"It can potentially get as ugly as Ellisville," he said. "I had calls from residents yesterday saying, 'Are they going to be using our tax dollars to defend this action?' And I said I have no idea … I'm a physician, not a politician. I just try to go and do what's right for the people."
No decisions have been made on potential outside law firms or legal costs yet.
On the advice of Jones, aldermen will meet in closed session at a future meeting to discuss attorneys to contract with for advice on impeachment.
Although the actual ordinance could be written by Jones, the outside attorney would decide whether Furrer meets state standards for impeachment and which article of impeachment he has violated — a judgment call Jones said he was not comfortable delivering, Baebler said.
In text messages to Haggerty before the meeting, Furrer told Haggerty that he and other aldermen "never said alleged, you assumed my guilt. No support from anyone, no presumption of innocence. I was right on New Balance and street plowing, and you let Nolan babble on at a work session where there should be no comments … I cannot be removed without cause, and an allegation is not cause. They tried this in Ellisville, lost and had to pay legal fees. My attorney (Daniel Bruntrager) won that case, by the way."
In the series of text messages to Haggerty, the mayor quoted comments Haggerty and Baebler made to the Call after the charges, asking Furrer to resign. He texted that Haggerty and Baebler "have chosen to try to convict me in the press. You are no different than the protesters that are calling for the death of the Ferguson officer (Darren Wilson). In this country, an allegation does not equal guilt. Sorry."
At the meeting, Musich read a statement that he believes the city's electoral process should be respected, and that Sunset Hills voters get a chance every two years to vote anyone out of office with whom they do not agree.
"My absent signature is not necessarily an endorsement of the mayor, but rather an overwhelming affirmation of our electoral process," Musich said. "… Beginning right now, I suggest that we all try to work together in a positive and productive manner. We need to respect each other and be true to the oath we swore to uphold."
As an example of the "attitude of negativity generated in these chambers month after month," Musich noted that a verbal and physical assault happened outside City Hall following the September board meeting, between a citizen and an alderman. No charges were brought in that incident.
Instead of focusing on fighting each other, city officials should focus on the real issues in the city, Musich said, including the continuing fallout from the Sunset Manor disaster, the lack of sidewalks and the redevelopment of the area damaged by the 2010 tornado.