Longtime South County legislator kicks off run for Missouri treasurer
A familiar face in South County politics is running for office once again, this time statewide.
Vicki Lorenz Englund, a Democrat who represented South County in the Missouri Legislature on and off for eight years while serving as a member of the Lindbergh Board of Education, announced this fall that she is running for state treasurer in 2020. She is challenging current Treasurer Scott Fitzpatrick, a Republican appointed by Gov. Mike Parson in December.
Englund officially kicked off her St. Louis campaign with a fundraiser Oct. 30 at Bar Napoli in Clayton alongside St. Louis Mayor Lyda Krewson, county Assessor Jake Zimmerman and Rep. Sarah Unsicker, D-Shrewsbury.
"There's just a lot of things we can be doing a better job of, being a better steward of that taxpayers' money, and that's really what it gets down to… We (Democrats) want… to help the most people that we can," Englund said at her fundraising event. "That's sort of why I've looked at the treasurer's office, because I have the experience. I already know what the treasurer's office is about."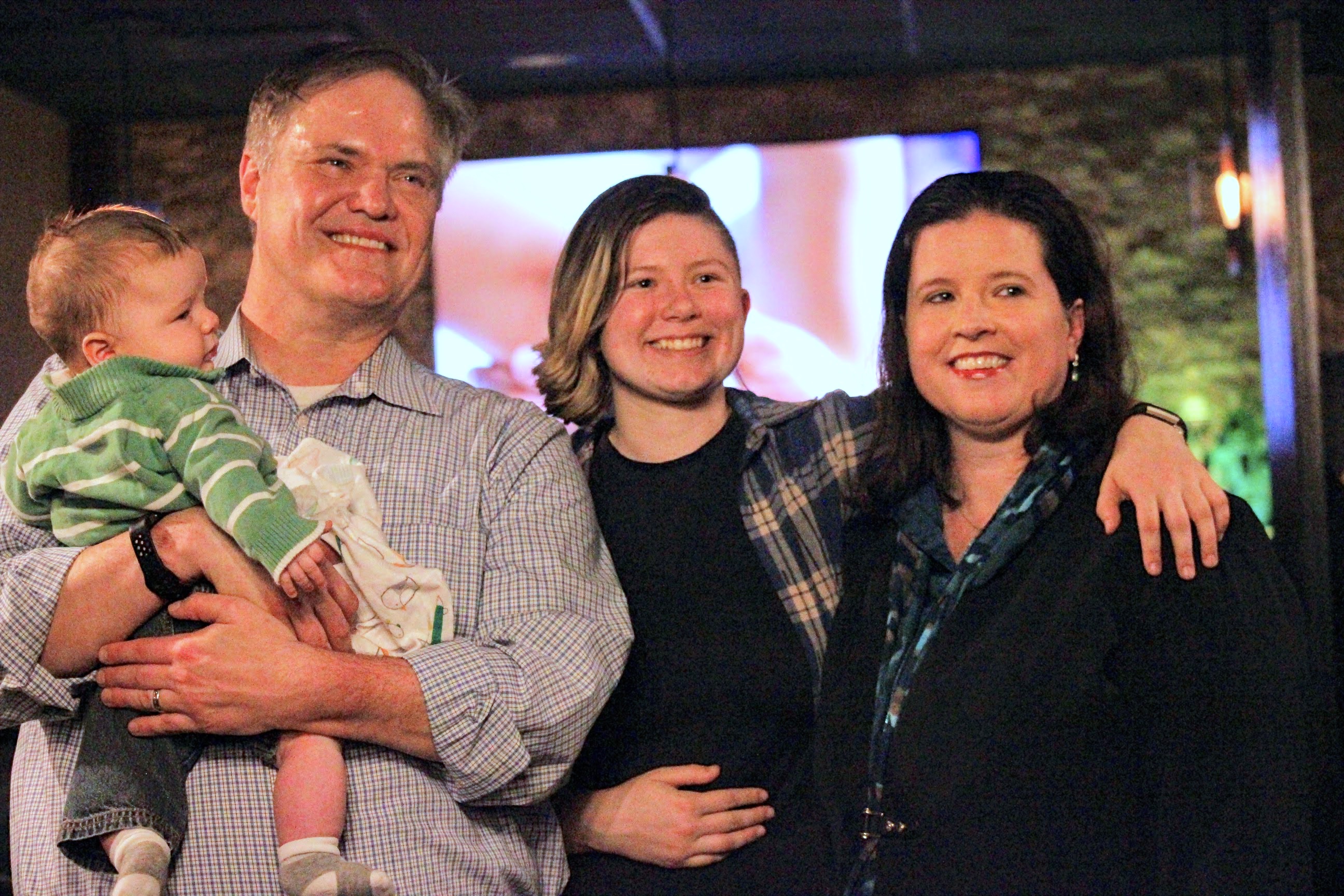 Englund is no stranger to both running for public office and being an elected official. She served on the Lindbergh Board of Education from 2011 to 2017, where she was elected as treasurer, and also represented the 94th District in the Missouri House of Representatives from 2013 to 2015 and the 85th District from 2009 to 2011, before redistricting. The 94th District covers portions of Green Park, Lemay and Oakville.
Currently all but one of the five statewide elected officials in Missouri are Republicans, with Auditor Nicole Galloway as the only exception. The office of treasurer has historically been traded back and forth between Republicans and Democrats. Prior to Fitzpatrick, the former representative from 158th District, the office was held by Republican Eric Schmitt before he was named attorney general when former Attorney General Josh Hawley was elected U.S. senator.
Englund pointed out that few of the people who currently hold statewide office were elected to their positions. After former Gov. Eric Greitens resigned in May 2018, Lt. Gov. Parson, a Republican, ascended to governor and appointed former majority leader of the Senate Mike Kehoe as lieutenant governor. Galloway was appointed after the death of former Auditor Tom Schweich in 2015. In 2018, voters returned Galloway to the office.
"Did you know that only one of the five statewide officials have been elected to the office that they hold? Twenty percent. I mean, are you kidding me," Englund said. "We have an opportunity. I bring that up not to say that our state is in disarray — it is. And you know this… You know that the values that we stand for are not being held up to the state level. But we need to let people know that there is a way to run this state correctly. And ethically. And to hold everyone to a high standard of being there for people."
In 2013, Englund sponsored legislation that made it easier to return unclaimed military medals to their owner or family, part of the unclaimed property overseen by the treasurer. The bill passed and as a result, over 100 medals have been returned to their original owners or family members.
Englund also served on the St. Louis County Economic Council from 2001 to 2004 and is the founder of giftpakexpress.com, an online auction service.
"I've always been interested in what the office (of the treasurer) did. I've run an online home-based business for the last 20 years… and I worked for the county Economic Council and work with small businesses in South County," Englund told The Call. "The treasurer is like the chief financial officer of the state. They make investments for state funds not being expended and also administer small-business loans, agricultural loans… college loans and disability loans."
If elected as treasurer, Englund said some of her priorities include making the state's unclaimed property auction online rather than live and spreading more awareness about the state's 529 college savings plan. Englund would also like to see more direct communication between the treasurer's office and local chambers of commerce.
Fitzpatrick is also launching a 2020 bid to maintain his seat, holding his own kickoff party in Cassville Nov. 4.
"Since being elected, we have successfully reduced taxes, balanced our budget and promoted fiscally responsible policies that allow our economy to grow," said Fitzpatrick in a press release. "I am deeply troubled by the rise in the support of socialism among liberal politicians in America and, as state treasurer, I work each and every day to ensure we promote entrepreneurship, financial literacy and fiscal responsibility… We cannot allow failed socialist ideology to take hold in our state and in our country…"
Despite running in a state with voters that trend more conservatively, Englund said she is not concerned.
"I have more experience than my opponent does. I started running for office in 2008. I've only run in red areas," said Englund. "South County has gone back and forth with my particular district so I understand the changing needs of communities that lean Republican."
Englund currently lives in Sunset Hills with her husband, Byron DeLear, and children: Eleanor, who attends Lindbergh High School; Peter, who attends Sperreng Middle School; and 5-month-old Walker.
"We have to do this. I look at the TV every day and whether you're looking at the federal level or the state level, there are people in office right now that don't respect what public service is all about… They don't understand the word 'public,' and they don't understand the word 'service.' Running for public office is a service. You become a public servant. Your boss is not Wall Street … but the people who voted you in," Englund said. "I'm excited to get started."