Longtime Mehlville administrator named deputy superintendent
Administrative cuts take toll on staff, superintendent says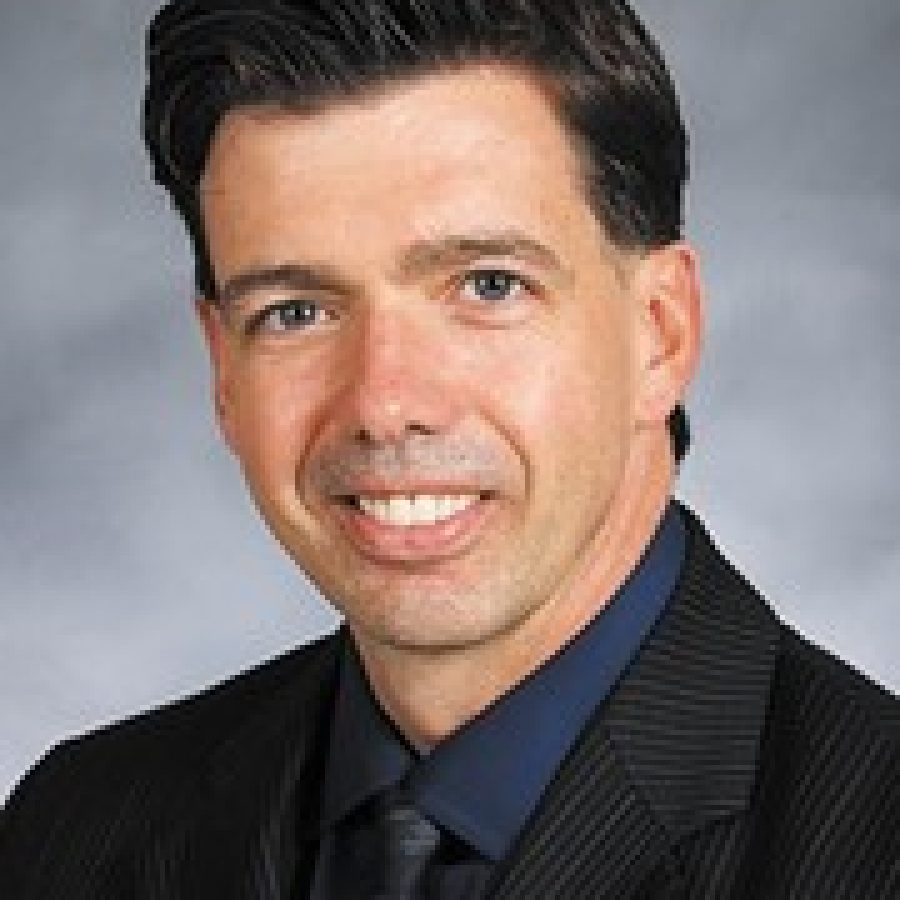 With a new school year and a new era underway in the Mehlville School District with Superintendent Chris Gaines, Central Office administrators are shuffling to new positions and taking on extra duties to make up for the axing of a key position in this year's $4 million budget cuts.
In an overhaul of how the Central Office hierarchy works, interim Superintendent Norm Ridder promoted longtime Assistant Superintendent Brian Lane to deputy superintendent, a position last held in 2011 by former Superintendent Eric Knost.
The reorganization went into effect when Gaines took over the district July 1.
Under the plan, Lane now directly supervises all district departments except finance and communication, but still reports to Gaines, who is the "face and voice of the school district," the new deputy superintendent told the Call.
Besides overseeing curriculum, instruction, human resources, transportation and character education among other areas, Lane will also continue his previous role overseeing the operations of all Oakville schools as south area superintendent.
In Ridder's view, the new hierarchy is more streamlined than the previous system, in which most departments directly reported to the superintendent.
"Ultimately it will be my job to keep Dr. Gaines apprised of everything of importance that's going on in all of my areas," Lane said. "What the hope is, is that this will allow Dr. Gaines to not have to micromanage — it will allow him to focus on the most important things affecting the district, that he'll really be able to focus on the strategic plan, those key superintendent duties, instead of getting bogged down in the day to day and the minutiae."
In
, slated for 7 p.m. Tuesday, Sept. 8 in the Nottelmann Auditorium, 3200 Lemay Ferry Road, one of the topics he will address is administration.
"We are really bare bones — it's one of the things I'm going to show in the State of the District because one of the things we kind of hear from folks is, 'You're kind of top-heavy, you have a lot of administrators,'" Gaines told the Call.
When Wright City Superintendent Gaines beat out Lane and Clayton Assistant Superintendent Greg Batenhorst for the district's top job in February, Board of Education Secretary Samantha Stormer said she wished all three finalists could co-lead the district, and in a way, she now gets two-thirds of that wish.
"Brian is amazing," she said. "From the time that we talked to him last year to now, to see how much he has grown — I think a lot of that has to do with his willingness to learn and to constantly improve himself. The changes I have seen in him after being under Dr. Ridder have been amazing. It's only going to be a matter of time before he's a superintendent, and he will be excellent."
Lane, 45, an assistant superintendent since 2006, came to Mehlville in 2002 as Oakville High assistant principal from the same position in University City. He began his career as an English teacher in Webster Groves and St. Louis Public Schools.
He lives in Webster Groves with his wife of 24 years, Amber. They have two children: Audrey, 23, and Braeden, 9.
As Ridder and the cabinet developed the district's strategic plan over the last year, he emphasized that the administrators assembled by Knost were the youngest and most talented he worked with in 40 years of education —comprising what board Vice President Larry Felton called the "backbone of the whole district."
During the teacher and principal surveys for the strategic plan, the district received no complaints about principals or Central Office, which Ridder called unprecedented.
Mehlville's administrators are willing to take on extra duties or do whatever it takes to get the job done, Stormer said, adding, "They do it all with style and grace. You will not meet a cabinet that can do what our cabinet can do. As a district, we are extremely lucky."
Ridder also promoted Executive Director of Student Services Jeff Bresler to assistant superintendent of supervision. Before joining Central Office in 2013, Bresler was Rogers Elementary principal since 2005, Bernard Middle assistant principal from 2003 to 2005, and a Buerkle Middle guidance counselor since 2000. He began his career as a teacher in the Hancock and Special school districts.
Bresler lives in Oakville with his wife Dawn, a Beasley Elementary teacher, and daughter Olivia, a Rogers third-grader.
"The Mehlville community and school district is very important to me," Bresler told the Call. "I grew up, built a home, and am proud to live in this school district …
"My devotion and commitment is to continue serving our children, parents, staff, and community members of the Mehlville School District for many years to come."
Bresler still has all his previous duties but takes over as north area superintendent from former Assistant Superintendent Lisa Counts, who left June 30 for the same position under Rockwood Superintendent Knost. Assistant Superintendent of Curriculum Tina Plummer keeps her title but also takes on supervision of technology and some northern schools.
Since Bresler already oversaw the district's English Language Learner, or ELL, and special-education programs that are primarily concentrated in the north, the expanded north area superintendent role is perfect for him, Ridder said.
The district gave no across-the-board raises for the 2015-2016 school year, but granted raises to Lane and Bresler for their new jobs. Deputy Superintendent Lane is the district's second highest-paid employee at $139,471, up from $124,471 last year. After Bresler's promotion, he makes $120,456, up from $116,650.
With Counts' $124,471 position and a communications job cut, the district saves roughly $220,000 in salaries and benefits, which Ridder called "very sizable" considering the alternative options for cuts. Since 2004, the district has cut 13.5 administrators, 120.5 teachers and 55 staff members.
Ridder felt Central Office could shrink because Lane is a veteran who has held varying jobs and can back up Bresler and Plummer when needed.
"So between that and the fact that we have such competent directors in all of our operations, we ultimately felt that it was doable," Lane said. "And we ultimately felt in a time where the district's looking to cut $4 million, it would certainly be appropriate that Central Office would also reflect some of those savings when we had the possibility."
But Gaines said administrative cuts have taken a noticeable toll on staff.
"We're feeling the effects of being down two people at the start of school," Gaines said. "People are asking us for all this stuff and it's just compounding, we're down in the business office too, so that's been a killer. I think the cumulative effect of all these cuts on the support departments is just a ton more overtime, and it's wearing people out."