Lindbergh officials look to fast-track construction of new school
Bond issue also will address improvements at high school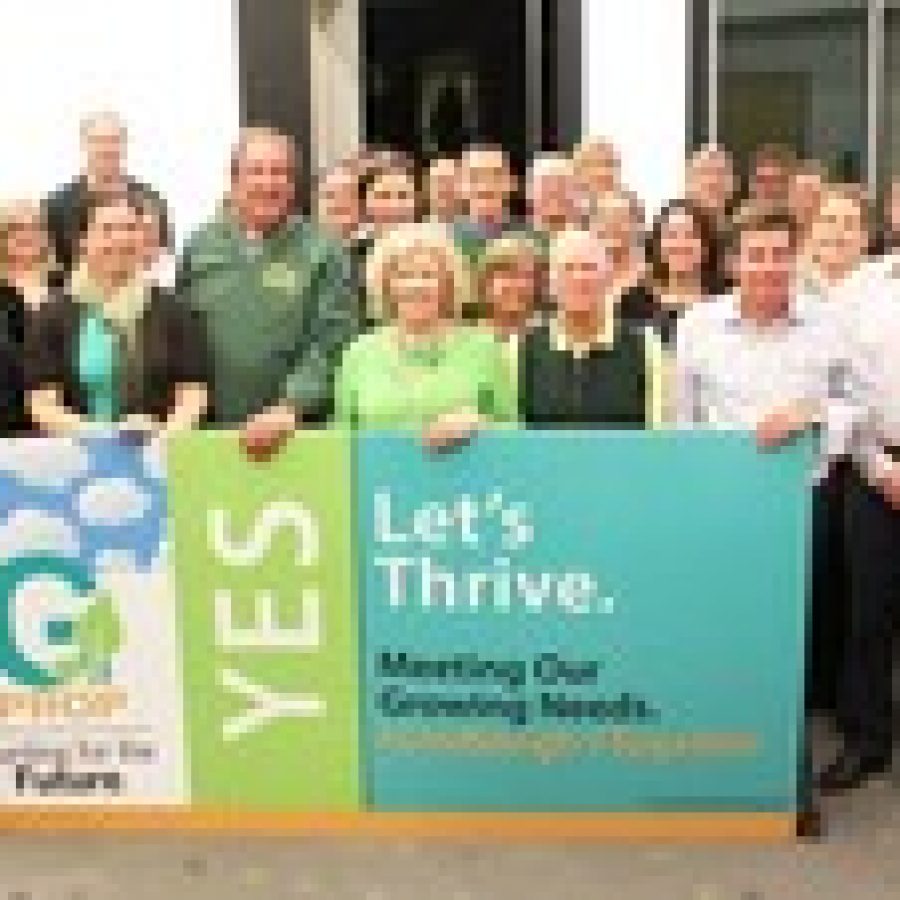 With voter approval of Proposition G last week, Lindbergh Schools officials look to fast-track the construction of a new elementary school, according to Superintendent Jim Simpson.
Lindbergh voters gave the green light to Prop G — for Growth — in the April 8 election. The $34 million bond issue, designed to address the district's aggressive enrollment growth, received 6,599 "yes" votes — 65.46 percent — and 3,482 "no" votes — 34.54 percent. A four-sevenths majority — 57.14 percent — was required for passage.
"Sixty-five-plus percent is as good as it gets, especially for a tax increase, and a strong endorsement by our community," Simpson told the Call. "More than six out of 10 people walked into the polls and supported our direction."
The bond issue will increase the district's debt-service tax rate by 21 cents, to 68.3 cents per $100 of assessed valuation from 47.3 cents. A total of $23.9 million of the bond proceeds will fund the construction of a 650-student elementary school on the nearly 10-acre Dressel School site at 10255 Musick Road.
Given the district's enrollment surge, time is of the essence in constructing the new elementary school, according to Simpson.
From 2007-2008 to 2012-2013, the district's residential enrollment increased by 569 students. Lindbergh's official enrollment for the current school year is 6,115 students, which exceeded the district's projections by 50 students.
Four of the district's existing elementary schools already exceed capacity, and from 2013 to 2018, district officials project residential enrollment will increase by 464 students, not including an estimated 120 additional students from new subdivisions being constructed.
"All we've got to do is find a way to handle the growth until the building is built," the superintendent said. "There's a challenge there because the growth is happening strongly, and so we'll have crowded classrooms almost immediately.
"Sappington Elementary will soon become our second-largest school in this district, surpassing the middle schools … We have been very, very creative for next year and we are creating classrooms that were never intended to be classrooms in Sappington …"
Classrooms are being created by splitting large kindergarten classrooms into two, using closet space and making a classroom in a lower-level room that has no windows, according to Simpson.
"… The year after that, there will be none of that left to do — so we'll only be left with the library, gym and hallways," he said. "So at some point in time, the growth for that school is going to be one in which we have to think they really can't take any more in this school."
District officials propose to open the new elementary school for the 2017-2018 school year, but that won't be an easy task.
"We're hoping to open in August of '17, and that is pretty much a record building — so I put that little cautionary note," Simpson said. "But we've been meeting every day since it (Prop G) passed with our architects and engineers and our people … Our architects (Ittner Architects) are going to put this on the front burner for them and design the building …
"Our biggest thing is codes. Codes can hang you up for six months in the blink of an eye, and so we're going to be working with the code people, trying to get them to understand the urgency. This isn't one of those projects that can sit on a desk for months. We're willing to meet any code. We just need to know what it is … Because of the pressure we're under with the growth, we're going to try to do it in 36 months …," he added.
Construction of a new elementary school will only increase Lindbergh's desirability as a destination district, Simpson said.
"… Because when you take the No. 1 student achievement in the state and you put that right beside a modern, attractive, state-of-the-art educational facility, you drive that equation even stronger," he said. "So the future is very bright for our school district … I hear every day almost about the houses flying off the market in record time, being bid much higher than asking price … It's exciting, the fact that all these young families are moving in droves into our school district and seeking quality education …
"I know that people sense that it's a form of a dynamic, vibrant renewal of a community. It's a new generation taking root, and saying, 'I want this to be our home. I want to shop at the local stores. I want to go to the churches. But I came here for the education.'"
Young families across St. Louis County are seeking the best education for their children — and that's drawing them to Lindbergh Schools.
"… They'll migrate to communities with high-quality education for their children, quality families especially. Those who value education strongly, they will migrate to districts, and they're migrating to us," Simpson said. "They can choose many school districts, but they are actually not choosing the one they're coming out of. So in a way, they're saying, 'I live in a school district, but I have done my research and I am choosing a different one …'"
That migration is "an economic engine for our local businesses because these young families have children, and they're spending paycheck to paycheck, and they're in their spending years," he continued. "Because they have young children, they're homebodies a lot. They're not free and single and heading out 10, 20 miles away to have fun.
"They are staying close to the house and they're shopping close to the house. That means Lindbergh Schools plays the role of a strong economic engine — not only in the housing market, but also for all the independently owned stores and retail (establishments). This is a wind at their back …"
Critical needs at LHS
A total of $3 million of the bond issue proceeds also will fund some critical needs at Lindbergh High School, including doubling the size of the cafeteria, creating two science classrooms from existing classrooms, converting a record-storage room into two new classrooms, modernizing the library and replacing the wood floor and bleachers in Gymnasium 3.
The building projects will have $3 million in contingency.
In addition, proceeds from the bond issue will be used to retire roughly $3.5 million of debt incurred when the district purchased the Dressel site and property adjacent to Long Elementary School.
To fund the purchases, the Board of Education approved the issuance of certificates of participation, or COPs, totaling nearly $3.5 million.
The COPs will be retired with the remaining debt rolled into the bond issue and paid by the debt-service fund. The district currently spends roughly $300,000 per year in operational revenue for that debt.