Lindbergh board swears in two new members, honors two veteran board directors
Schuster, Holloway sworn in as Lindbergh board members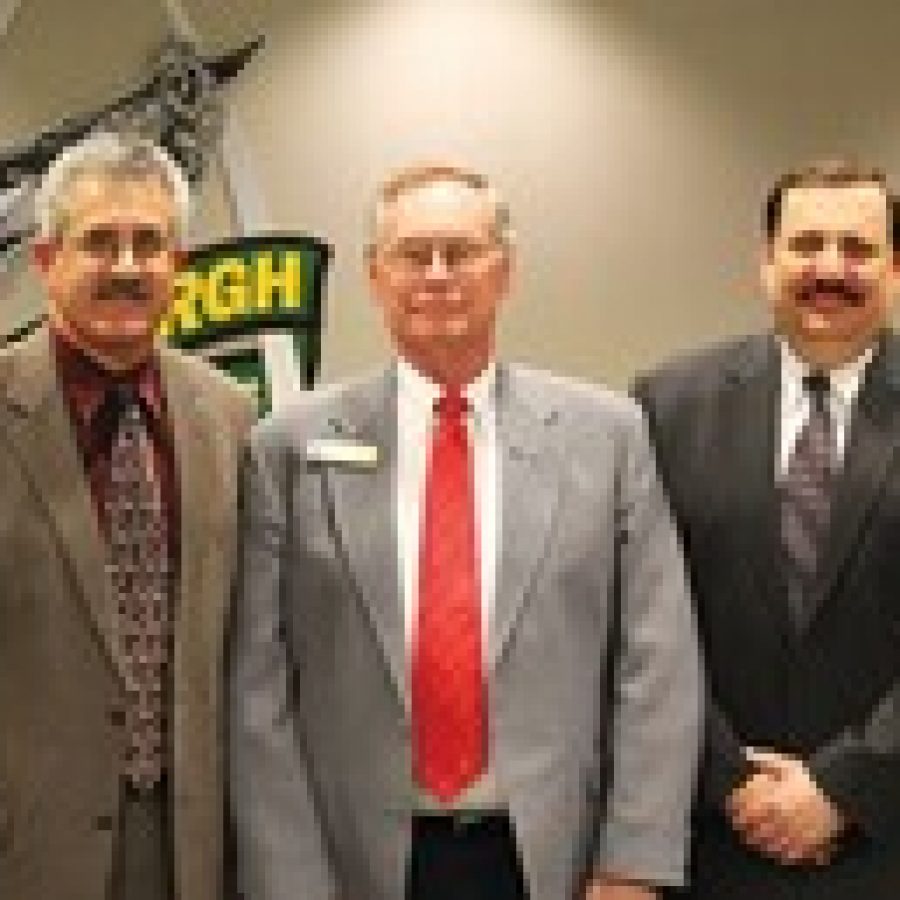 The Lindbergh Board of Education last week welcomed two new members and bid farewell to two departing directors.
The oath of office was administered April 10 to newly elected board members Karen Schuster and Kate Holloway, the top vote-getters of four candidates seeking election April 3.
Schuster received 2,806 votes while Holloway garnered 2,460 votes, according to official final election results reported by the county Board of Election Commissioners.
George Rezabek received 2,445 votes and James Goss garnered 1,000 votes.
Board members also voted unanimously to adopt resolutions honoring longtime board members Mark Rudoff and Ken Fey, who did not seek re-election.
The resolutions stated Rudoff and Fey will be remembered for the long-term betterment of the district and their significant contributions to the Board of Education and Lindbergh Schools students, staff and families.
Rudoff, who served 13 years on the school board, first was elected in April 1999, while Fey, who served nine years, first was elected in April 2003.
Both of them served as board president; Rudoff from 2004 to 2008 and Fey from 2008 to 2011.
In presenting the resolution to Rudoff, board President Vic Lenz said, "Thank you so much for the 13 years. I've worked with Mark as an employee and board member both, and he's been invaluable in support and help to the district, and made a lot of things happen …"
Rudoff said, "… When I took office April 13, 1999, it was board meeting No. 912. Tonight, if you do the calculation, this is board meeting No. 1296. That is 384 meetings, plus we've had a few MSBA (Missouri School Boards Association) retreats, a few CSD (Cooperating School Districts) meetings and a number of district activities …"
He also thanked his wife, Melinda, "because you talk about the sacrifice that's made. It's a lot of time for me being away and a lot of things that I would have been able to do, had I been home. But I appreciate her having my back while I was out playing around, doing district business. I really appreciate that."
After reviewing school district documents he has accumulated over the past 13 years, Rudoff said, "… You start with the improvements in school safety. The darkest day as a board member was the week following getting sworn in and we had Columbine to deal with. And that was our personal wake-up call.
"But our board and our administration and our district rallied around that, and we made remarkable strides in school safety …"
The departing board member also discussed the expansion of the district's gifted programs, honors programs, character education initiatives, property acquisitions, facilities improvements and successful ballot measures.
"… There's been a lot that contributed to that. The board can't take all the credit. It's all due to the teamwork of the administration working with the faculty, the staff and the parents," Rudoff said. "It's been a great run as a member of the board."
In presenting the resolution to Fey, Lenz said, "I might mention that I also worked with Ken when I was an employee and now also as a board member …"
Fey said, "… One person does not make a board. So tonight, what I would really like to do, if you will indulge me a little bit, I would like to say thank you to a lot of folks because this is a huge team effort. First of all, I would like to say thank you to all the principals, all the teachers and all the support staff in all the district buildings …"
The departing board member thanked many employees by name for their service during his tenure on the board. He also thanked his wife, Marsha, and his children because "as Mr. Rudoff said, there is a lot of shuffling of family schedules to pull this job off. You don't become an engaged board member unless you can shuffle."
He also recalled the circumstances regarding the hiring of Jim Simpson as superintendent in 2008.
"… One weekend, two other gentlemen and myself jumped in a car and rode in an ice storm down to Joplin, Mo. If there's one thing that you get a chance to do as a board member, it's to pick a new superintendent," Fey said. "We got that chance and so far that chance has proved out tremendously. Thank you, Dr. Simpson for everything that you've done and that you will do because this district is headed in the right direction in the future."
Simpson told the Call he appreciated the contributions made by Rudoff and Fey during their tenures on the board.
"Of course, Mark and Ken define experience and veteran board members. They are very high-quality, service-minded community volunteers for schools. So we'll miss them greatly," he said.
"They have been a great asset to our district, and over the years that they have been board members, the district has prospered and achieved great things," Simpson added.
In a separate matter April 10, the board reorganized itself with no changes in leadership with Lenz as president, Kathy Kienstra as vice president, Don Bee as secretary and Kara Gotsch as treasurer.