Lindbergh alum Derik Scott advances to the finals on NBC's 'Titan Games'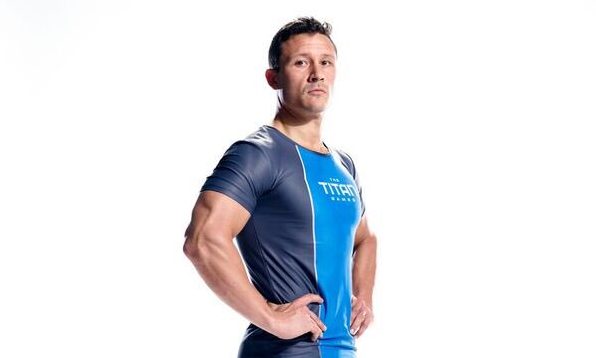 St. Louis native and Lindbergh High School alumnus Derik Scott will take to the Titan arena one more time tonight as he competes in the finals of NBC's "The Titan Games," hosted and produced by Dwayne "The Rock" Johnson.
Derik Scott, a 2006 graduate of LHS and 2009 graduate of Lindenwood University, has been competing in "The Titan Games," a game show where contestants compete head-to-head with one another in various tests designed to test physical strength and mental and emotional fortitude.  The show premiered last month.
"I realized other people kind of perceived me as an underdog," said Scott about his journey through the show, from his debut to the semifinals and then to the finals. "But I pretty much expect to win everything that I do."
Scott is no stranger to competition or physical challenges. His parents, Kevin and Dana Scott, used to run a gymnastics facility in south county and by the time he was 5 years old, Scott was doing backflips and other moves. He won his first national championship when he was 7.
In high school he played a variety of sports and was a walk-on for the Lindenwood University dive team, where he became a three-time All-American diver.
Scott was prescreened for "The Titan Games" almost a year ago, after initially going out for  "American Ninja Warrior." Scott was contacted by representatives for the Titan Games, who explained the concept to him.
After a rigorous vetting process, Scott was selected out of 10,000 applicants for a combine in Burbank, California, along with 200 other participants. In the end, he was one of 64 people selected for the show.
"It's been awesome, it's been fun," said Scott about his time on the show. "You take something away with everything you do."
Scott said the most physically, mentally and emotionally challenging moment on the show was in the semifinals during an event called the "Lunar Impact," where he found himself one inch from the edge of a three-story structure.
"It's been crazy…I've been telling everyone to watch and to see what I went through," he said. "To see how hard some of these things were. Every single week I get to be like 'I told you.'"
As for his next steps, Scott said that he's been picked up by Team BodyBuilding.com and will be fighting in the coming months for Shamrock FC, an MMA organization in St. Louis. He has other things in the works in background, but he can't say too much about those projects yet.
"Everything people saw in me will continue to be true after the final tonight," said Scott. "I can't wait to continue to do things that will inspire others."