Rep. Marsha Haefner, R-Oakville, speaks to the South County Chamber of Commerce this summer about an eventful year in Jefferson City. Photo by Jessica Belle Kramer.
By Gloria Lloyd
News Editor
glorialloyd@callnewspapers.com
Legislators head back to Jefferson City for a combined veto and special session this week, wrapping up what can only be described as an eventful year in Missouri and south county politics.
Legislators from south county have been appearing at civic events throughout the summer talking about how things wrapped up in this year's session, which stretched almost into June to consider impeaching then-Gov. Eric Greitens before he resigned from office.
Now legislators are wrapping up their business, 100 days into the term of new Gov. Mike Parson, the lieutenant governor who took over when Greitens resigned.
It was "kind of a crazy year, right?" Sen. Scott Sifton, D-Affton, who is one of south county's two state senators, said at a joint meeting of the Affton and Lemay chambers of commerce. "We had a governor resign, when has that ever happened before?"
Summing up the thoughts of most of the legislators, Rep. Marsha Haefner, R-Oakville, who was one of the first GOP legislators to call for Greitens to resign, told the South County Chamber of Commerce, "I'm just glad for you and for all of us that it's over."
But while things were initially lagging in the statehouse due to legislators focusing on the Greitens drama, the pace picked up later in the session.
In a typical year, legislators get 100 bills to the governor. In 2017, stifled by the lack of relationship between the governor and the Republican supermajority, legislators only gave Greitens 50 bills to sign.
This year, the Legislature passed 150 bills.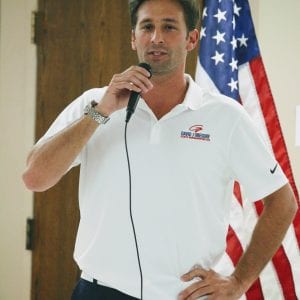 With the Greitens dramas playing in the background, "legislators responded to that by rolling up their sleeves," Sifton said.
But while there were many bills sent through the pipeline, both sides could agree on them because few of those bills had major impact, said Rep. Doug Beck, D-Affton.
"I was a yes vote on a lot of them —  there were not a lot of groundbreaking bills," Beck said.
But with a Republican supermajority that doesn't seem to be going away anytime soon, south county's other senator, Sen. Andrew Koenig, R-Manchester, said it was an excellent year for conservative ideas on taxes and the budget.
"We had a very good session," he told the Tesson Ferry Republican Club. "We did a lot when it came to tax policy."
The 150 pieces of legislation went to the desk of a new governor rather than the one in the top job at the start of the session.
Haefner had only positive things to say about the new occupant of the Governor's Mansion.
"Gov. Parson is an awesome person," Haefner said. "I've known him for years. He is the real deal. He really cares about this state — he cares about what happens in urban areas as well as rural areas. He doesn't lead with ego, he leads with heart."
Even aside from the change in governors, it was an eventful year in Jefferson City for south county legislators.
Rep. Cloria Brown, R-Lemay, died in March after a hard-fought battle with cancer soon after Greitens signed one of her bills into law.
Her seat in the 94th District has been empty since, but she will be replaced by either Democrat Jean Pretto or Republican Jim Murphy, both of Oakville. They are running on the November ballot to replace Brown and would take office Jan. 1.
And Rep. Bob Burns, D-Affton, was booted out of the Democratic caucus and asked by fellow Democrats to resign after his phone call-ins to a radio talk-show host who makes racist statements were unearthed from YouTube. Burns is unopposed for re-election in November and has said he will not resign.
And longtime legislator Haefner is serving her last term, since she is term-limited out of office this year.
She hinted last year that she might run for the U.S. Senate seat held by Claire McCaskill, D-Kirkwood, and challenge Attorney General Josh Hawley, but instead she has served out her last term in Jefferson City. She has not yet announced her next step, although she and her husband, Greg, sold their Oakville garden shop For the Garden and this year, they've added to their growing group of grandchildren.
Haefner missed the last few hours of special session so she could make it to the emergency birth of her seventh grandchild.
"I've been really busy this summer rocking babies," Haefner told the chamber.
Other area legislators are just starting their tenure in office. Rep. David Gregory, R-Sunset Hills, was named the Freshman Legislator of the Year.
And across the aisle, Beck has reacted to his weak position in a Democratic minority by focusing on labor and education issues.
"Besides being weird and crazy, it was my first session," Beck told the Affton and Lemay chambers. "For me this was normal. So I don't know what a real session will look like."
The veto session is likely to focus only on a few possible overrides of Parson's vetoes of budget bills, and the special session will consider whether to pass a bill to increase K-12 computer-science education that Parson vetoed due to what he called  "problematic language."
The first bill signed into law this year was an anti-sex trafficking bill proposed by Brown.
The bill mandates that posters are placed in areas where sex trafficking is common with a phone number for victims to call and receive help.
Sifton picked up sponsorship of another of Brown's bills, the CARE Act, which was also passed into law after her death.
That bill is intended to keep people out of nursing homes for longer.
It mandates that when a patient is admitted into the hospital, they can designate a "family caregiver" who is alerted about the hospital admission and when the patient is discharged, the caregiver is provided with instructions on how to care for the patient once they return home.
"Her idea is now the law of Missouri," Sifton said of Brown.