Legislators from both parties unveil the 'Cloria Brown Highway' Lindbergh sign
The legacy of the late state Rep. Cloria Brown will live on after a stretch of Lindbergh Boulevard from Interstate 55 to Lin Ferry Drive was dubbed the "Cloria Brown Memorial Highway."
A new sign indicating the memorial highway was unveiled Oct. 17 during a dedication ceremony at St. Johns Evangelical Church of Christ, where Brown is buried overlooking the road now named after her.
Dignitaries speaking about Brown at the event included Lt. Gov. Mike Kehoe, Sen. Scott Sifton, D-Affton, and Rep. Jim Murphy, R-Oakville, Brown's successor in the Legislature who introduced the legislation during the 2019 General Assembly to dedicate a portion of Lindbergh Boulevard in her honor.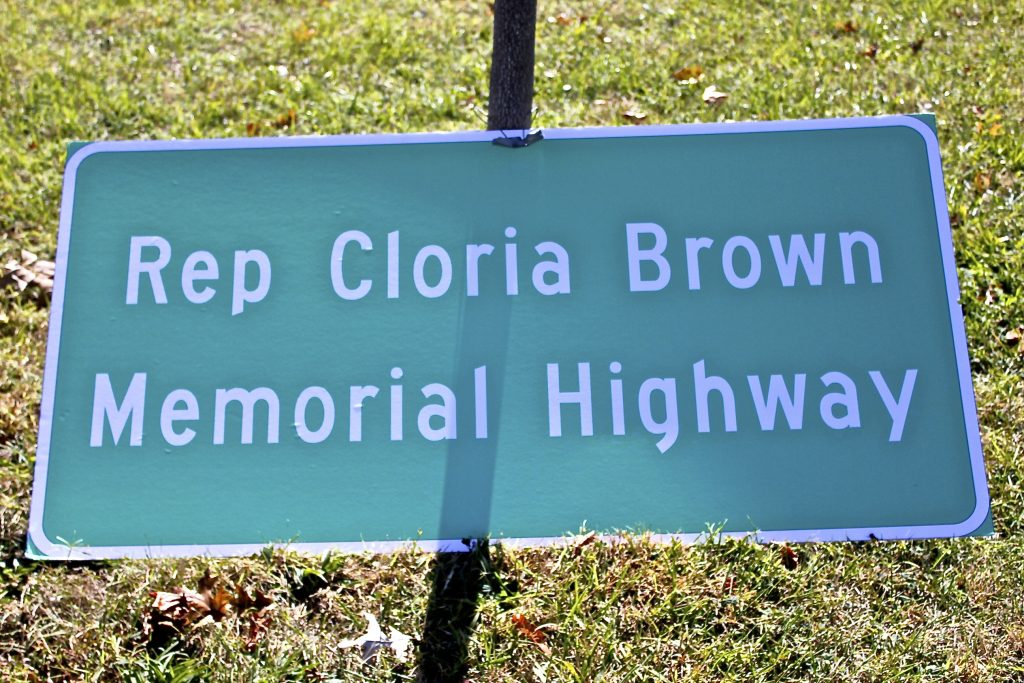 The legislation passed through the Missouri House and Senate unanimously, and was the first bill to pass during the 100th legislative session. Sifton sponsored the bill in the Senate.
"Cloria told me, 'Just remember one thing. The people you serve are the people you serve. You don't serve your party, you don't serve your fellow legislators. You serve the people of this district.' And you know, that was Cloria. She cared more about the people because she honestly believed it was an honor to serve," said Murphy at the dedication. "Cloria Brown will be missed, but she will never be forgotten."
Brown was first elected in 2010 to represent the 94th District, which includes Green Park, part of Lemay and part of Oakville. She lost the seat after one term to Democrat Vicki Englund in 2013 but won it once again in 2014 and held onto it for two terms until her death in March 2018 after battling cancer.
The late representative from Lemay was known for helping lead the way in the state's fight against human trafficking, as well as aiding Bosnian refugees in St. Louis County. In fact, despite being on medical leave during the 2018 legislative session, she managed to get former Gov. Eric Greitens and the Legislature to pass a bill that would require posters with a sex-trafficking hotline number to hang in certain businesses. Greitens signed the bill into law in March 2018.
"I can tell you that Rep. Brown was incredibly passionate about her core issues that she ran and got elected on," said Kehoe in his remarks. "This (the Cloria Brown Memorial Highway bill) was the fastest, least debated bill that ever has went through in my eight years."
Brown was a staunch Republican but was known for working with legislators across the aisle, especially on issues affecting South County and especially with Sifton.
"I am very fortunate to have known Rep. Brown as a fellow community activist, as a colleague and most of all as a friend. We both shared a love for this community and for serving it," said Sifton, who was first elected to the Missouri House of Representatives in 2010 alongside Brown. "She was absolutely everywhere in her district. The Lemay Child and Family Center, the Lemay Housing Partnership, the Chamber of Commerce for Lemay and Affton and South County…. Every time you turned around, she was there. And not just her commitment and tenacity but her willingness to speak for the people that she represented… I was very lucky to know her."
Brown is buried in the cemetery at St. Johns.
Her grave overlooks the area of South Lindbergh dedicated in her honor, with a tombstone featuring an elephant representing her avid Republican politics.