Kostial, Scarlett seek Sunset Hills Ward 3 seat
Political newcomers vying for seat long held by Jan Hoffmann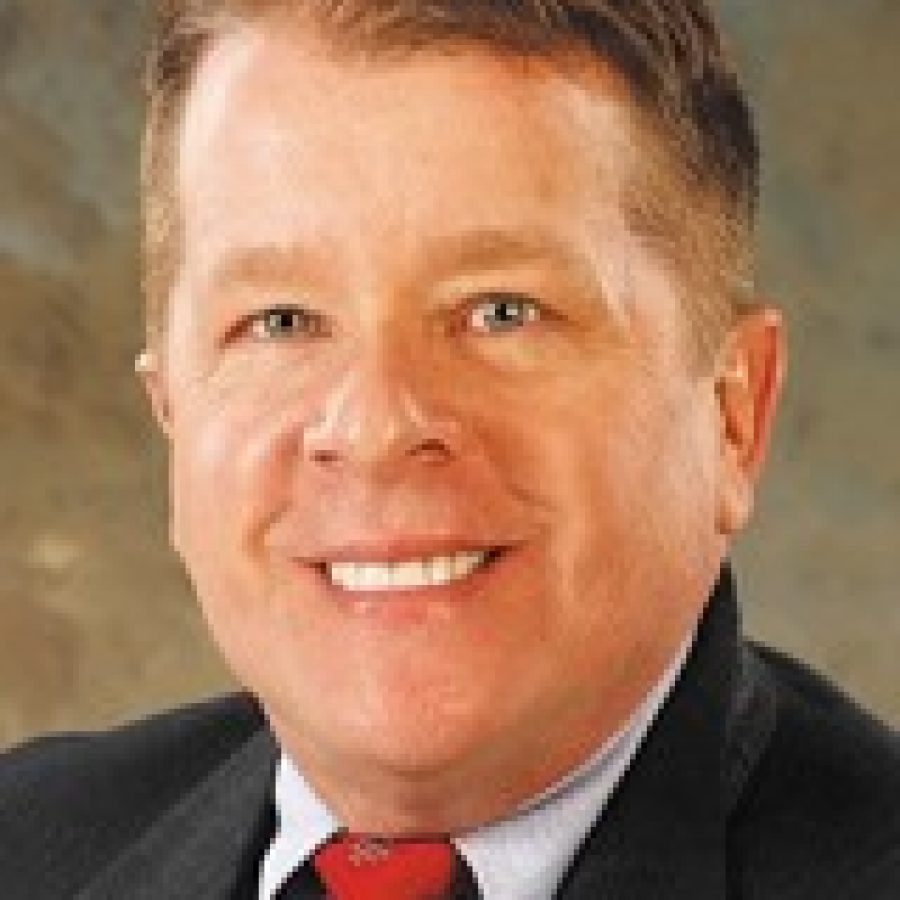 Two political newcomers are vying for the Sunset Hills Ward 3 aldermanic seat held by Jan Hoffmann, who is stepping down after serving 24 years.
Keith Kostial and Lori Scarlett are looking to fill the Ward 3 aldermanic seat in the April 7 election.
• "I would make sure that the Board of Aldermen and Planning and Zoning (Commission) are selective and make wise choices when presented with plans for development. Therefore, we would preserve the residential character that our city was founded on and strengthen our selection of business," Kostial said.
• "People have differing opinions. Honest debate brings forth the major concerns people have. Understanding each other's opinion leads to compromise and action that satisfies the needs of all parties. My interest in serving this city will be to understand the needs of the city, its citizens and serve those needs in a manner that will satisfy our citizens. My purpose will be to 'bring unity to the community,'" Scarlett said.
Kostial, 52, 12429 Matthews Lane, 63127, is a medical supply chain specialist with Symphony – Ascension Health. He and his wife, Cindy, have two children who attend Lindbergh schools.
Kostial said he is seeking election because "my 20 years of corporate experience at Ascension Health, Anheuser-Busch and Coca-Cola, coupled with my education, are directly transferable to the oversight of city management. Also, I have been on corporate organizational panels for Komen Race for the Cure, United Way and Boy Scouts. I will elevate the Board of Alderman's professionalism and business acumen."
Scarlett, 56, 11 Roosevelt Drive, 63127, is owner/administrator of BrightStar Care Home Care. She and her husband, Charlie, have five adult children.
Scarlett is seeking election because "I moved to Sunset Hills because I like this city. I like the proximity to good schools, the easy access to major shopping areas, the easy transfer to an airport, the closeness to parks, museums and concert halls, the pleasantness of neighborhoods and the trees. It is a nice place to live. I want to keep it that way."
Kostial said, "I am running for alderman because our current government is dysfunctional."
Scarlett said, "I have never heard a statement of purpose from our mayor. The city appears to be drifting from one issue to another without consistent resolve."
What are your thoughts about former Mayor Bill Nolan?
Kostial said, "Mr. Nolan, SSH's previous mayor, is a non-issue being he lost his previous election to a write-in candidate — Mr. Furrer — and is currently not running in 2015."
Scarlett said, "We always knew where Mayor Bill Nolan stood. He kept a professional demeanor and was well-respected by his peers in the St. Louis region. I believe his goal was to do positive things for our city of Sunset Hills."
Kostial said, "While Ellisville spent $150,000 in legal fees to impeach their mayor, it would cost city of Sunset Hills $0 if Mr. Furrer's case goes to court and he is found guilty of a felony. If he is not found guilty of a felony, there will (be) only four months until the next mayoral election.
"I have talked to attorneys who say that impeachment and appeals will take at least a year, and he will be out of office by the time the impeachment is decided. The attorneys have also said it is a gross underestimate to think that impeachment including discovery and appeals will only cost $25,000 as attorney Bob Schultz said at the February meeting. That is not at all realistic."
Scarlett said, "I do not know if impeachment is the correct method to satisfy the differences citizens have with the mayor. It could be prolonged and costly, and the action might not be successful. In addition, if successful, there is great possibility there would be a prolonged and costly appeal process. I would like to learn more about the benefits and the challenges to determine the appropriate path."
Kostial said, "He has made it clear that he is not resigning. He will spend his own money to defend himself. We need to get back to business. If good decisions were being made prior to his election, citizens would not have felt compelled to elect a write-in candidate."
Scarlett said, "I believe, in view of the controversy and continuing animosities expressed in closed door meetings, as well as in public Board of Aldermen meetings, it would be best if the mayor resign or take a leave of absence, until his current personal affairs have been settled. He will have his day in court."
Kostial said, "We have a great police force that is very visible."
Scarlett said, "I would have to be shown that there would be a tremendous saving in costs that would benefit the city if the county were to take over police duties in Sunset Hills. Again, it would have to be 'tremendous' savings. It is comforting to know we have trained, dedicated officers on duty within the limits of our city. It is one of the pleasures of living here. It is one of the costs of living here that I want to continue to pay for. It is a comfort and convenience that I enjoy."
Kostial said, " At BOA (Board of Aldermen) meetings, not all aldermen are on the same page, which brings to question if meetings and communication are private and exclusive. I would recommend inclusion and transparency."
Scarlett said, "To my knowledge, members of the city organization have done their
best to comply with not only the spirit but also the letter of the Sunshine Law. There are times when negotiations with personnel regarding salaries and terms of employment are rightfully not exposed. Sometimes these issues raise questions about compliance with the law; but again, I believe all city personnel do their best to honor the spirit of the law."
Kostial said, "Yes. A fair and equitable charge helps deter frivolous requests and compensates the city for the time to collect the information."
Scarlett said, "It will depend on a specific situation and the depth of historical information that an inquirer may want to be recovered to satisfy the request. Access to records may be freely given. However, if the request requires extensive interviews, attorney fees, temporary reassignment of personnel to develop requested information, I believe the city organization has the right to ask to share developmental costs. Certainly, records of all city meetings should be readily available for public review."
Kostial said, "Rarely to be used and needs to be weighed carefully. The more TIFs that are given often means less for schools, public works and transportation, leaving the burden on the citizens.
"I would consider a TIF for an anchor such as Trader Joe's, the Fresh Market or similar destination retailer in the place of a current vacant or distressed property."
Scarlett said, "First answer the question: What is good for Sunset Hills? Public debate must be required. The will of the majority of the citizens must be honored. What often sounds good in the eyes of a developer may prove to be a major distraction for many residents. If the resulting study, debate and compromise proves to be a desired benefit for the citizens of Sunset Hills, it may well be that tax-increment financing and/or Eminent domain is a proper tool to use."
Kostial said, "The purpose of eminent domain is for public services and infrastructure such as: Hospitals, schools, roads, rail, et cetera. It is up to developers to financially motivate private property owners."
Scarlett said, "See tax-increment financing (answer)."
Kostial said, "To improve the image and perception of the city in the metro region. I would like to build the city's residential character by protecting residential zoning, being selective in commercial developments, adding to our trail system and bike paths.
"SSH needs impressive and significant landscaping and beatification at the entries of the city. Also, I would like to have a greater relationship with MoDOT (Missouri Department of Transportation) to beautify major thoroughfares."
Scarlett said, "The city is in the process of developing a master plan. During recent preliminary meetings, over 50 sound ideas where offered by citizens to be considered as part of the future Sunset Hills. The final plan adopted must be accomplished with compromise after much input, discussion, explanation and approval of the citizens of Sunset Hills.
"We came to live here because we like this city. We invested in homes, churches, schools, businesses. Again, we did this because we like the area and like the city. We don't need big changes. We must be careful to not allow over planning destroy what we came here to enjoy."
Kostial said, "We do a great job with Minnie Ha Ha Park and it is beautiful for the casual bicyclist. The SSH triathlon is great for cyclists. I propose that SSH be more bicycle friendly by working with MoDOT (Missouri Department of Transportation) to have bicycle lanes on the large shoulders of Watson, Gravois and South Lindbergh Boulevard."
Scarlett said, "I am a bicyclist. There are many friends and neighbors who are bicyclists. There are many others in Sunset Hills who are friendly but they are not bicyclists. Some are not friendly, just as some motorists are not friendly. It is my hope that as long as bicyclists and motorists courteously observe traffic laws as well as
follow the spirit of traffic laws we can all get along on the streets of our city. Can we all do better? Probably, but overall we are a pretty nice group of folks."
Kostial said, "It is legal in Missouri, although it could be perceived as unethical, deceptive and not forthright."
Scarlett said, "It is unethical to secretly record a person's conversation. There are times during conversations when 'side' remarks are made. They are not necessarily intentionally harmful, but when played back — before a court and judge — they may be interpreted as extremely prejudicial.
"It is only fair to let the person interviewed know he is being recorded. It is similar to a Miranda Law advisory: 'Anything you say may be used against you.'"
Kostial said, "Mr. Jones works for two cities and his firm represents 30 municipalities, which is a good indication that he is competent. I have not had the opportunity to work with him so the jury is still out."
Scarlett said, " I believe the current city attorney is doing well in a difficult position. His job is to protect the city and its servants. It is not his job to side with one city official against another. Yet, he is being unwittingly challenged to offer opinions that would benefit one servant versus another. He should not be disparaged because he does not offer opinions requested on topics that are not related to defending the city or actions of its officials."