JB Blast goes on without participation of 6th District councilman
South county event started in 2000 by then-Councilman Wagener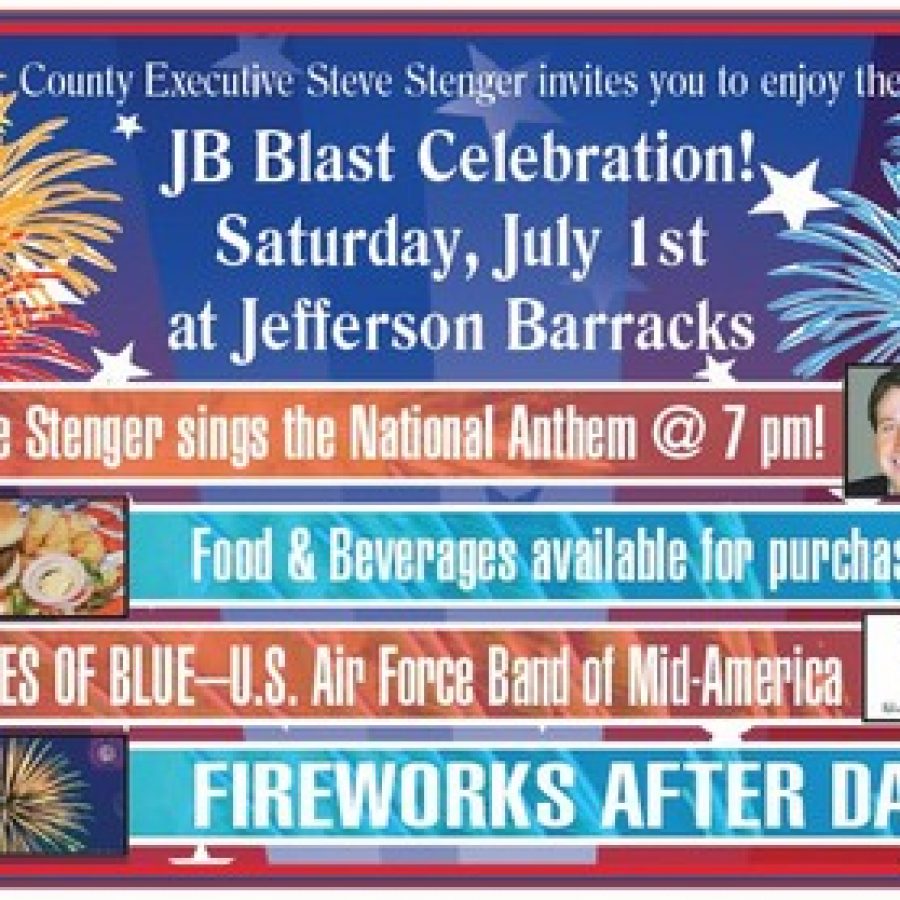 In all 17 years it has existed, the JB Blast has been hosted or promoted by the 6th District county councilman — until this year.
But attendees of the July 1 south county fireworks celebration did not hear a single mention of 6th District Councilman Ernie Trakas, R-Oakville, even as County Executive Steve Stenger welcomed politicians from around south county and as far as north county onstage. The annual event in Jefferson Barracks Park is funded by private donations.
Until Stenger took office as county executive and continued to organize the fireworks show, it was traditionally organized by the current 6th District council member, with co-sponsorship from former County Executive Charlie Dooley.
But unlike every past 6th District representative since the event's inception, Trakas was not a co-sponsor this year.
That decision was Stenger's, Trakas told the Call.
"The county executive took ownership of that, and that's the long and the short of it," he said. "Of course, I would have been interested in doing so."
Trakas considered approaching Stenger to ask to co-sponsor the event, but he felt the call ultimately came down to Stenger.
Stenger said Trakas never asked to be a part of the event, but if he wants to in the future, he will be welcomed.
"I would have certainly gladly stood on stage with him," Stenger said. "He can participate as much as he would like, we'd be happy to have him help out. He's always welcome."
Stenger organizes the event as county executive just as he did as councilman, with preparations largely made by his Executive Director of Support and Administration Linda Henry, who formerly served as his legislative assistant. For nearly a decade since he was first elected councilman in 2008, Stenger has kicked off the fireworks event by singing the national anthem and welcoming other politicians onstage.
Although Stenger continued to organize the JB Blast when he took the county's top job, then-6th District Councilman Kevin O'Leary, D-Oakville, co-sponsored the event the last two years with Stenger and the county Parks Department.
Last year, O'Leary's potential successor, former Rep. Pat Yaeger, D-Lemay, also made an appearance. Trakas defeated Yaeger, who was endorsed by Stenger, in November.
This year, Stenger invited the crowd to sing with him and welcomed Rep. Doug Beck, D-Affton, Rep. Bob Burns, D-Affton, and Sen. Gina Walsh, D-Bellefontaine Neighbors. The senator from south county, Sen. Scott Sifton, D-Crestwood, gave his regrets that he could not attend, Burns said.
"I wanted to welcome everyone to the 93rd District," Burns said. "It's an honor to be onstage with these elected officials, and it's a complete honor to be onstage with our County Executive Steve Stenger in the best-run county in these whole United States. Thank you, Steve, and the internationally accredited St. Louis County Police Department and Chief Jon Belmar."
Although no public official mentioned Trakas, Stenger recognized a past 6th District councilman from the stage when he credited his county Policy Director Jeff Wagener, D-Oakville, for starting the event in 2000 while he served as councilman.
Unlike O'Leary, Trakas has clashed with Stenger, Wagener and Parks Director Gary Bess, who also welcomed attendees onstage, over whether the county should have approved a trail Great Rivers Greenway is building in Oakville.
Trakas has opposed several Stenger initiatives since he has been in office, but he gave the green light to legislation accepting the private donations to fund the fireworks for the JB Blast. Dozens of sponsors funded the fireworks, including Burns.
Stenger originally had to fight for control of the event in a short-lived legal battle after he took office as councilman in 2009, when former 6th District Councilman John Campisi, R-south county, contended that he owned the rights to the name and the event despite being voted out of office.
The county filed suit against Campisi, who started a website,
, with a statement announcing the cancelation of that year's JB Blast alongside the county logo, even though the county was still holding it. While Campisi was councilman, he had started a nonprofit organization to raise money for the fireworks called "JB Blast Inc.," and said he did not want his organization to be held responsible for any accidents during the event since his group had not funded it.
Stenger said that future donations would go to a new organization called "South County JB Blast," and that the county would assume liability for the event.
During the legal battle, Stenger noted that the event is not owned by any one person, but by the people of St. Louis County.
Although the county executive and the 6th District councilman have had their share of conflict since Trakas took office, they both recently said they are trying to have a cordial relationship and work together as issues demand it.
"I'd say our relationship is professional and courteous," Trakas said. "I'm going to try to find common ground where I can find it, and that's going to probably be on an issue-by-issue basis."
Stenger declined last month to endorse the effort by some 6th District residents to recall Trakas from office.
"I want to be as helpful as I can to Ernie," he said. "I want him to be successful for the people I represent, I want him to be successful for himself, and I think that he's on that path. I don't want to second-guess him. I don't think you'll ever hear me comment on something that he's done in a negative manner."