High school student takes on critics of Mehlville's Prop R tax-rate increase
Opponents of Prop R 'living in a world from 30-plus years ago,' student says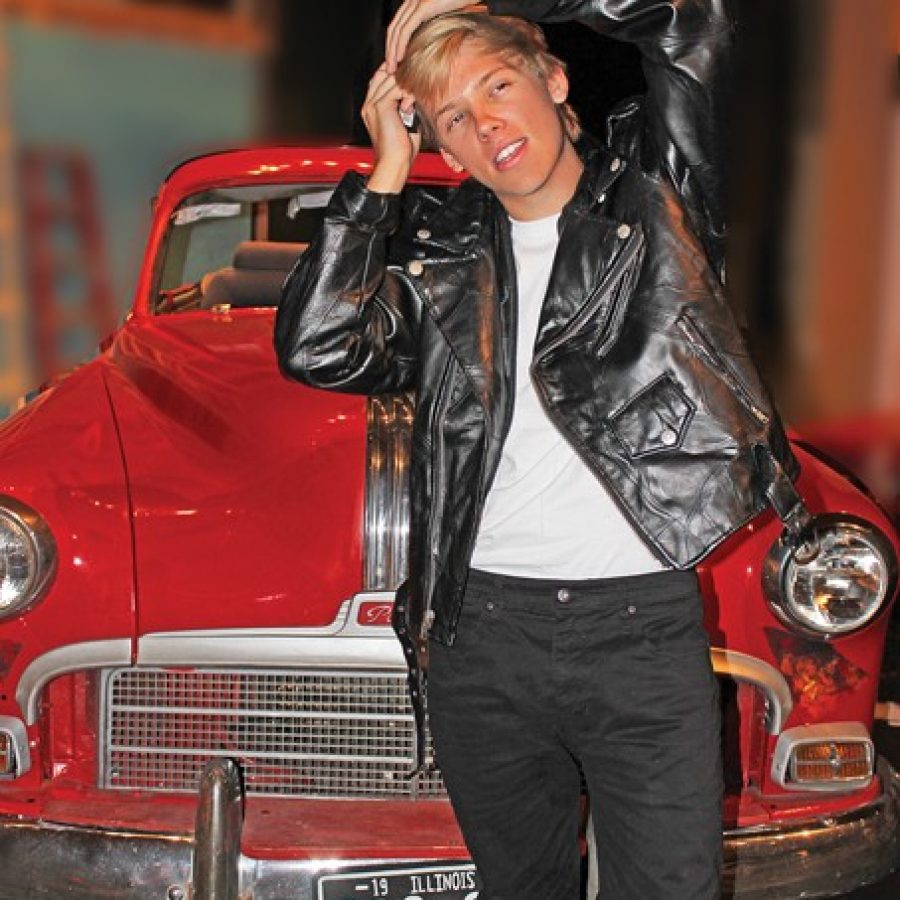 A series of speeches a Mehlville High School student has given to the Board of Education have changed some residents' minds about the district's auditorium and addressed the arguments of critics of the district's Nov. 3 ballot measure, Proposition R.
MHS senior Danny Bitter, president of the Drama Club and star of the high school's current production of the musical "Grease," spoke at the last two school board meetings in favor of Prop R and in defense of the $6 million William B. Nottelmann Auditorium.
Some residents have criticized the auditorium as a waste of money on the eve of the district's financial hard times.
During Danny's initial speech Sept. 10, members of the crowd audibly gasped when he said he conducted an informal survey of recent graduates that showed that in the two years since Nottelmann opened, Mehlville students received $1.6 million in fine-arts scholarships for college that they would not have received otherwise.
"Did you know that prior to the graduating class of 2014, not one single Mehlville student was eligible for a full fine-arts scholarship?" he said. "No college wants students who are trained on 1970s technology. That's all we were trained to use, because that's all we had. Our graduating students from Mehlville and Oakville were not able to compete."
That speech has been viewed thousands of times on Facebook, and some former auditorium opponents say Danny's scholarship data changed their minds about whether it should have been built. At a Sept. 14 meeting of the Mehlville-Oakville United Committee, or MOU, a Rogers Elementary grandmother said the building's return on investment shocked her.
"I was against the auditorium," she said. "After I listened to that young man quantify what has been done for scholarship money for our kids in two years, it totally turned me around."
Danny is starring as Danny Zuko in Mehlville's production of "Grease," with performances the next two weekends.
He is the son of Richelle and Andrew Bitter of Oakville.
Last week, Danny was back in front of the board again to address Prop R critics, who had just debuted a website, Secure Mehlville Oakville Future, that urges voters to "force the district back to the table" by rejecting Prop R.
Danny noted that 121 students are on waiting lists for reading assistance in the district.
"Those against Prop R think it's OK to leave some of my fellow school district students behind, but yet they not only complain about our low test scores but they say that the low test scores are tax related, and this doesn't make sense to me," he said, noting that he wrote his own speech and was not asked to speak by the board, MOU or the teachers' union.
District critics have taken issue with the students who have spoken at board meetings this year since they are not yet taxpayers.
"Young or old, we all have a right to voice our concerns, especially when it affects the future of our community that we share," Danny said. "As a leader and student in my school, we have always been taught by our wonderful teachers that we do not allow persecution regardless of age, and we must squash any gossip or lies and always speak the truth, so here I am …
"What I'd like to do tonight is squash some of the 'facts' from those who oppose Prop R," he continued. "I saw numerous times the opposition mentioned mismanagement of funds (by) past board members. They not only want to punish the current Board of Education now, but they want to punish current and future students because they think that past board members — who are no longer a part of the board and in most cases were even endorsed by the opposition — mismanaged funds."
When Danny was 4 years old, he and his brother engraved their names into their mother's piano. They learned their lesson, but if she had permanently banned them from using the piano they never would have developed the passion for performing that drives them today, he said.
"Likewise, the 'Just Say No to Prop R' group wants to continue spanking the future to teach the past a lesson," Danny said. "Is holding a grudge really worth crippling the students in your own community because you don't like someone? That's childish. The Prop R opposition mentions Mehlville has poor governance. Not giving a future to students because you hold a grudge is poor governance …
"Whatever the problem may be, be part of the solution," he continued. "Please stop sitting around creating obstacles. My biggest disappointment in the literature that I saw from the 'Just Say No to Prop R' group was the complete and utter disregard for our teachers. I'm tired of losing teachers … They suggest that we freeze their salaries for three years — how does that support them?"
If teachers are not supported, they can't support students, who then can't support themselves, Danny said.
"The opposition is living in a world from 30-plus years ago," he said. "I'm being trained on jobs that haven't even been invented yet, so welcome to the 21st century. Farm workers and steel workers are not an option for the future of America, and the opposition doesn't believe that the students of the Mehlville School District are worth anything more than a low-paying, mediocre job."
He continued, "I want to be challenged, I want to matter, I don't want to be just another faceless public school statistic. But for that to happen, what I need is the support of my school, of my board and of my community. Please don't allow me and my fellow students and future students to be stunted in our education because you are content with mediocrity."
Danny then referenced his first speech, during which Lemay Township Republican Committeeman Alan Leaderbrand, Secure MO Future website owner Linda Bowen and resident Sue Jernigan laughed at one of his points.
"Two weeks ago during my speech, I was laughed at and ridiculed by not only the opposition, but three unsupportive seniors in my community," he said. "I am asking all members of our community to stand up for what you truly believe in. Your political affiliation … should not be the deciding factor when voting on this proposition," he added. "Your dedication to the students, to your school district and to your community should be the deciding factor …
"If you are in support of advancing student education and improving their chances after high school and improving the future of the world, then you will vote yes. If you are opposed to all of those things, then I have no words — and for the first time tonight, you've left me speechless," Danny concluded.
MHS teacher Ernie Perrica was signed up to speak after Danny but declined, noting that everything he could say had already been said.
"That's a tough act to follow," board President Venki Palamand laughed. "Good decision on your part, buddy."