Hardy attempting to unseat Tipton in race for Sunset Hills Ward 1 aldermanic post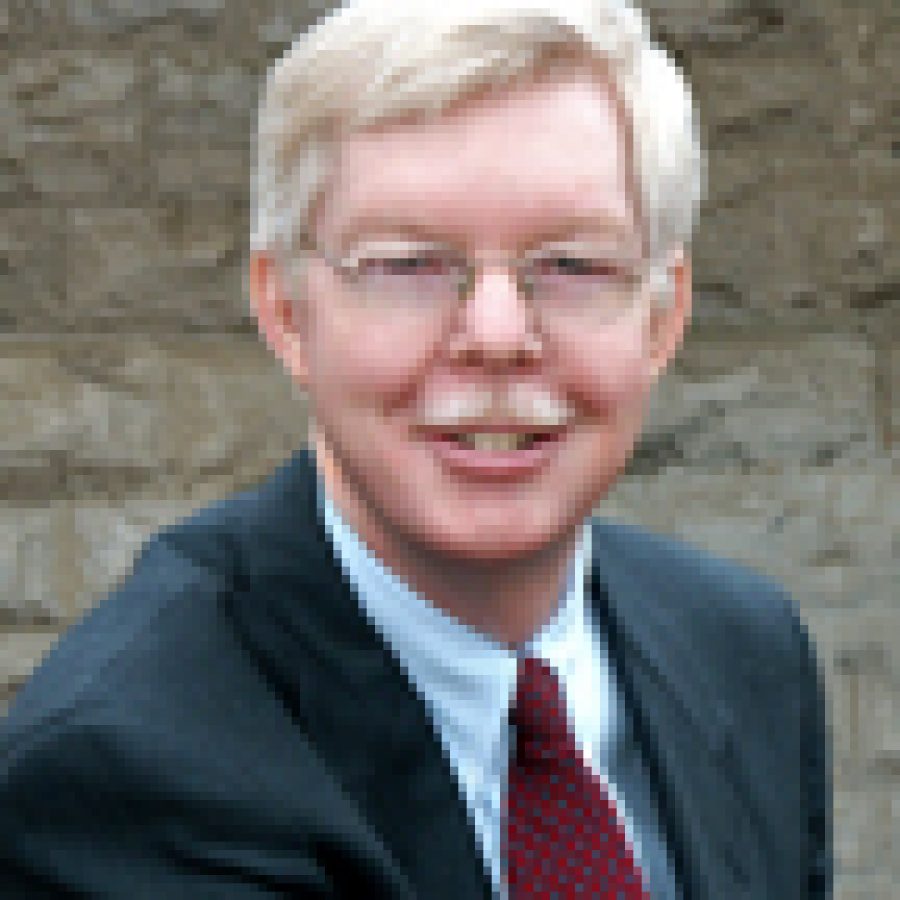 Franklin Hardy Jr. is attempting to unseat Sunset Hills Ward 1 Alderman John Tipton in the April 4 election.
A third candidate, Douglas McGuire Jr., has dropped out of the race, though his name still will appear on the ballot. The seat carries a two-year term.
Asked to identify the most important issue in the race, the candidates responded:
• "I believe the most important issue in any good relationship is to have open, honest and frequent communications. I would want to have that between the city officials and the residents and businesses of Sunset Hills. This is the foundation for a thriving community. I am a businessman and a resident of this community so I understand both perspectives. By having community input on any particular subject, it is only then that I can effectively represent my ward. I would do this by using Sunset Hills' Web site and e-mail to inform the residents and businesses of what is happening in the city and asking for their opinions on those matters in both written and verbal formats. I will be a visible and easily accessible representative to all of my constituents," Hardy stated.
• "Obviously is to resolve the Sunset Manor issue as quickly and fairly as possible," Tipton stated.
Hardy, 58, 421 Rayburn Ave., 63127, is an Internet consultant for I-Site Creations Inc. He and his wife, Phillis, have one adult son.
Hardy, who ran unsuccessfully for a Ward 1 seat last year, said he is seeking election "to give a true voice to the people of Sunset Hills' Ward 1; to have honest, open and frequent communications with all of the residents and businesses that I represent; (and) to make Sunset Hills a better place in which to live and work."
Tipton, 64, 1481 Royal Spring Drive, 63122, is a retired manager from the Boeing Co. He and his wife, Marilyn, have two grown children.
Tipton, who was unopposed two years ago when first elected to the Ward 1 seat, said he is seeking re-election "to serve my city and the citizens of Ward 1."
The candidates gave the following responses to a Call questionnaire:
• What is your position on tax-increment financing — TIF?
Hardy said, "When tax-increment financing is used for its original intent and under its original restrictions, then I think it can be used well as a revitalizing tool for a community. In recent years, however, I feel that tax-increment financing has been abused from that original purpose and has become a tool in a land grab as many cities vie for tax dollars. City improvements, both business and residential, are fine, but not at the expense of people's rights."
Tipton said, "I am not a fan of it, but I recognize that there are situations where the desired ends justify the means. Sunset Plaza is an example of an amazingly successful TIF that will be fully retired this month, much earlier than projected. Both Sunset Hills and the taxing districts have benefited already and will soon profit even more."
Do you support the use of eminent domain for redevelopment projects?
Hardy said, "Eminent domain was intended to be used for property acquisition for the purpose of public use like schools or roads and with just compensation to the property owner for his property. I would only allow the use of eminent domain for truly public purposes and even then only on a very restricted basis and a last resort. I would not allow the use of eminent domain for taking a person's private property and giving it to another person for their own profit. The taking of private property for economic development was never the intended use of such a tool. A person's right to have and to hold property is a right that must be respected and protected in Sunset Hills."
Tipton said, "Fundamentally, no. However, thanks to media hysteria and pandering state politicians, it has become such a hot-button issue that people tend to overlook the fact that it is a process that has many built-in protections for property owners."
Do you agree with the direction that the city is moving?
Hardy said, "No, I do not agree with the direction that the city is moving. I believe that the city is wasteful in its expenditures, and that needs to be more closely monitored, and the debacle of the Novus Development project has become an open wound from a local, state and national news perspective. Sunset Hills has frequently been referred to as the poster child for eminent domain abuse. Is that a good way for the city you live and/or work in to be viewed? I don't think so.
"This could have been avoided by the mayor and city officials by simply being more proactive in communicating openly and honestly with the residents and businesses in Sunset Hills. They need to seek out the input from the people of Sunset Hills. The city government needs to learn to listen to all of its constituents. In all my years as a resident and businessman here, not once has the mayor or any city official contacted me to ask how I felt on issues affecting my family or my business and to ask what might be done to improve the situation. The only time I have ever seen their names is when they want my vote …"
Tipton said, "Yes I agree with the direction of the city, which is constantly im-proving its public services while staying fiscally sound. We are expanding our park system and enhancing our recreation facilities. We are constantly on the alert for additional acreage that we can acquire for further park land, utilizing various public grants to achieve that end. We are working hard to control growth and development to preserve the environmental quality of Sunset Hills. We remain fiscally sound and strive to assure that the city stays that way and retains one of the lowest property tax rates in the county."