Rep. David Gregory is not surprised but is "honored" that he will be returning to Jefferson City this week to represent the 96th District after winning re-election Nov. 6.
The Missouri Legislature's 2019 session was set to kick off in Jefferson City on Wednesday — after the Call went to press.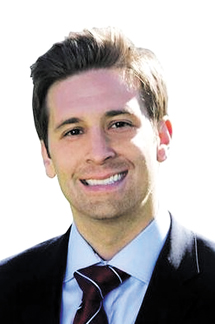 The freshman Republican from Sunset Hills earned a second term by defeating his Democratic opponent Erica Hoffman, a community volunteer and former teacher, by a 3,598-vote margin — 11,901 votes to 8,303.
"I'm honored to be re-elected by such a strong margin," said Gregory, who is a civil litigation attorney and formerly practiced as an accountant.
"I was very confident throughout the campaign with the results I was getting, the polling, the feedback when knocking on doors," he said. "But like any campaign, I took it seriously and took nothing for granted. However, the results did not surprise me."
Gregory was first elected to represent the 96th District in 2016, taking over the seat from incumbent Mike Leara, R-Concord, who was term-limited. Gregory was honored as "Freshman Legislator of the Year" by then-Speaker of the House Todd Richardson for the newcomer's work during the 2017 legislative session.
"Our government needs to continue looking for ways to reduce waste so we can cut taxes and, at the same time, have more funding for schools, safety and roads," Gregory said on why he sought re-election.
During last year's legislative session, House Bill 1388, sponsored by Gregory, passed through the House and Senate, and was signed by Gov. Mike Parson. The legislation modifies provisions relating to the oversight of advertising and fees for certain sports contests like boxing and martial arts.
In 2019, Gregory plans to focus his efforts on five to seven bills, including re-introducing some bills that he sponsored last year.
One of the bills he plans to re-file is Sunshine Law legislation that had been a collaboration with then-Attorney General Josh Hawley, who was just sworn in to his new seat in the U.S. Senate.
"I believe government transparency leads to better, more efficient government. I also believe the attorney general's ability to enforce transparency is key to implementation," said Gregory. "With the correct legislation, the state of Missouri can continue to find ways to save money and fund programs we all believe need more money."
Other legislation includes a notary bill that would help the secretary of state and additional bills related to appropriations, funding and the budget.
Another priority that Gregory plans to tackle in 2019 is tort reform. He believes the legal climate needs to be friendlier toward Missouri businesses.
"We want to limit the amount of frivolous lawsuits," he said.
While campaigning, Gregory said the issues he heard the most feedback from constituents from both sides of the aisle were illegal immigration, health care, pre-existing conditions and right-to-work.
"Right-to-work was obviously a big one, but a lot less in the general election. Pre-existing coverage was something I heard over and over again," he said. "Sometimes I would hear about affordable health care, but coverage for pre-existing conditions was something I heard from both parties."