Green Park residents reap benefits of incorporation
City celebrates its 20th anniversary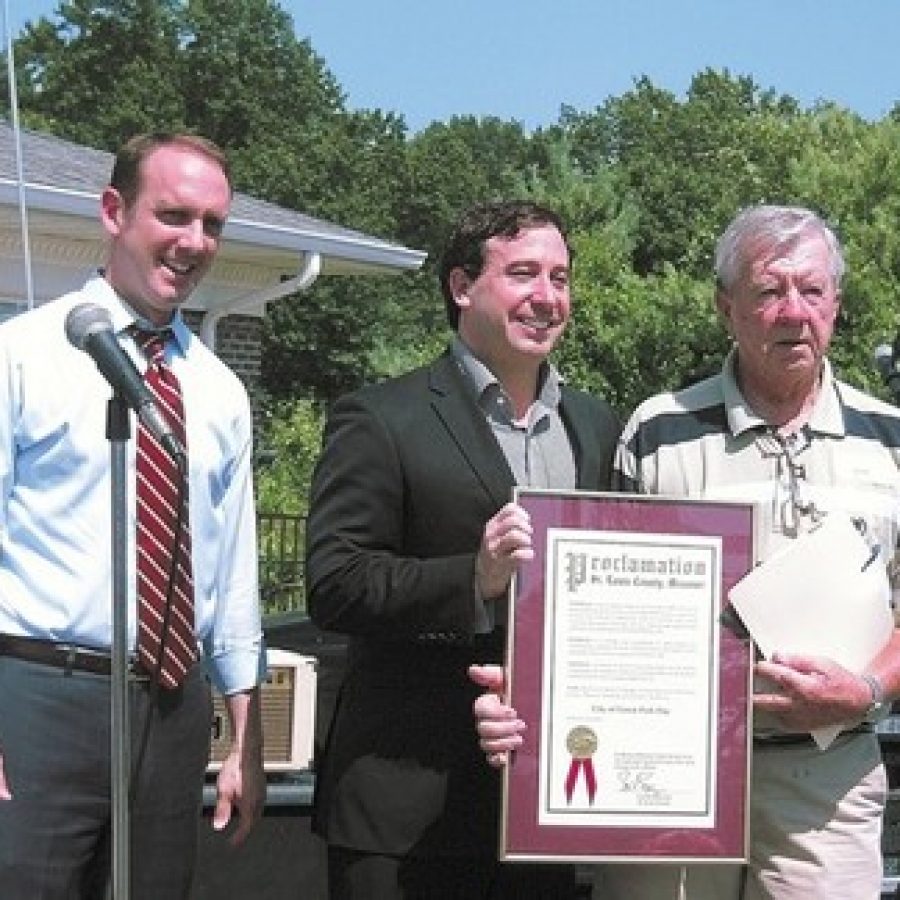 The most important benefit Green Park residents have enjoyed from incorporation "is a better opportunity to influence the decisions that directly affect their community," according to Fred Hoehn, who led the effort to incorporate the city.
Green Park elected officials, city staff and residents were joined by county and state elected officials on July 12 for a celebration to mark the city's 20th anniversary of incorporation.
Besides city officials, attending the gala were County Executive Steve Stenger; Sen. Scott Sifton; Jordan Fears, representing U.S. Rep. Ann Wagner; and Rep. Cloria Brown.
Hoehn could not attend the celebration, but Ward 1 Alderman Carol Hamilton read his remarks to those present.
In his comments, Hoehn recounted what prompted him to lead the effort to incorporate the city.
"… Twenty years ago, many things were in the south county mix. Something called the city of South Pointe was afoot. County government was not favorable to incorporation in south county. Something called the Boundary Commission was on reset," Hoehn stated.
"The South Pointers had said they were conducting open meetings. I went to one of their meetings. Myself and another person were not allowed into that meeting. Wrong move on their part. During my drive home, I thought, 'What if, what if?' And I concluded that I could do incorporation more rapidly than the South Pointers. My thought was the Green Park area could do a better job of local improvement."
After researching state statutes, he established the city's boundaries and began running numbers to determine whether the city would be viable.
"They (the numbers) were viable. I started knocking on doors and I found others who thought the same, formed a committee and went forward," he stated.
Hoehn credited his late wife, Jeanette, as being instrumental in the incorporation effort.
"My guiding light was my wife, Jeanette. She brought her optimism, her good sense and diligence to every step of the effort. It would not have happened without her," he stated. "The rest is history. Sixty-five percent of the voters said 'yes' to incorporating the city of Green Park."
Twenty years later, Green Park residents are continuing to reap the benefits of incorporation, Hoehn stated.
"Some overt benefits enjoyed by residents are new and well-maintained streets, free trash and free recycling and not to forget the police service dedicated specifically to our community," he stated. "The most important benefit residents have had is a better opportunity to influence the decisions that directly affect their community. It has always been my hope that the city of Green Park someday will expand to include more residents from outside the present boundaries to also give them a better opportunity in their future."
Green Park has "the possibility of a bright future," according to Hoehn, but citizens must get involved with their city.
"Good things will not happen for your community without involved citizens …," he stated. "The many young families now putting down roots in the city are the future. With vision and hard work, they can build a better city. It's up to them to get involved to determine the future of Green Park.
"Remember to ask yourself: 'What if?'"
Other highlights from the celebration included:
• Stenger presented a resolution to Mayor Bob Reinagel proclaiming July 12 as "City of Green Park Day" in St. Louis County.
After reading from the resolution, Stenger said, ""Congratulations, and it's wonderful to be here and celebrate your fine day with you today. Thank you."
• Sifton discussed efforts in the Legislature to change the way sales taxes are distributed in St. Louis County, and noted, "… I have the honor and pleasure of representing Green Park in the Missouri Senate, one of nine cities that I get to represent, and like the other eight, it is my absolute favorite …
"From time to time, we have issues in the Senate that are city specific, and one we dealt with this year was the St. Louis County sales tax pool issue. And that was a bill that had some promise for Green Park — wasn't able to cross the finish line, but it was something that I was prepared to at least see through to a vote, and unfortunately it didn't happen …"
He added, "It is really very important that we all work together at the county level, the state level and here at the local level to try to get the best result possible for the districts we represent and it is my honor and pleasure to represent Green Park in doing that …"
Reinagel noted that Green Park is doing very well financially.
"We would be doing much better if that had passed, but at this particular point I think it's keeping a couple other munis alive, so we'll have to live with it," the mayor said.
• Fears read a letter from Wagner, in which she congratulated the city on its 20th anniversary and said it's her honor and privilege to represent Green Park in the U.S. House of Representatives.
"While I'm unable to attend today, I sure your enthusiasm in celebrating the 20th anniversary of your thriving city …," Wagner stated in the letter.
• Brown noted Green Park is the only municipality in he 94th District, "so this is my special place."
She presented a resolution from the Missouri House in honor of the city's 20th anniversary of incorporation, saying, "This is a great day for Green Park. I can remember 20 years ago, it seems like only yesterday when it was incorporated.
"I live close. I'm not quite in Green Park, but I live right across the highway and so I'm figure I'm in shouting distance …"