Grant Historic Site names new superintendent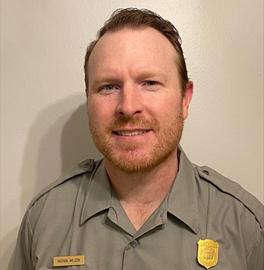 The Ulysses S. Grant National Historic Site named its new superintendent last week.
National Park Service Regional Director Bert Frost announced Feb. 24 the selection of Nathan Wilson as superintendent of the historic site. He is currently serving as the facility manager for both Ulysses S. Grant NHS and Ste. Genevieve National Historical Park and has been acting superintendent at Ulysses S. Grant NHS for the past four months. He will assume his new role in March.         
"I am honored to be selected as superintendent at Ulysses S. Grant National Historic Site," Wilson said in a press release. "I look forward to continuing to build relationships and collaborating with park staff, partners and the local community.  This year is a particularly exciting time at the park as we celebrate the bicentennial of the birth of Ulysses S. Grant with a number of planned celebration events and special programs."  
A 17-year veteran of the NPS, Wilson has a wide range of experience working in historical parks and the Regional Office for Department of the Interior. He spent the first 10 years of his career at Fort Smith National Historic Site in Arkansas as a gardener and maintenance worker, eventually rising through the ranks to be a facilities services assistant. He then took a senior leadership role as facility manager for Lincoln Boyhood National Memorial in Indiana from 2014 to 2018, when he joined the team in the Regional Office as a project manager. In July 2021, Wilson transferred to Ulysses S. Grant NHS as a senior leader for the park and the facility manager. He was awarded the prestigious NPS and DOI Environmental Achievement Award in 2014.  
Wilson earned a bachelor's degree in parks, recreation and tourism from the University of Missouri and is a Graduate of the NPS Facility Manager Leaders Program. He enjoys cooking and spending time outdoors landscaping, hiking, canoeing, fishing and exploring the Ozarks. He and his wife Carrie and son Liam live in the area with their dog and two cats. They enjoy being a part of the local community.