Gaines meets with top leaders in education
Mehlville superintendent works security detail for Trump speech to Scouts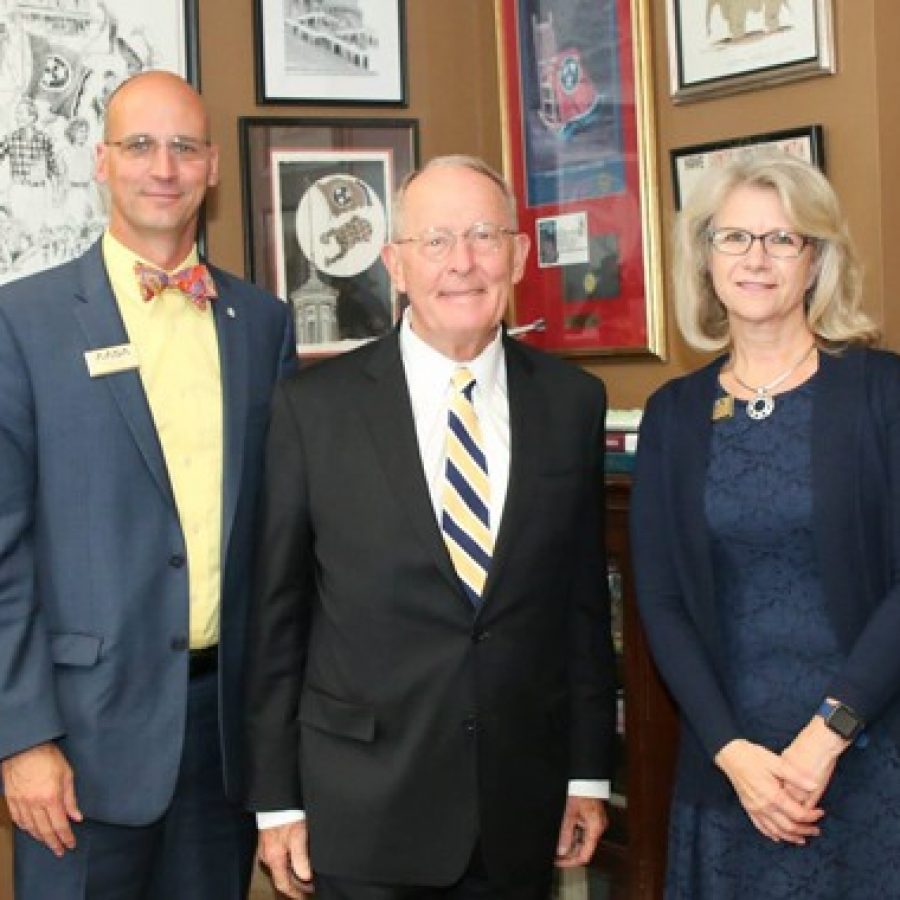 While Mehlville Superintendent Chris Gaines was in Washington, D.C., to take office as president-elect of the largest national superintendents' organization, he discussed the Mehlville School District with the nation's top congressional leaders in education.
As part of the legislative conference of The Superintendents Association, or AASA, in July, Gaines met with former education secretary U.S. Sen. Lamar Alexander, R-Tenn., and U.S. Rep. Virginia Foxx, R-N.C.
Alexander serves as chair of the U.S. Senate Committee on Health, Education, Labor & Pensions, and Foxx chairs the U.S. House of Representatives Committee on Education and the Workforce.
Former teacher and community college president Foxx is particularly interested in technical-education initiatives, and Gaines told her about the innovative programs Mehlville is launching this year, including the new school of innovation Mosaic Elementary.
"We talked about (high-school innovation program) My Path and Mosaic and early college stuff and all the other stuff we've got going," Gaines recalled.
Foxx seemed pleased to hear about innovation going on in the nation's public schools, he noted.
"They don't know what they don't know," Gaines said. "So part of it is we just try to educate them with stories of what's actually happening in the schools — because they're not typically in schools."
The talks with top lawmakers were not Gaines' only brush with national political events last month: He also served as a volunteer working security alongside the Secret Service at the Boy Scout National Jamboree in West Virginia where President Donald Trump gave an attention-getting speech to tens of thousands of boys, including Gaines' son Zack, a student at Washington Middle School.
"Man, I had the thing in my ear, I had the little mic, you bet," Gaines said. "Twenty-five thousand people walked past where I was standing."
Back on Capitol Hill, with Alexander considering several bills in the Senate that heavily impact education, "ESSA (Every Student Succeeds Act) and E-Rate and health care are the three things that we talked about the most," Gaines said. "He's really kind of a neat dude."
The Mehlville superintendent met with each legislator for times ranging from 30 to 45 minutes with AASA's president, executive director and head lobbyist.
ESSA replaced No Child Left Behind when Congress approved it in 2015 with bipartisan support.
However, Trump's education officials overturned the law's rulemaking, which has spurred widespread confusion for school districts who feel they don't know what to do to receive funding.
Alexander shared Gaines' concern about a development a few days before they met, when an official told Delaware education officials that their plan wasn't ambitious enough.
"So now there's no rules and regs, and states are submitting their plans in the absence of rules and regs, and the comments that schools get back are all over the board, they're inconsistent," Gaines said. "At least on the Republican side, they kind of believe the secretary can't dictate what's in those plans outside of what's in the law, and they think that's what's happening … (Alexander's) view is as long as the plan meets these checkboxes, you're done."
The AASA contingent was also slated to meet with the chief of staff to the head of the Federal Communications Commission, or FCC, to discuss changes under Trump to E-Rate funding, which typically pays for technology and internet services to schools.
In the past, the funding has gone to the neediest schools, but the new head of the FCC, Ajit Pai, is looking to change to per-capita funding.
"He says he wants to support rural schools, but he wants to distribute E-Rate on a per capita," Gaines said. "Well, if you distribute E-rate on a per capita, you'll kill rural schools."
The since-rejected GOP health-care bill was another target of superintendent lobbying.
The bill's switch to block-granting Medicaid to states could have taken $4 billion away from the nation's public schools since schools currently receive Medicare funding if a nurse performs medical services that are eligible for payment.
The GOP's proposal to repeal and replace Obamacare, the Affordable Health Care Act, would have cost Mehlville roughly $60,000 a year, which Gaines called "a hit" but not as much as what some Missouri districts faced: Springfield receives $500,000 in Medicaid funding.