Friendship Village opens new Chesterfield assisted living, memory care as part of $200M project in South and West County
For Jill Frein, construction project manager for Friendship Village, Sept. 8 will be a big day to celebrate. After more than a year of construction, she and her team will open the doors to what the senior living company calls "one of the most inviting and advanced assisted living and memory care buildings in the St. Louis area."
The new 60-apartment building in West County is part of a five-year, $200 million construction project across Friendship Village's Chesterfield and Sunset Hills campuses. The project includes new independent living apartments, purpose-built assisted living and memory care buildings, and new, world-class skilled nursing buildings. And Frein has been at the forefront the entire time, managing the project.
The West County Friendship Village senior living campus is located at 15250 Village View Drive in Chesterfield. Private tours can be scheduled now for the grand opening week of Sept. 8-12 by calling 636-242-5039.
Seniors who are looking for care while wanting to remain as independent as possible will appreciate living in this specially designed community which includes private apartments for all residents. And their loved ones will feel a sense of relief knowing they're "safe and receiving the highest quality care in a beautiful, home-like setting," according to a Friendship Village news release. With engaging community activities and a park-like campus, the community sits adjacent to Faust Park and the Butterfly House, conveniently located in West County. 
"Residents moving in will be so happy to have private apartments, especially from a COVID-19 safety perspective," said Frein, who engaged both residents and staff in the process of developing the new building. "I wanted residents and staff to provide their perspectives from the beginning. Friendship Village is a very involved community and our residents always have a sense of independence and choice in what they want to do."
Frein and her design team spent months surveying residents and engaging program staff to develop purpose-built assisted living and memory care facilities and amenities that are designed specifically for them.  Built in consultation with Friendship Villages' new Montessori-certified memory care specialists and assisted-living care teams, the buildings are designed to support programs that help residents enhance and extend their vibrant quality of life. Flooring, lighting, surfaces, floor plans, dining — everything is designed around best practices found throughout the assisted-living and memory care profession. 
"We've done our best to take care of everything our residents could need and what their families could want," said Frein in the release.
Frein and the team worked for over a year before construction broke ground, using special software to help determine how to deliver both large and small features that together add up to a place seniors will want to call home. For example, they changed the way the heating and air conditioning were configured, freeing up space in the apartments,and reducing how frequently staff need to access residents' apartments to do work.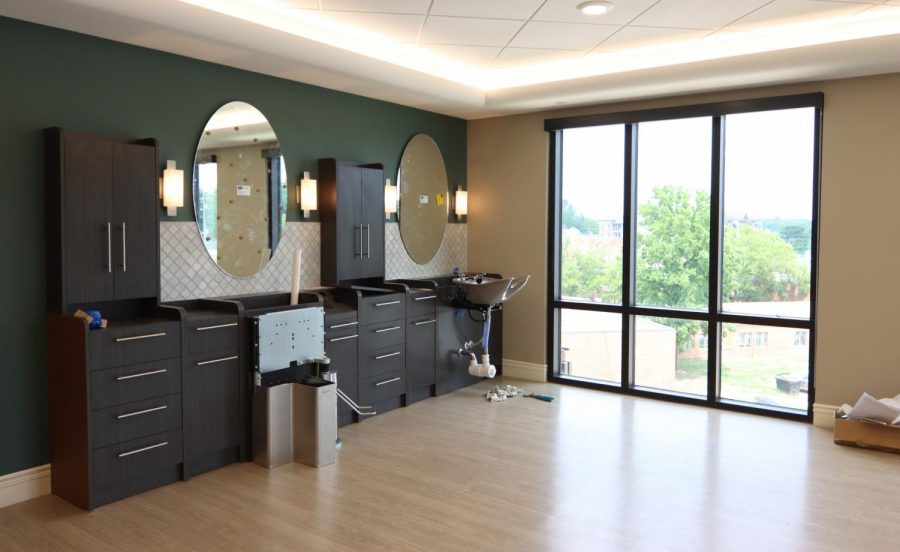 "Our goal is to make it as seamless as possible to move to assisted living or memory care at Friendship Village," Frein said. "Imagine your new home with a gym, activity kitchen, beauty salon, and spa with manicures and pedicures, beautiful fireplaces, an outdoor pergola, walking paths, and lots of places to visit privately with family. It's truly designed for the residents and for the staff to enjoy for years to come."
Frein, who has been working with seniors from an early age, remembers growing up in Northwest Iowa tending to elderly neighbors' yards and gardens when they could no longer do it themselves.
"My dad instilled in me a sense of service to the widows in our small town. We'd mow their lawns, weed their gardens, and pick their vegetables for them. It was just what we did to help them out. I love the fact that I'm still working with seniors to this day. They have so many beautiful stories. It's a real blessing to be able to be there for them," she said.
Frein continues to take care of seniors in all the large and small ways she's overseeing the design, construction and features of the new assisted living building. From the intimate seating areas inside and outside the building, allowing a private space to sit and relax or visit with friends, to the attention to lighting and flooring selections that are attractive, yet safety-minded, every detail is carefully considered.
"With an aging population, you can never have too much light, but it has to be the right kind of light and be dimmable for those who may have light sensitivity. But good lighting cuts down on the chance of falls, so it's an important safety feature," said Frein. "It's the same with flooring; no dark or shiny floors, since people with dementia can be apprehensive to walk on them and may fear falling."
As the Sept. 8-12 grand opening week gets closer, crews are putting the finishing touches inside and outside the building. And Frein continues to oversee the large and small details of the project while remaining open to input from staff and residents, always with an eye toward making the building perfect.
Said Frein, "We know it's emotional to move to a new place. We're very focused on making this building just right for them. We want Friendship Village to become their home and we want to make the transition as easy as possible."
For those interested in moving to the community, private tours of the new assisted living and memory care building are being scheduled now. Call 636-242-5039 today or visit the website at www.FriendshipVillageSTL.com/assisted-living/chesterfield.