Fribis top vote-getter in race for Sunset Hills mayoral post
Roby commends his 'friend' Ayouaz in a Facebook post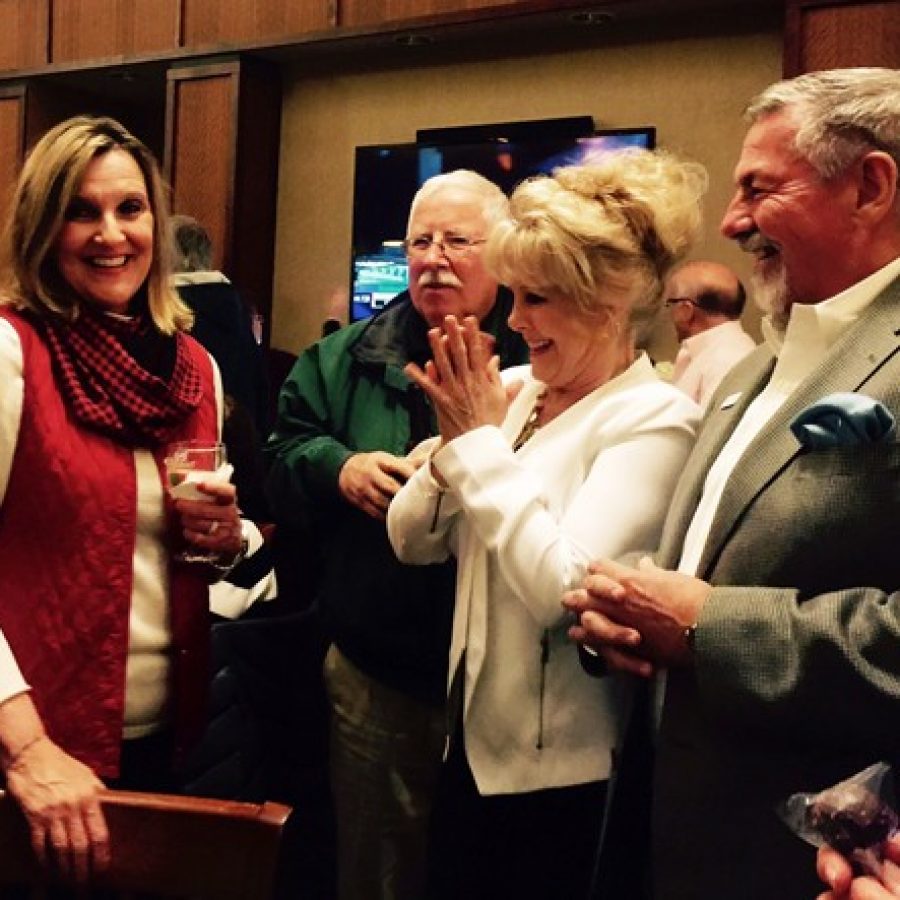 Sunset Hills has a familiar face as its new mayor, an incumbent school board member was defeated in Lindbergh, and a former alderman defeated an incumbent Crestwood alderman in last week's election.
Sunset Hills Ward 4 Alderman Patricia "Pat" Fribis defeated three challengers April 5 to succeed Mayor Mark Furrer, who did not run for re-election.
Earning more votes than the other candidates combined, Fribis took 64.5 percent of the vote, or 1,301 votes. Nathan Lipe finished second with 15.07 percent, or 304 votes, followed by Larry Chorosevic with 14.23 percent, or 287 votes, and Gregory Nelson with 5.7 percent, or 115 votes.
When Fribis is sworn in for her two-year term April 26, she will become the city's 13th mayor and the second woman to serve in the position, after former Mayor Nancy Benson, who led the city from 1989 to 1992.
For the first time in recent memory, most aldermen rallied around a single mayoral candidate. More aldermen attended Fribis' watch party at the Tapawingo National Golf Club than attended the last Board of Aldermen meeting, with only acting board President Tom Musich and Ward 3 Alderman Keith Kostial missing from Fribis' festivities.
The event also served as the victory party for Ward 1 Alderman Richard Gau, Ward 4 candidate Thompson Price and, running unopposed, City Collector Michael Sawicki and Ward 3 Alderman Kurt Krueger.
Musich was also re-elected unopposed.
As one alderman after another left Tapawingo, they congratulated Fribis and said they believe things will change at City Hall under her leadership.
"It's going to be so peaceful," Gau said.
And as the long night she was elected mayor wound down, Fribis agreed.
"We're going to have peace and calmness," she said.
With final results delayed by ballot irregularities at three city precincts, a cautious Fribis didn't officially celebrate until Finance Committee member Joe Stewart calculated that every vote in the last half of ballots would have to go to one of her opponents for her to lose.
As the campaign turned to a victory, Ward 1 Alderman Dee Baebler gave Fribis a painting of two yellow Minion cartoon characters, a reference to Furrer's comment last year that Baebler, Gau, former Ward 2 Alderman Scott Haggerty and former Ward 3 Alderman Jan Hoffmann were Fribis' "minions." The incoming mayor said she might hang it in her office.
Ironically, an official Furrer did not see as Fribis' minion, Ward 4 Alderman Donna Ernst, became one of the most enthusiastic supporters of Fribis' mayoral bid. Ernst's dogs Duke and Louie served as Fribis' unofficial campaign mascots, posing with her signs. Anticipating a Fribis victory, Ernst had a "Sunset Hills Mayor" shirt custom-embroidered and baked chocolate and mint treats with Fribis' face and "Mayor of Sunset Hills" emblazoned in sugar.
Fribis is the longest-serving alderman, first appointed by former Mayor Mike Svoboda in 2008.
Former Mayor Bill Nolan originally announced he would run for mayor again, but withdrew due to health reasons. Spurred by opposition to a QuikTrip at the Interstate 270 commuter lots, Furrer defeated Nolan with a write-in campaign in 2014.
In Ward 1, Gau fended off a challenge from former Alderman Frank Hardy, who served from 2006 until Gau defeated him in 2012. This time, Gau prevailed with 58.65 percent of the vote, or 244 votes, and Hardy earned 41.11 percent, or 171 votes.
Price defeated Stephen Shady for the Ward 4 seat held by Ernst, who was also elected as a write-in in 2014 but did not seek re-election. Price received 71.58 percent of the vote, or 413 votes, while Shady earned 28.08 percent, or 162 votes.
Incumbent school board member Gary Ujka, elected in 2014, tied for third in the five-way race for two seats in Lindbergh.
Kara Horton did not run for re-election.
Jennifer Miller was the top vote-getter with 28.16 percent, or 3,648 votes.
Former Crestwood Ward 4 Alderman Mike Tsichlis was also elected, earning 22.94 percent of the vote, or 2,971. Ujka and Dave Reinhardt tied with 2,815 votes, or 21.73 percent, and Michael Bitzenburg received 638 votes, or 4.93 percent.
In Crestwood, Ward 1 Alderman Richard Breeding and board President Mary Stadter of Ward 2 were re-elected to three-year terms unopposed.
In Ward 3, former Alderman Jerry Miguel defeated incumbent Bill Boston, earning nearly double the votes of Boston, who was elected in 2013. Miguel won with 52.85 percent, or 417 votes, while Boston tallied 26.49 percent, or 209 votes, and Spencer Talbott earned 20.41 percent, or 161 votes.
Boston ran for the board opposed to Centrum Properties' proposal to redevelop the former Crestwood Plaza, but he became an ardent supporter of current owner UrbanStreet Group's redevelopment plan.
With the win, Miguel takes back the same seat he held from 2004 to 2013, when he was ineligible to seek re-election because of term limits that bar aldermen from more than three terms in a row.
During Miguel's time off the board, he has been a frequent critic of the transparency and tactics of Mayor Gregg Roby. Days before the election, Roby praised Boston on his mayoral Facebook page and asked Ward 3 voters to select him or Talbott. As for Call Executive Editor Mike Anthony's endorsement of Miguel, Roby said he "must strongly disagree."
In Ward 4, Tony Kennedy won a four-way race with 40 percent of the vote, or 369 votes. Ismaine Ayouaz came in second with 31.4 percent, or 289 votes. Former Alderman Steve Nieder was third with 18 percent, or 166 votes, with Ryan Pascoe earning 10.22 percent, or 94 votes.
The mayor did not officially endorse anyone in Ward 4, other than saying that three of the four options — Kennedy, Ayouaz or Pascoe — were good choices.
Former Ward 4 Alderman Mike Vincent endorsed Ayouaz, who filed for office despite earlier issuing a press release saying he was not qualified because he was not a registered voter for a year at the time of filing. The city spent $6,000 in legal fees in February on the issue of Ayouaz's qualifications — roughly $21 per vote received by Ayouaz.
Roby posted after the election, "I texted Ismaine yesterday and commended him for a great campaign. He is a sincere, intelligent and hard-working individual I believe will get his opportunity to serve our community … I will continue to support him as a citizen and a friend."
In his endorsement post in which Roby never mentioned Miguel and Nieder by name, the mayor concluded, "I remember someone telling me that 'If you can't say something nice about someone, then it is better to say nothing about them at all.'"