Frank alleges Wallace worked the polls on behalf of two successful candidates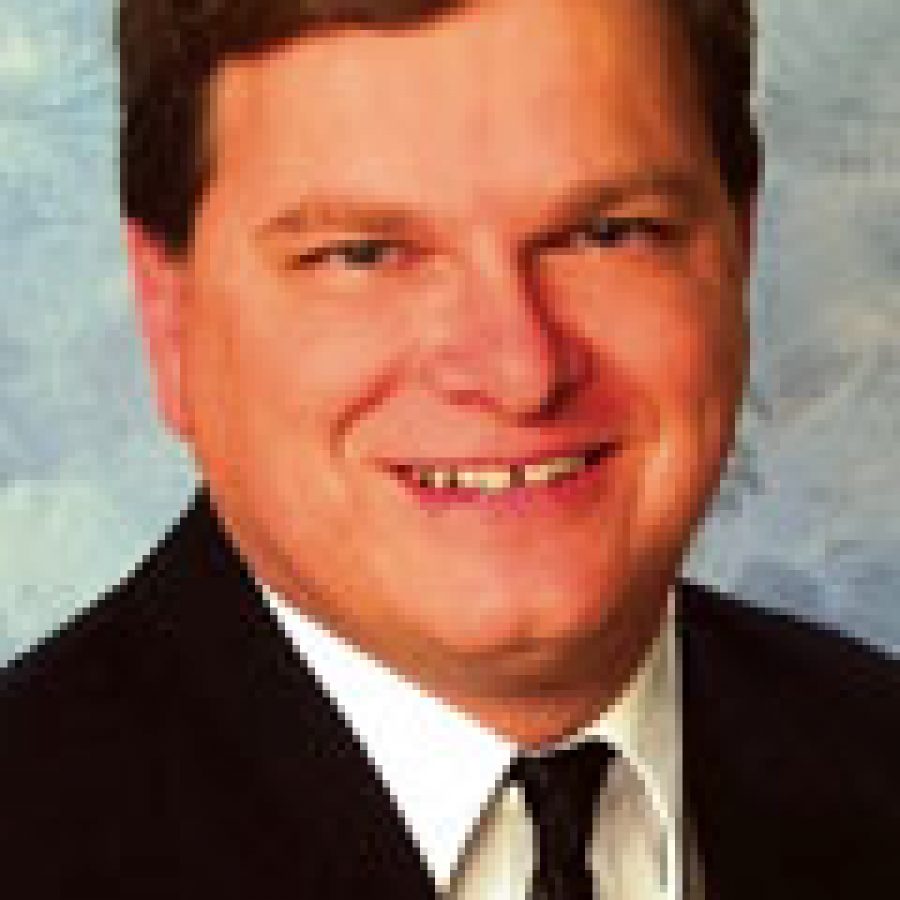 Patrick Wallace is the "antithesis" of what a school district should desire in an effective public relations director, according to an unsuccessful Mehlville Board of Education candidate.
During a Board of Education meeting last week, Karl Frank Jr., who was unsuccessful in his bid for a board seat earlier this month, alleged that Wallace, who serves as the district's school/community relations director, worked the polls on the behalf of the two winning candidates on Election Day.
Tom Correnti, incumbent Rita Diekemper and Frank were vying for two school board seats in the April 6 election.
Frank chided Wallace and board members for the school/community relations director's actions, contending they pose a conflict of interest that reflects on the entire district and could affect future board proceedings. In response to inquiries by Frank and this newspaper, Wallace has declined to answer whether he worked the polls on behalf of Correnti and Diekemper.
Furthermore, during an interval at the April 13 Board of Education meeting, Assistant Superintendent of Finance Randy Charles found it necessary to push Wallace away from Frank several times during a discussion about the latest issue of the Mehlville Messenger in which Frank was identified as "Ken Frank Jr." on the front page.
During a period for public comment at last week's board meeting, Frank first congratulated Diekemper and Correnti for winning the two board seats in the April 6 election. He then questioned Wallace's involvement in the pair's campaigning efforts, reading from e-mails he and Wallace had exchanged.
In an April 12 e-mail to Wallace, Frank wrote, "I have been notified by quite a few people you were working the polls at the Cliff Cave branch of the county library off Telegraph Road. I am trying to verify this information … If you were working that poll, could you please let me know who you were working for and what other polls you were working that day, if any? Rita, Tom or both?"
The next day, Wallace's e-mail response to Frank stated, "Before I answer your question, I need to know if this is 'on the record' or 'off the record."'
After learning his response would be "on the record," Wallace stated in an April 13 e-mail, "Working with journalists every day, it is important for me to know what is 'on' and what is 'off' the record. That is why I always try to ask.
"Now, to respond to your question," Wallace continued. "As you may or may not know, on April 6, the Mehlville School District offices were closed for spring break. Therefore, I was not conducting district business on April 6, I was on my own time. While I appreciate your interest in how I spend my free time, I respectfully decline to share with you the details of my day. If you have any questions for me relating to Mehlville School District business, I would be happy to answer them for you."
After Frank read excerpts from the e-mail conversations to board members, he told board members he believed Wallace's participation in the April 6 election was inappropriate and unethical in his capacity as the district's public information officer and the editor of the Mehlville Messenger — a quarterly publication distributed and paid for by the Mehlville School District.
"I can only conclude from these e-mails that Patrick was working the polls for Rita and Tom. As I understand it, Patrick Wallace's job is to provide accurate information to the public and the media — period," Frank said. "Since Mr. Wallace decides what information goes into the Messenger and what information does not go in the Messenger and because he is ultimately responsible for what is written and read in the Messenger, I believe that Patrick working the polls constitutes a conflict of interest on his part. In some jobs, like being the editor of the Mehlville Messenger, you sometimes do lose some of the freedoms that others enjoy — especially if you want to maintain your credibility …
"It just so happens that I am not the only person that thinks so," he told board members last week, noting that Wallace is an officer of the Missouri Chapter of the National School Public Relations Association. He then read a section of the NSPRA's code of ethics that states, "The education public relations professional shall be aware of personal influence, avoid unauthorized use of organizational facilities, resources or professional services for personal gain or for promotion of the candidacy of aspirants to elected offices, forego derogatory acts or utterances against other professionals."
Days before the April 6 election, the spring 2004 Mehlville Messenger was distributed and mailed to area residents. The front page of the publication displayed photos of the three school board candidates, including Diekemper, Correnti and Frank. However, Frank's first name listed under his front-page photo was "Ken" not Karl.
Information inside the Mehlville Messenger, however, identified Frank's first name correctly.
Wallace has contended that the error was a result of a printer computer malfunction.
Frank expected the board to address the situation, he said, because "this is not the first time that Mr. Wallace has failed at his job and I suspect it will not be the last."
He also noted what he believed was the most important issue surrounding Wallace's alleged poll participation for Diekemper and Correnti April 6.
"While this whole issue is further proof of Patrick's bias, which is highly inappropriate by its own merit, Mr. Correnti and Mrs. Diekemper have a bigger problem," he said. "It is my opinion, and I would think the opinion of most respectable individuals, that Mr. Correnti and Mrs. Diekemper abstain from making any employment decisions as they relate to Mr. Wallace as it could be perceived that Wallace's actions at the polls and any raises or contract negotiations could be viewed as tit-for-tat pay backs by the public."
He concluded, "Patrick is the antithesis of what a district should desire in an effective public relations director."
Asked if he had campaigned for Diekemper and Correnti on election day, Wallace told the Call, "As I told Mr. Frank, I did not do any work for the Mehlville School District that day and what I do on my day off I don't think I need to share …
"He eloquently quoted from the National School Public Relations Association ethics code. I don't recall anything he said that he accused me of doing that I did … I didn't use any school district equipment, resources, time — anything that I might have done on my day off. I don't know what he's talking about."
Asked again if he had campaigned for Diekemper or Correnti, Wallace replied, "I don't think that's of any importance."
Asked if Frank's public comments had raised any concerns, board President Cindy Christopher declined comment because she believed it was a personnel issue.
While board members were preparing for Diekemper and Correnti to take their oaths of office during an interval at the April 13 meeting, Frank told the Call that Wallace approached him with a proof of the Mehlville Messenger, contending that Frank's name had been spelled correctly before it had been sent to the printer for publication. The conversation became heated, Frank said, and could have resulted in a physical confrontation if Charles had not pushed Wallace away from him.
"This just shows his limited self-control," Frank said of Wallace. "I think it shows he has no professionalism. It is very unbecoming of a public relations director to be that aggressive toward a resident of the district."
Charles told the Call he interrupted the conversation and pushed Wallace away from Frank because he believed their conversation was inappropriate for a public setting.
"Mr. Frank and Mr. Wallace were talking to one another and the conversation they were having is probably not, I think both of them would agree, is not a conversation that is best for them to have in a public setting like that.," Charles said. "Mr. Frank has made his opinions of Mr. Wallace very well known. And Mr. Wallace has maintained his composure pretty well, I believe, through that, which is difficult to do."