Four years after his death, memory of Snyder lives on in South County
Next week will mark four years since Officer Blake Snyder was murdered on duty while responding to a call in Green Park, but his memory lives on in South County through several permanent memorials that have been dedicated in his honor.
Snyder was ambushed and shot to death Oct. 6, 2016, by Trenton Forster, a troubled 18-year-old who was convicted of first-degree murder in February 2019 and sentenced to life in prison without parole.
A teenager who was essentially homeless after multiple relatives kicked him out for his behavior, Forster had been staying with a friend, her mother and grandmother, who lived together in Green Park. Snyder was responding to a disturbance call at the family's house on Arno Drive when he was killed.
Unlike the very public outpouring of grief at the time of Snyder's death, commemorative gatherings are difficult to organize this year due to the COVID-19 pandemic. But two of the most permanent honors given to Snyder were dedicated two years ago, near the two-year anniversary of Snyder's death, and still remain in his memory.
The officer spurred the creation of an "Officer Blake C. Snyder Memorial Highway" in two states — part of Gravois Road in Affton that crosses the former Affton Southwest Precinct where Snyder worked, and part of the Great River Road in Godfrey, Illinois, where he grew up and is buried. South County legislators unveiled the Gravois Road version of Officer Blake C. Snyder Memorial Highway two years ago, with highway signs funded by donations from local businesses.
After Snyder's death, a constituent sent a Facebook message to Rep. Doug Beck, D-Affton, suggesting that he try to rename the state highway after Snyder.
With co-sponsorship from Affton's other state legislators, Rep. Bob Burns, D-Affton, and Sen. Scott Sifton, D-Affton, the Missouri Legislature expedited the legislation with a hearing and approval the same day. Several dozen officers attended the hearings.
"I can pass 40 bills this year and not pass this one and it will be a failure," Sifton said at the Gravois Road highway dedication held at the Affton Fire Protection District headquarters in October 2018, adding, "Folks in law enforcement are there for us every day and I just want you to know that we will be there for you too."
Snyder's widow, now known as Elizabeth Tucker, said she appreciated the fact that South County had not forgotten Snyder two years after his death, and for their son, Malachi or "Chi," the highway sign would hold special meaning as he grew up without his father.
"Not only will he get to drive down the street one day and see this, but other little boys will get to grow up and do the same thing," she said. "And every time they see that sign the'll think honor, sacrifice, caring, loving —  everything that every law enforcement officer embodies. I'm very grateful that our family is being honored this way."
Then-St. Louis County Police Chief Jon Belmar said to Sifton, "God bless you, sir —  you always support law enforcement. … It honors us that you would do this on our behalf."
In the city of Green Park, where Snyder died, two major memorials stand: St. Louis County renamed Clydesdale Park "Officer Blake C. Snyder Memorial Park" as a permanent memorial for the officer, and the city dedicated its meeting room in City Hall as the "Officer Blake C. Snyder Community Room," with a photo and a plaque of the officer on the wall. Snyder was not the dedicated Green Park officer, but patrolled the city as part of his duties with the Affton Southwest Precinct.
Green Park renamed its Community Center meeting room at City Hall in honor of Snyder soon after the officer's death, but the official dedication and unveiling happened in August 2018, when Snyder's parents Dick and Peggy, Tucker and Chi attended the Green Park Board of Aldermen meeting and thanked the city for honoring Snyder.
The two major honors for Snyder in Green Park remain a testament and an honor for him by "the very people that Officer Snyder lived to serve as a police officer," said then-Green Park Mayor Bob Reinagel at the dedication of the Community Room in 2018.
Accepting the city's resolution in honor of Snyder in front of a full crowd of his colleagues from the Affton Southwest Precinct, including Capt. Melissa Webb and Sgt. Ray Absalon, Peggy Snyder thanked the city "so much for recognizing our son like this." She had gotten a sneak peek at the plaque on the wall because one of her friends lives in Green Park, plays bingo at City Hall and had taken a photo and sent it to her.
"I think Blake would have been overwhelmed by this, and I think that he tried to do his job to serve the people of your community," Snyder's mother said. "He loved Affton and he loved Green Park, and I just want you to know that he often talked about the people who lived here, about how good they were and how hardworking they were and appreciated what your community offers and how hard it works to improve the area."
Just like Elizabeth and Chi, who have enjoyed many picnics there, the Snyders have been able to enjoy the park named for their son and his sacrifice.
But just as Peggy Snyder made a special visit to Mercy Hospital South to apologize to the nurses and medical staff who had to treat Snyder that night for the trauma they suffered in the process, she also apologized to the city of Green Park.
"Blake loved this area that he served, and I'm so sorry that the tragedy happened in your community because I know that that's hard — that that area where we lost Blake, for those people also to heal and to again take a step forward and realize that there are so many positive things that happen in your community," she said. "I'm sorry that your community has to endure that, but again, we feel so very blessed to be a part of this community. And thank you so much for honoring Blake."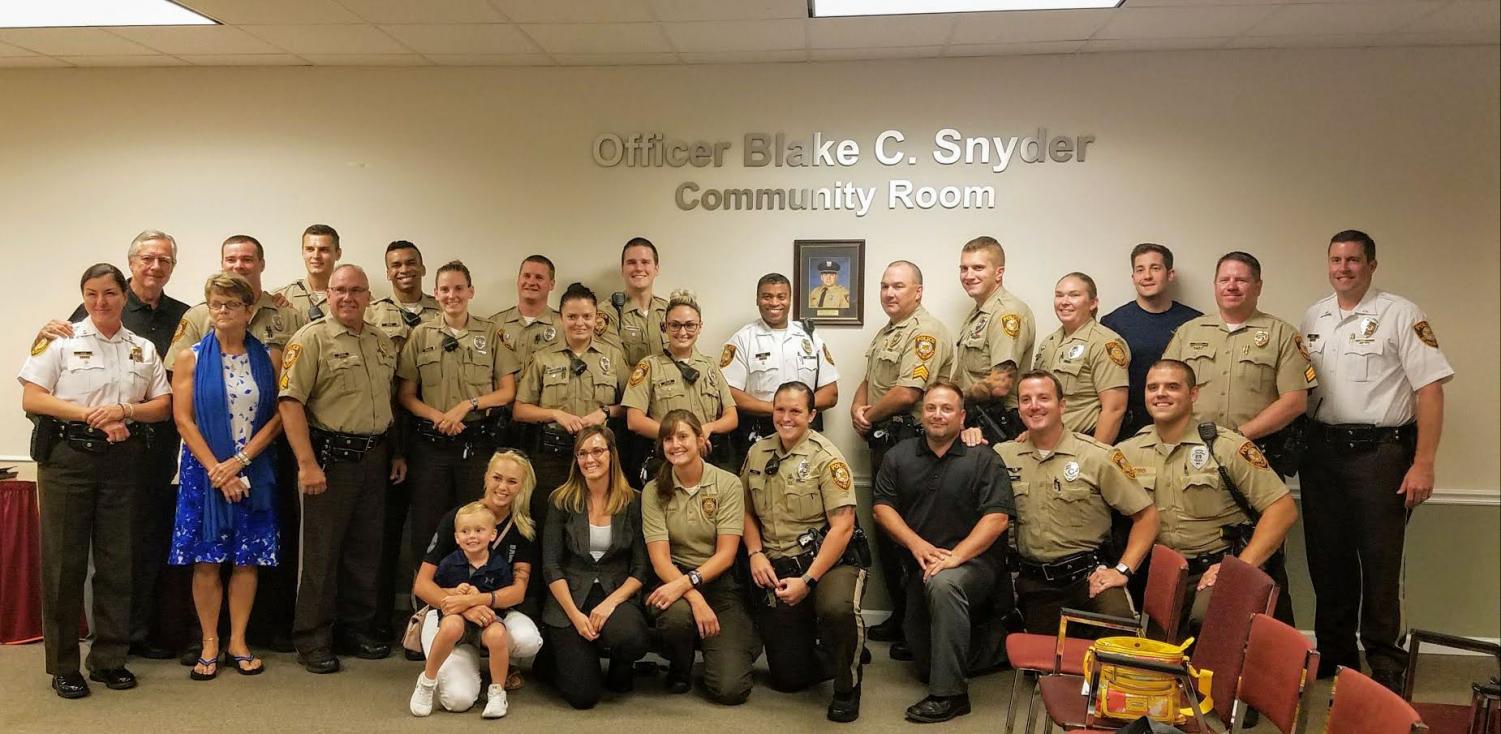 The proclamation issued by Green Park calls Snyder a "devoted and trusted public servant who exemplified the best of those who pledge to protect and serve" and "carried out his goal as a police officer to help people." The officer was "dedicated to his family, church and community and lived to serve others," the city noted.
The proclamation continues that Snyder's loss is "a reminder of the harsh reality that underscores the danger that all police officers face daily and the concern of whether they will return to their families after their shifts, but which also reminds us of how selfless these officers are in their willingness to make the ultimate sacrifice to keep us safe from harm."
Snyder was the first of three police officers connected to South County who have been killed in the line of duty in recent years. South County native Officer Michael Langsdorf from the North County Police Cooperative was killed last year. Oakville High School graduate Officer Tamarris Bohannon was killed this summer responding to a call in St. Louis city.