Four turnovers cost Panthers in 20-10 loss to Eureka
Mehlville looking to avenge last season's loss to Cadets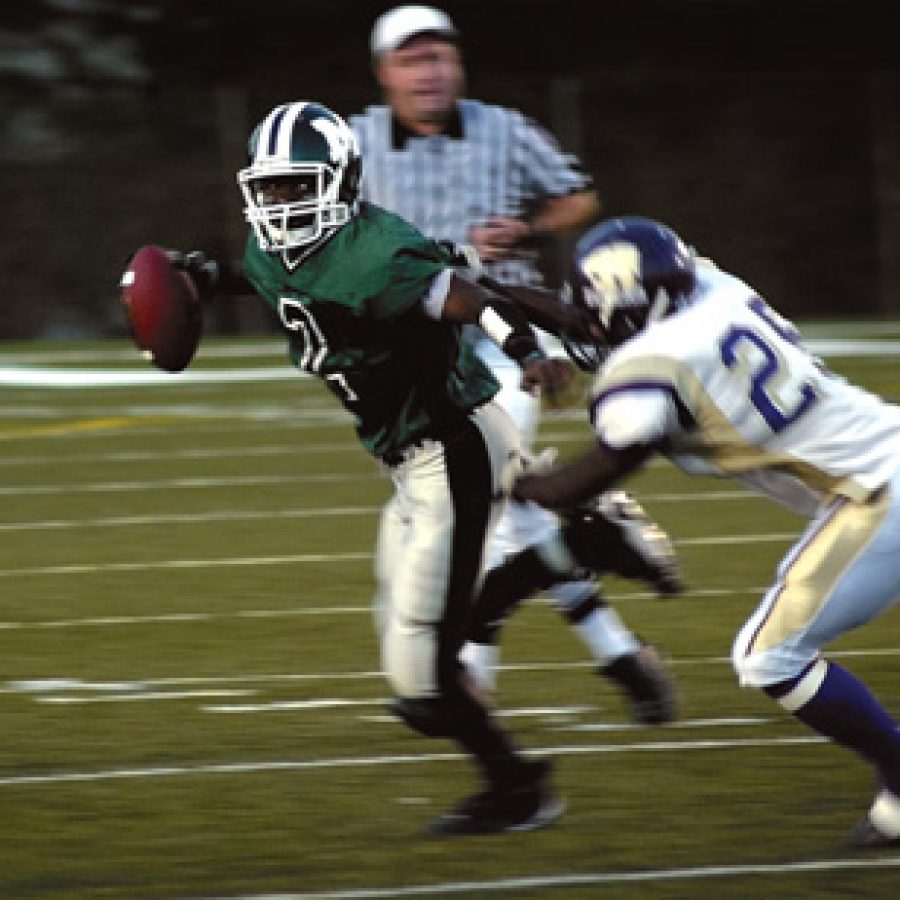 Four turnovers in the second half were more than the Mehlville Senior High School football team could handle as the Panthers fell 20-10 to the Eureka Wildcats Friday night at home.
"The mistakes got us," Mehlville head coach Gary Heyde told the Call. "We turned the ball over four drives in a row in the second half. We had two interceptions and two fumbles that set up two of their touchdowns. You just can't do that against a good football team like Eureka."
The Panthers (0-1) fell behind 7-0 with 11:16 to play in the first quarter when Eureka quarterback Matt Borzillo connected with wide receiver Art Mueller on a 41-yard touchdown pass.
Mehlville responded in the second quarter on a five-yard touchdown run by junior running back Tyrone Clark with 8:23 to play in the first half. Clark carried the ball six times for 20 yards and one touchdown.
"Tyrone scored on a counter play and has been playing really well," Heyde said. "He started cramping though and was on the sideline most of the second half."
The Panthers took a 10-7 lead near the start of the third quarter as senior place kicker Glenn Grimm nailed a 22-yard field goal with 9:19 to play in the quarter.
"Glenn looks like he's improved quite a bit," Heyde said. "We've got a lot of confidence in him this year."
But Eureka tied the game at 10-10 on a 30-yard field goal by Drew Geldbach with 3:25 left on the clock in the third quarter.
The Wildcats regained the lead on a 12-yard touchdown run by Luke Thuston with 9:22 to play in the fourth quarter. Eureka's Geldbach upped the score to 20-10 with a 43-yard field goal with 6:15 to play in the game.
All four of Mehlville's turnovers in the second half occurred at the quarterback position as seniors Tyler Krueger and Alexis Reedus combined for four completed passes for 47 yards, two interceptions and two fumbles.
"They did some good things, but they also had some mistakes," Heyde said. "All four turnovers in the second half were the quarterback.
"So we need to be a lot more consistent at that position because I would like to be setting in on one quarterback. But we've got to wait and see how it all develops."
Mehlville is back in action at 7 p.m. Friday when the Panthers travel to CBC with the hopes of avenging last year's 38-28 loss to the Cadets in the Class 6 state semifinal.