Football Panthers capture district championship with 42-7 win over Oakville
Panthers are back in action on Friday against Northwest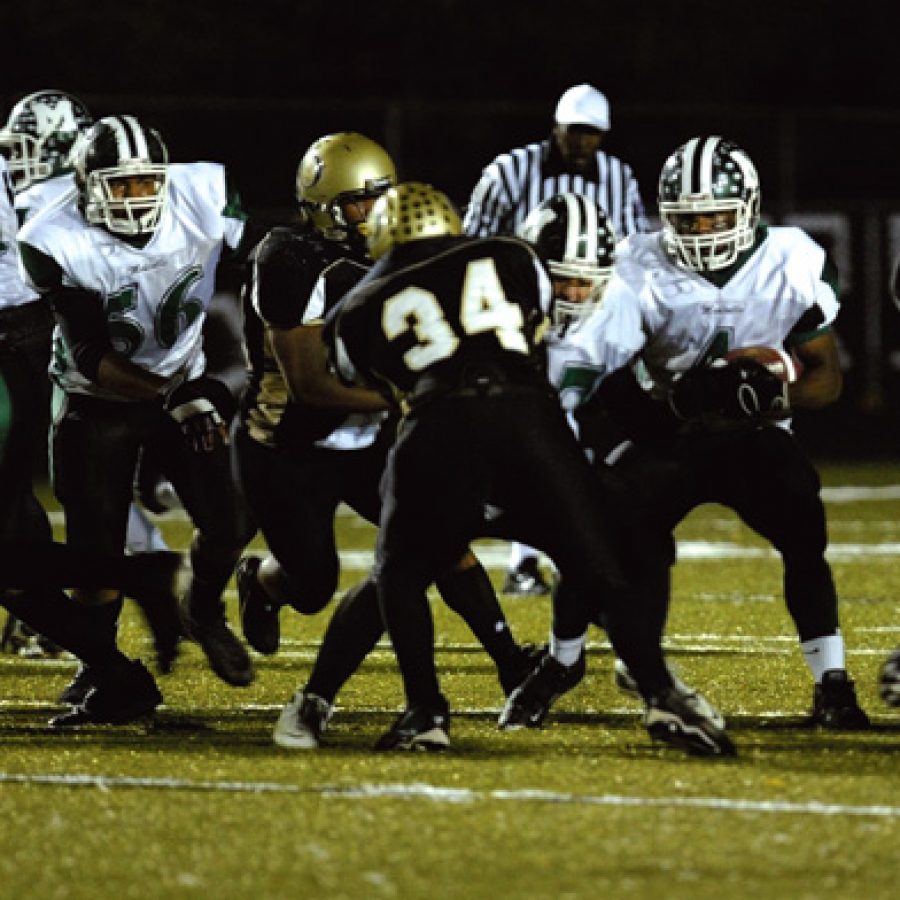 The Mehlville Senior High School football team captured the Class 6, District 1 championship Friday night with a 42-7 win over Oakville.
"That was pretty much for the district championship," Mehlville head coach Gary Heyde told the Call. "So it was a pretty important game for us."
The loss for Oakville (4-5, 3-3 Suburban West) essentially eliminates the Tigers from playoff contention.
"They just outplayed us," Oakville head coach Arlee Conners said. "Their players made some big plays and unfortunately our guys could not do the same."
Mehlville (7-2, 5-1 Suburban West) jumped out to a 7-0 lead midway through the first quarter when quarterback Alexis Reedus scored on a 26-yard run. Reedus carried the ball nine times for 86 yards in the win. He also completed four of 10 passes for 79 yards and two touchdowns.
"Alexis is playing well and we're doing more with him," Heyde said. "We always knew that he was an outstanding athlete, but at the quarterback position, it's more about execution rather than athletic ability. He's been a threat in everything he does for us and is really understanding the offense."
Oakville tied the game 7-7 on a 65-yard pass from quarterback Joe Plassmeyer to Justin Schoemehl with 5:24 left in the quarter.
"Joe was flushed out of the pocket and they had pretty much covered Justin one on one the whole night," Conners said. "He was able to find Justin down field and he made a good throw and Justin made a good catch."
Plassmeyer completed eight of 16 passes for 124 yards, one touchdown and two in-terceptions.
"This was a game where he played it all by himself and he did all right," Conners said. "We were happy with what he's done for us all year long."
Schoemehl racked up 120 yards receiving on three receptions in the loss. He leads the Tigers with nine touchdowns and 550 yards receiving this season.
"Justin was probably the only thing we had going all night," Conners said. "Unfor-tunately, he couldn't do it often enough for us."
Mehlville regained its lead late in the second quarter when running back Tyrone Clark hauled in a six-yard pass from Reedus.
"It was third down, so you're hoping to get into the end zone," Heyde said. "Alexis did a good job dropping back and rolling out to get some more time. He made a real nice throw to Tyrone in the corner of the end zone."
Clark had his second touchdown of the game midway through the third quarter on a 38-yard pass from Reedus. The junior tailback carried the ball eight times for 78 yards and had two receptions for 43 yards.
"Tyrone had two nice catches that were touchdowns," Heyde said. "He's turned into a good all-around player on both offense and defense."
Mehlville extended its lead to 28-7 with 1:54 left in the fourth quarter when Joel Fieseler pounded in a two-yard touchdown run. The senior running back carried the ball 21 times for 154 yards and two touchdowns.
"With our offense, you never know who's going to have a good night," Heyde said. "He started popping some big runs and ended up having a good game."
Clark gave the Panthers their third touchdown early in the fourth quarter when he scored on a 38-yard run.
Mehlville scored the final touchdown of the game with 5:35 remaining when Fieseler scored on a 28-yard run.
The Panthers are back in action at 7 p.m. Friday when they travel to Northwest. The Lions (2-7, 1-5 Suburban West) dropped a 40-36 decision to Fox Friday as quarterback Jake Waterkotte completed 16 of 24 passes for 211 yards and two touchdowns.
"At this time of the year, you want to play well going into the playoffs," Heyde said. "Northwest concerns me because they're a wide-open spread offense and their quarterback has thrown for over 1,500 yards. So it will be quite a challenge."
Oakville looks to finish the season on the road at 7 p.m. Friday against Fox. Fox (7-2, 6-1 Mississippi Area Conference) squeezed out a 40-36 win Friday against Northwest.
"Fox looks very good on tape and I see them as a team that could have done well in the Suburban West Conference," Conners said. "They come at you nonstop and it will be a battle I'm sure."