Football Flyers prevail 21-14 over Mehlville High Panthers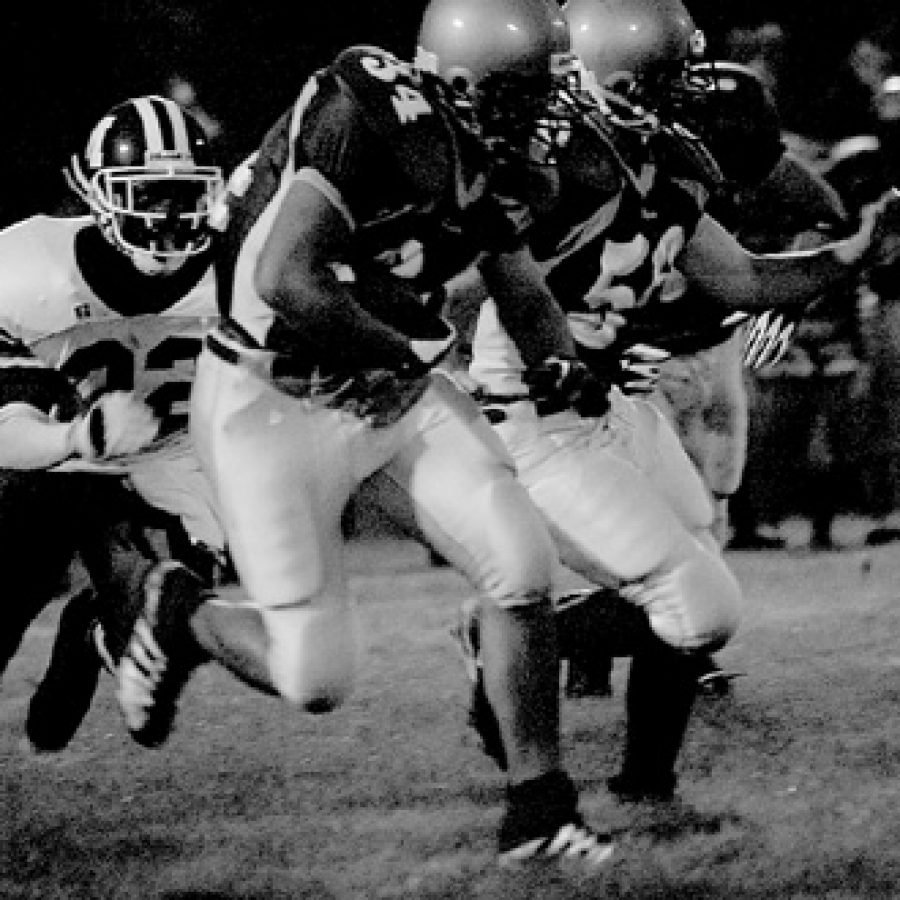 It is starting to become the norm for the Lindbergh and Mehlville high school football teams to put on a show when they meet.
The two squads played one of the best prep games of the year in the 2002 state semifinals. Just two games into the 2003 season, the teams met again and once again the game was in doubt until the end.
Mehlville got off to a fast start Friday night at Lindbergh when junior quarterback Ronald Roberts found Darrell Trice for a 65-yard touchdown pass just 24 seconds into the game. Just like that — so quickly — Mehlville was out to a 7-0 lead.
On Lindbergh's first possession, the Flyers were faced with punting from deep in their own end when the snap sailed over punter Andrew Spitzfaden's head to the back of the end zone.
Not one to worry, Spitzfaden calmly retrieved the errant snap from the back of his end zone and kicked it away, despite having quite a few Panthers on top of him ready to block the punt.
Flyers Coach Tom Beauchamp was impressed with his punter.
"Andrew is probably the coolest cucumber I know," he said, referring to the potentially disastrous punt attempt.
Then thanks to a strong defensive stand, the Flyers kept Mehlville from scoring despite having taken over on the Lindbergh 25-yard line.
"That was huge on our part emotionally," Beauchamp said. "Our defense did everything they had to do to help us win, and that stop got the momentum back on our side."
The Flyers got on the board later in the first quarter when Charlie Schinsky scored on a three yard run to make it 7-7.That touchdown was set up when Chris Luebbert picked up a shanked punt by Mehlville and ran it all the way to the Panthers' 3-yard line. The touchdown for Schinsky was only part of his big night, as the Flyers senior tailback ran for 97 yards in the game to lead his team in rushing yardage.
Lindbergh took a 14-7 lead going into the half on a 10-yard touchdown run by quarterback Brock Bond, who ran for 80 yards and threw for another 98 in the game. He also played the entire second half with a bandage on his hand as a result of a first-half injury that required stitches after the game.
"He's a tough nut," said Beauchamp, who now is in his fifth season having either Brandon or Brock Bond at quarterback. "We talked to his dad at the half and he said: 'Go win the game.' And so he went out there. That was not a surprise, though. That's how that family is."
Lindbergh opened up the lead to 21-7 in the third quarter when Bond ran 51 yards and followed it up with a 27-yard pass completion to Spitzfaden, who had 36 yards receiving in the game.
Those two big plays set up a 1-yard touchdown run for the very efficient Nick Jenkersen, who carried the ball exactly one time on the night — racking up one yard and one touchdown.
Mehlville cut that lead to 21-14 late in the third quarter when Roberts once again connected for a long touchdown pass, hitting Tommy Gayfield for a 60-yard score.
That, though, was as close as Mehlville would get thanks in part to a very stingy Lindbergh defense.
"Our defensive linemen were everywhere," said Dan Gabris, who contributed five tackles of his own for the Flyers. "Mehlville has some great players over there, and we just tried to contain them the best we could."
For the most part, the Flyers did just that. Mehlville did accumulate 148 yards rushing in the game to go with 158 yards passing from Roberts, but either a big play from Lindbergh or a mistake by the Panthers seemed to keep Mehlville from the end zone on a few occasions.
"We made a lot of mistakes," Mehlville Coach Gary Heyde said. "They're a good football team, and we knew that. You have to play good football against them and you cannot make mistakes."
Even with a few miscues the Panthers did have a good scoring opportunity late in the game.
"I felt really good about how we were playing in the fourth quarter," Heyde said.
A couple of dropped snaps and a swarming Lindbergh defense ended the rally, though, but with the Panthers down one touchdown and in Lindbergh territory things did get interesting.
"I was a little worried there at the end," Bond admitted. "They play four quarters. They played us four quarters last year, too, and I knew they would not give up."
The Lindbergh quarterback also was impressed with the team speed Mehlville possesses. "They are just so fast," he said. "They are probably the fastest team I've played against."
Gabris agreed with Bond about the talent on Mehlville.
"They've got a lot of hard hitters and great players," Gabris said. "We were expecting a great battle and we got a great battle."
As was the case last year, should Lind-bergh and Mehlville get hot late in the year, it is possible the teams could meet again in the Class 6 semifinals in mid-November.
For now, though, both squads will get ready for this weekend's games. Lind-bergh, which improved to 2-0 with the win over Mehlville, will take on Parkway Central (0-2) at 7 p.m. Friday at Parkway Central, 369 Woods Mill Road.
Mehlville, meanwhile, will face 0-2 Parkway West at 7:30 p.m. Friday at home, 3200 Lemay Ferry Road.