Football Flyers defeat Mehlville 35-33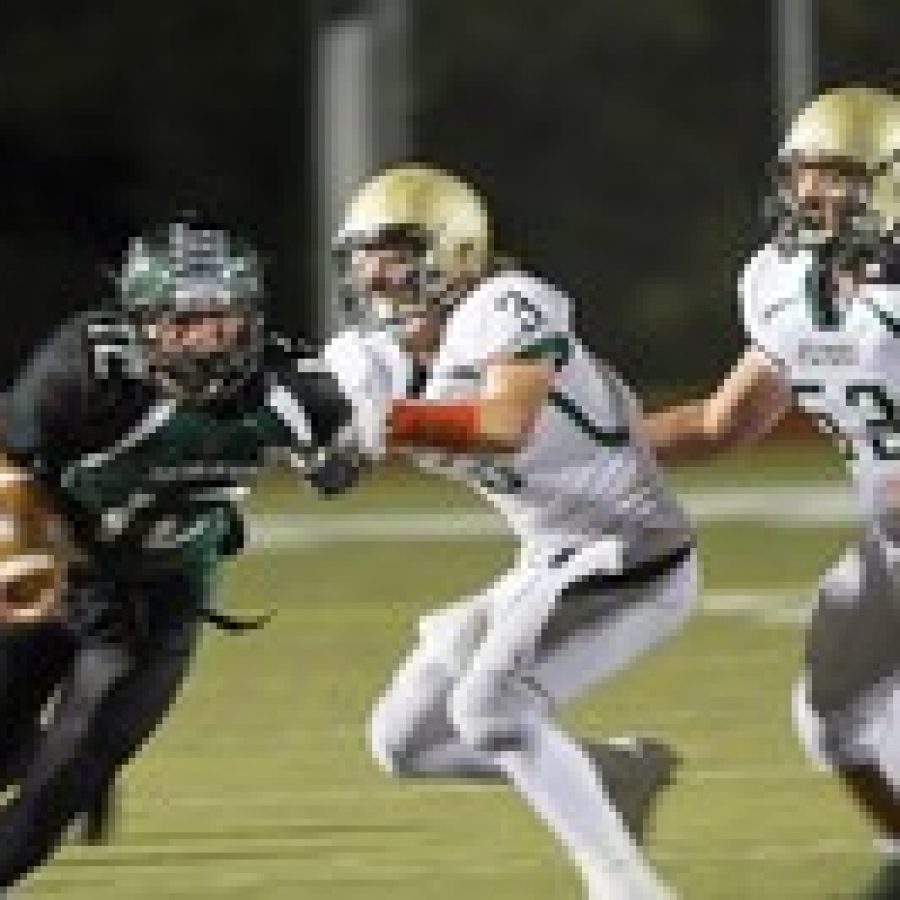 Lindbergh and Mehlville fans packed Jack Jordan Stadium at Mehlville Friday night as the Panthers hosted one of their longtime Suburban West rivals, the Flyers.
Despite Mehlville's home-field advantage and a come-from-behind effort, the 4-5 Flyers were able to sneak away with the 35-33 victory.
The fans got to see an exciting ball game no matter who they were rooting for, according to Flyers head coach Tom Beau-champ.
"Well, I think it was a good high school ball game," Beauchamp told the Call. "I think everybody got their money's worth watching it. I think both teams played extremely hard, but both teams made a lot of errors and so it was a wild one."
Head coach Kent Heinemann told the Call his 3-6 Panthers had a rough beginning to the game.
"Again, we dug ourselves into a hole early. We climbed back out," he said. "The kids are fighting and battling their tails off. Early mistakes cost us big time, and we just didn't get it done."
Falling behind early in the game has plagued the Panthers all season long.
"I would love to see us come out and stop somebody at the beginning of a game and score at the beginning of a game, but that doesn't seem to be happening," he continued. "It seems like our kids take maybe a half a quarter to finally get warmed up and by that time, we're down by a little bit.
"But like I said, the kids are battling. They're playing their tails off and I can't ask for more out of them in that regard. It's just little mistakes here and there costing us."
The Flyers, who will take on Parkway South in the opening round of the playoffs, will enjoy some momentum with two victories in a row heading into next week.
"I think it's important anytime you go into the playoffs to have a little momentum," Beauchamp said. "Being 4-5, it's one of those situations where, you've won some games, but you know on the other hand, you've still got to keep improving if you want to be successful."
After having a pretty rough start this season, the Flyers have learned a lot.
"Well, I think without a doubt we've improved. I think each week we get better and better," he said. "There (are) things we're doing well, but every week you work at it, you find other things you need to do better. I think that's where they're at.
"The kids are playing hard. They're working hard. They believe (and) it's just a matter of fixing things and getting better at what we do."
The Flyers played Parkway South in the season opener and notched a 32-7 win, but Beauchamp is not taking that for granted.
"They've improved. They're playing some pretty good football. So we've got to be ready to play," he said.
Mehlville, on the other hand, had some momentum in the middle of the season with a three-game winning streak. But the Panthers have dropped three in a row now. While they are losses, there is something to be said for losing by a narrow margin, which the Panthers have in the last three games.
"I'm not real big on moral victories and stuff like that, but I think the kids do understand that they are a play away from winning these games, or one less mistake and we can change the outcome of these games," Heinemann said. "So I think there is something to gain from these close games like this."
The Panthers will travel to Oakville for their first playoff game, and Heinemann's club would like another crack at the Tigers after their 35-23 loss in the regular season.
"I feel pretty good about the matchup, to be honest. We're playing at their place, but it's tough to beat a team twice," he said. "So, I think we got a good shot. I know our kids are happy to have another shot at Oakville because I think they feel like they kind of let one get away last time and so we're excited about another chance."