Flyers soar over Mehlville 30-7
Panthers continue quest for first win of season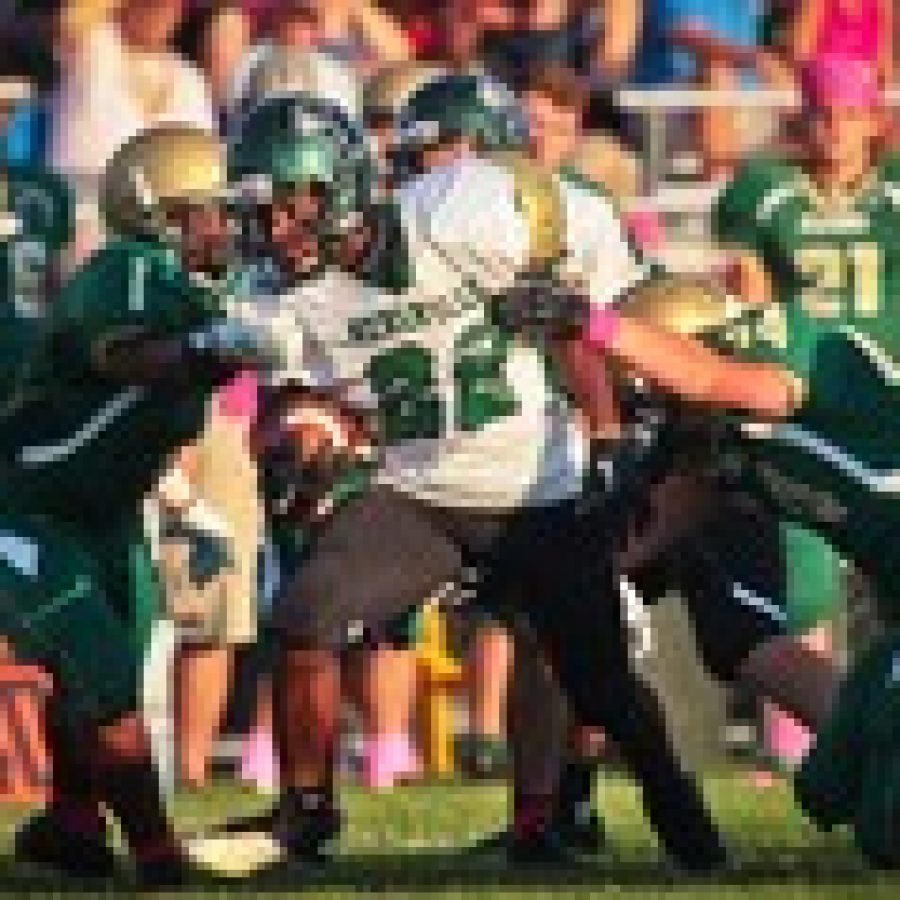 After playing just two and a half minutes Friday in a game that was delayed because of a lightning storm, the Lindbergh and Mehlville high school football teams resumed their game Monday night at Flyers Field.
The two longtime rivals were looking for their first win of the 2014 season and after some intense competition between the two teams early in the game, the Flyers ran away with it, beating the Panthers 30-7.
Lindbergh head coach Tom Beauchamp told the Call that his squad played hard against a formidable opponent.
"We came out and both of us were pretty evenly matched throughout the first half … Then we ended up getting a score and then a field goal, as a matter of fact a school record, a 45-yard field goal by Logan Offner," he said.
"Anyway, we battled back and forth and they controlled the first quarter, having the ball almost the whole first quarter. And in the second, we got it and eventually got down the field and scored, but it was a heck of a game. They battled. Their kids had a lot of heart and they worked hard and our kids had a lot of heart and they battled, too, so it was a pretty good game."
Panthers head coach Kent Heinemann did not have quite the same perspective after his club lost its third straight.
"… We had some penalties and we made some mistakes, and we just, we didn't play real well," he told the Call.
Panther fans have gone through this lull before. In fact, last year the Panthers started the season the same way, but eventually turned things around, and Heinemann is hoping for the same thing will happen again.
"We've had some pretty major injuries with two of our more explosive offensive guys in Rodney Lunon and Mike Mik," he said. "I'm not making excuses, but we've had some pretty poor luck.
"Hopefully, we're going to get Mike (Mik) back this week. We're crossing our fingers, but we're just making mistakes. I still think we got the guys that can get it done. We just got to clean up these mistakes."
Flyers fans and players experienced some relief after picking up their first victory in the teams third attempt.
"I think it's one of those situations where the first one always makes you feel at least, 'Hey, we can do this,' and I think there is some relief to it. But we don't have a lot of time to really be relieved because we've got to play another game on Friday. So it's a quick turnaround," Beauchamp said.
The Flyers will take on Parkway South Friday night and will be looking to earn a .500 record just before the midway point of the season.
The Panthers, on the other hand, will be looking to put their first game in the win column against Seckman Friday night.