Flyers narrowly defeat Mehlville 20-15 in game with drama of Hollywood movie
Simpson says he's excited about victory over Mehlville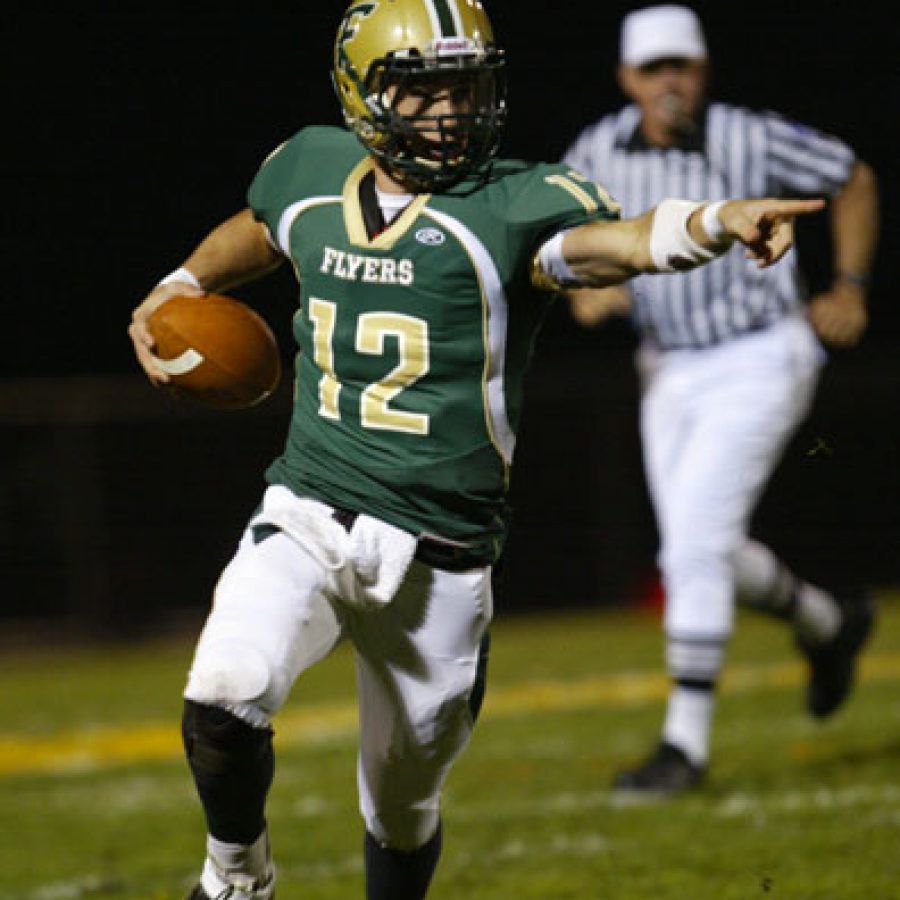 Friday night's football game between Lindbergh and Mehlville high school featured all the drama of a classic Hollywood movie.
That drama included Mehlville's starting quarterback leaving the game in an ambulance midway through the first quarter and both teams celebrating victory late in the fourth quarter after each scored a touchdown in the final two minutes.
It was a classic district matchup between two rivals both fighting to stay alive for at least a chance to advance out of district play this week. But in the end, the Flyers celebrated twice after they narrowly finished off the Panthers 20-15.
Flyers head coach Tom Beauchamp was glad to get the win and no doubt a little relieved.
"It was a crazy, wild game," he told the Call. "They played their hearts out and we played our hearts out and it was one of those games where all kinds of crazy stuff happened. But hopefully, we'll pull it back together and it depends on what happens with De Smet and SLUH if that gives us life or not …"
SLUH beat De Smet 37-31 Friday night, which means it will all be decided this week in the season finale and most likely will come down to tiebreakers.
The Flyers started the game against Mehlville with an onside kick and recovered it, trying to set the tone for the night. But Lindbergh couldn't score on the opening drive.
The Panthers came close on their first drive, making it into the red zone with a fourth and goal, but came up about a yard short.
The Panthers were set up for that sequence roughly 25 minutes earlier by starting quarterback Jeff White, who ran the ball for a 29-yard gain but was knocked out for a short time on the play by an accidental knee to the face.
The injury caused a 25-minute delay as paramedics carried White, who appeared to be in good spirits, off the field. He was transported to a nearby hospital.
After the game, Mehlville head coach Eric Meyer said he didn't have any details about White's condition. but he was encouraged by reports he heard.
"I don't know. He's in the hospital and he's walking around, so that's a good thing," Meyer told the Call.
The Panthers could be heard chanting "1-2-3 Jeff" in their sideline huddle just before taking the field to resume play.
In the second quarter, Mehlville scored on quarterback Brendan Moore's 1-yard run at 5:36.
The Flyers answered quickly, though, with Grant Krueger scoring on a 3-yard run at 4:34 and a 20-yard reception by Garret Krueger at 1:21.
The Flyers were up 14-7 at halftime.
Both teams were silent throughout most of the second half until Moore scored his second touchdown on a 1-yard run with 1:31 left in the game.
The Panthers went for the two-point conversion with the game on the line and it put them on top 15-14. Patrick Partee brought it in and the Mehlville bench began celebrating.
But not more than 17 seconds and two plays later, Grant Krueger brought in a 70-yard reception from Jordan Harmon — who caught a lateral pass from quarterback Peter Simpson — to put the Flyers back on top and halt the Mehlville celebration. But it still wasn't over.
Mehlville, set up by a deep return by Partee, got down to a fourth and goal with seconds to go, but couldn't get past Lindbergh's defense.
"I was nervous. I didn't know what to think," Simpson said about the last drive. "Our defense held 'em though. We had a lock down on goal line defense so we owe the game to them."
Simpson told the Call he was excited about getting the district win.
"… It definitely feels good. I would like to have definitely won by more, but that's the way it is and I'm just glad we pulled out a win at the end," he said.
Meyer no doubt was disappointed as the contest eliminated the Panthers from advancing in the playoffs, but praised his players for giving their best.
"You know, you can't ask for more from the kids. You got kids that go down and other kids that just stepped up and played a really great half and it just didn't work out," he said. "The offensive line played phenomenal, too. Don't forget them. They kept everything going. I'm real happy with their efforts."
Mehlville will take on De Smet at home Friday night for its final game of the season while Lindbergh travels to SLUH.