Flyers look to kick off season on high note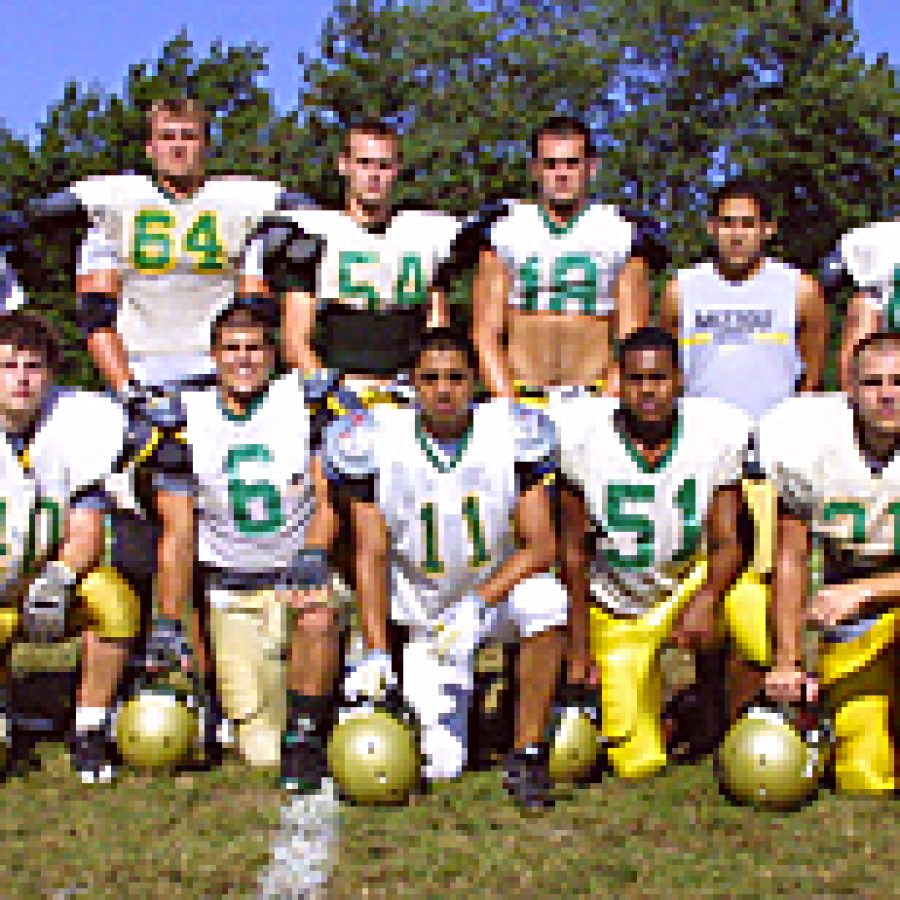 With the 2009 high school football season beginning Friday night, the Lindbergh High Flyers are looking to kick off the season on a high note against Fort Zumwalt South.
"We've got a decent group of kids," Lindbergh head coach Tom Beauchamp told the Call. "It seems like this group of kids is pretty excited about playing some good football."
Senior quarterback Kyle Portell returns for the 2009 campaign after completing 127 of 270 passes for 1,903 yards, 18 touchdowns and 15 interceptions last year.
"Kyle's a big strong kid that's worked real hard in the weight room and I think he's developed quite a bit over the summer," Beauchamp said. "He's matured a lot since last year."
Offensive and defensive lineman Corey Boemer returns this season after garnering First-Team All-State honors last season as a junior.
"Corey's getting a lot of looks," Beauchamp said. "He's gotten a lot stronger than he was last year.
Junior Brian Higgins will join Boemer on the offensive and defensive line.
"Brian's come a long way," Beauchamp said. "I see him being one of those guys that if he turns it on, he'll have a big year."
Another offensive/defensive lineman who is expected to make a contribution this season is senior Mike Glover.
"Mike did a lot of work this summer," Beauchamp said. "He's a strong and physical kid that has excellent feet."
At tight end and linebacker is Sam Smith, who led the Flyers with 66 tackles, one sack, one fumble recovery and one interception last season.
"Sam's a kid that's very tough and very physical," Beauchamp said. "He's always in the right place at the right time."
Senior Sam Spitzfaden is expected to see a lot of playing time at wide receiver and inside linebacker.
"Sam's a tough nut," Beauchamp said. "He should see a lot of playing time this season."
Senior running back/linebacker Austin Good carried the ball 21 times for 83 yards and also recorded a total of 12 tackles on defense last year.
"Austin played a decent amount last year," Beauchamp said. "He's really stepped it up and will start at linebacker and see time at running back."
Another senior running back/linebacker is Eric Schwartz, who also will see time at kicker for the Flyers.
Schwartz ran the ball 11 times for seven yards and one touchdown during the 2008 campaign.
He also recorded seven tackles at linebacker.
"Eric can do a little bit of everything for us," Beauchamp said. "He probably will even do some kicking and punting for us."
Senior Alex Schwent is another Flyer who will play multiple positions this season.
"We see Alex playing tight end, wide receiver and outside linebacker. He's a big, tall kid that does things well."
Senior offensive lineman/linebacker Tanner Fry is a returning starter on the offensive line, but also should see a significant amount of playing time on defense this season.
"Tanner started on offensive line for us last year," Beauchamp said. "But we see him playing more on defense this year than offense."
Lindbergh Varsity Football
Date Opponent Site Time
Aug. 28 Fort Zumwalt South A 7 p.m.
Sept. 4 Francis Howell H 7 p.m.
Sept. 11 Oakville H 7 p.m.
Sept. 18 Northwest A 7 p.m.
Sept. 25 Lafayette H 7 p.m.
Oct. 2 Marquette A 7 p.m.
Oct. 9 Parkway South A 7 p.m.
Oct. 16 Mehlville H 7 p.m.
Oct. 23 Ritenour A 7 p.m.
Oct. 30 SLUH H 7 p.m.