Flyers basketball team takes fourth at state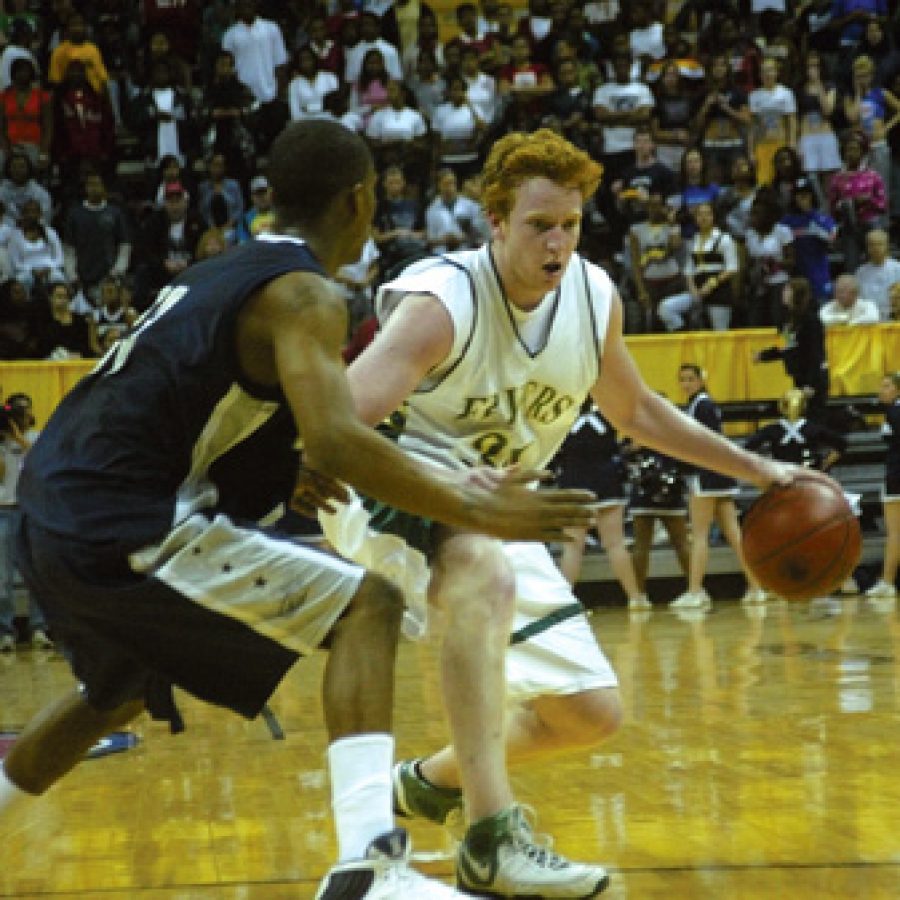 It had been 37 years since the Lindbergh High boys' basketball team advanced to the state's final four, but a storybook run through the Missouri Class 5 playoffs ended Friday when the Flyers dropped a 54-39 decision to Mc-Cluer North in the semifinal game of the state championships.
"Obviously going in, you want to win a state championship," Lindbergh head coach Jason Wolfard told the Call. "Things just didn't go that way for us."
Lindbergh stepped onto the court against McCluer North with a strong showing of support at the University of Missouri-Columbia.
"We had unreal support," Wolfard said. "The school chartered 10 buses full of students and staff. So that right there was about 500 people. We had probably 1,000 fans and I think that we made believers out of them this year. It was a real proud moment for Lindbergh."
The Flyers (18-13) fell behind 8-4 after one quarter, but trimmed the Stars' lead to 20-17 by halftime.
"We started off really slow and it seemed like we were a little intimidated by the atmosphere," Wolfard said. "Our shots were not falling and (McCluer North's) Torres Roundtree just took over the game in the second half."
Lindbergh trimmed McCluer North's lead to two points in the third quarter when senior guard Robert Williams nailed two free throws to bring the score to 24-22. But McCluer North bounced back to take a 34-27 lead at the end of the quarter. McCluer North led by as much as 16 points in the fourth quarter before settling for the 54-39 final score.
Williams led the Flyers with 13 points and four rebounds while also recording three steals and one assist.
"Robert went out there and was ready from the get go," Wolfard said. "He didn't let them intimidate him, and I was really impressed with what he did."
Lindbergh's loss moved the Flyers to the third-place game where they dropped a 65-58 decision to Fort Zumwalt South on Sat-urday to take fourth place overall.
The Flyers fell behind 14-9 after one quarter, but jumped out to a 31-30 lead at halftime.
Lindbergh held on to its one-point lead (46-45) after three quarters. But a 20-12 run by Zumwalt in the fourth quarter doomed the Flyers. The Bulldogs scored 14 of their 20 points from the free-throw line in the fourth quarter as Fort Zumwalt South had a whopping 40 attempts at the charity stripe compared to Lindbergh's 16 attempts.
"In that game, the free throws were the difference," Wolfard explained.
Lindbergh's Ben Harmon led the Flyers with 16 points and one assist. The senior guard scored nine of his 16 points from the three-point line.
"Ben came out and hit his first three shots for us," Wolfard said. "He really hit some big shots."
Tyler Kiel of the Flyers scored in double figures with a 14-point performance that included 11 rebounds. The senior forward also recorded one assist in the loss.
"Tyler played a very strong game," Wolfard said. "He really attacked the goal and I was pleased with how he finished his four-year career at Lindbergh."
Junior Antwon Robinson probably was the biggest surprise of the afternoon as he put together a 10-point performance that included six rebounds.
"I sure would like to know what it was that he did, because we're going to need that from him next year," Wolfard said. "Hopefully this is a glimpse of next year."
The Flyers will graduate eight players as Tremieko Drake, Odell Johnson, Sam Lane, Robby Meeh, Drake Smith along with Harmon, Kiel, and Williams leave a lasting impression on the Lindbergh basketball program.
"The disappointment (at state) was that finality that these were the last two games that we were going to be playing together," Wolfard said. "This team has established a sense of winning and a lot of players got a taste of what it takes to get there. When you lose eight seniors, it's tough to replace because they've been a significant part of the team the last three years that I've been here."