Five challengers oust Sunset Hills mayor, aldermen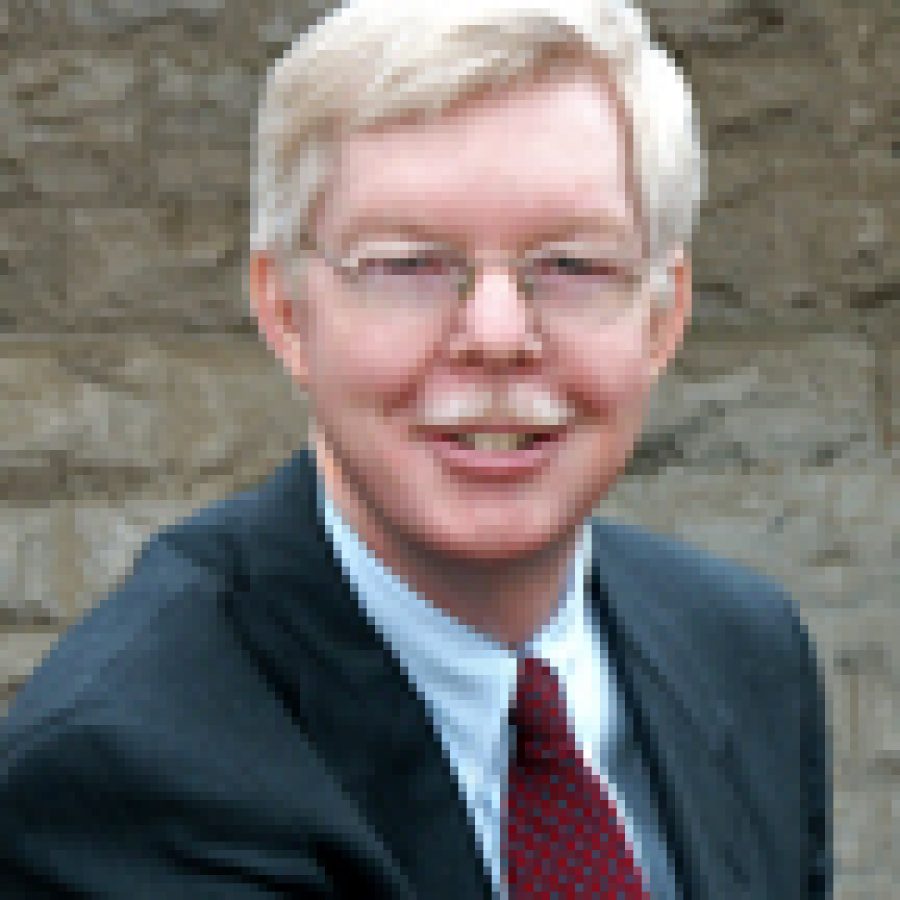 If there is such a thing as an overnight success, then five political newcomers ousting four incumbent aldermen and a mayor in a clean sweep definitely would qualify.
That's exactly what happened April 4, as Sunset Hills voters removed each incumbent seeking re-election from their longtime political offices with the exception of Collector Thomas Fleer, who was unopposed.
In place of the longtime incumbents are new faces to city government who are waiting to be sworn in at 7:30 p.m. Tuesday, April 25, at the next Board of Aldermen meeting. They are newly elected Mayor John Hunzeker, new Ward 1 Alderman Frank Hardy, new Ward 2 Alderman Thomas Hrastich, new Ward 3 Alderman Lynn D. Flowers and new Ward 4 Alderman Frank Gregory.
On their way out of city office are five men who will retain their elected positions until April 25 — Mayor Jim Hobbs, Ward 1 Alderman John Tipton, Ward 2 Alderman John Smith, Ward 3 Alderman Robert Brockhaus and Ward 4 Alderman A. Ron Kaemmerer.
Alongside four new aldermen and the first new mayor that Sunset Hills has seen in six years are four incumbent aldermen who are up for election in 2007. These are Ward 1 Alderman Michael Sawicki, Ward 2 Alderman John Littlefield, Ward 3 Alderman Jan Hoffmann and Ward 4 Alderman Donald Parker.
With the old-to-new ratio on the Board of Aldermen split 4-4, Hunzeker said he hopes there won't be much of a divide between the aldermen because of the citizens' decisive action for change on April 4.
"I think we're coming in with the mandate of the residents, and they want to see the direction of the city change," Hunzeker said. "That message is too hard for me to do. So let's work together."
Hunzeker, who defeated Hobbs by a vote of 1,419 to 960 — or 59.65 percent to 40.35 percent — said he simply wants to change the methods of communication that the previous administration has used with its residents. To make the city more open to the public, the new mayor said he would focus on enhancing the city's Web site to be more modern and carry more information similar to what can be found on the city of Crestwood's Web site. He also said he would like to accomplish more open communication with citizens by instilling that attitude in city employees.
If there had been more of an open dialogue between residents and elected officials than what the city has seen, Hunzeker said, then economic fumbles like Sunset Manor might not have ever happened.
"I've always believed communication is better than no communication," Hunzeker said. "A lack of communication tends to reinforce a sense of mistrust, and I don't want that to be the case. This is not a full-time job, but early on in this transition, I intend to make it a full-time job."
The issue of the Sunset Manor subdivision that the Novus Development Co. had proposed as the site of its ill-fated MainStreet at Sunset shopping center abounded in the April 4 election, and several of the newly elected officials have said that resolving Sunset Manor is the most important task they face.
The new Board of Aldermen will take a look at recommendations from the Sunset Manor Task Force, which was established by Hobbs, at its first meeting April 25.
Besides looking at the task force's proposals for the board to consider, Hardy said he also would offer plenty of his own suggestions to repair the community.
"I think one thing that would help both sides of the argument (in Sunset Manor) is to improve the infrastructure that has been neglected for a long time in this area," Hardy said. "Improve the streets, the sidewalks, the lighting, the services and all that. That would increase the property values for both the people that want to sell the property and move and those people that want to stay and fix up their homes. They obviously have neglected some maintenance over the years because of the cloud of redevelopment over them and just patched up and made things get through as best they could.
"There are people that are really hurting and they need some help right away. We need to act quickly and try to find a satisfactory resolution for those people that are under financial stress and emotional stress and for the people that do want to stay."
As for individuals who are leaving city government, Hobbs said he is pleased with the state of the city as he serves out the last days of his term as mayor. He points out the addition of parks to the city and building a solid cash reserve as highlights of the work accomplished during his time as mayor.
But Hobbs said he is also discouraged that the city's 2006 election became so dependent on the amounts of money that each campaign could generate. Even though Hobbs' re-election committee reported March 23 that it had more contribution dollars — $15,520 — at that time than any other campaign committee in Sunset Hills, the outgoing mayor laments that citizen interest groups spent exorbitant amounts of money to be involved in the election.
Hobbs specifically pointed out that the group Citizens for a Better Sunset Hills, which includes members and contributors from the Stop the Sunset Hills Land Grab group, had spent more money on efforts to get each incumbent out of office than the $5,500 it had reported March 27 as total campaign contributions.
"You better do some research when this is all over with, bud," Hobbs said. "I mean there's no way they can send out all those color brochures on $5,000 or $7,000. We'll see. Because that's unbelievable that that's all they spent. They had professional callers.
"I just didn't believe there was that much money thrown into an election. I would have never thought that in my wildest dreams."
But Will Aschinger, who is a spokesman for both Citizens for a Better Sunset Hills and the Stop the Sunset Hills Land Grab group, noted that the group is not required to file another campaign finance report until May 4 — 30 days after the election.
Since the March 27 finance report deadline with the St. Louis County Election Board and the Missouri Ethics Commission, Aschinger said Citizens for a Better Sunset Hills did, in fact, collect additional funds that put its total contribution amount to roughly $9,000. He also indicated that additional fund-raisers should come soon to make up for all the funds the group did spend before the election.
Aschinger said that at no time did any candidate receive any money from the group or see any of the group's brochures before they were mailed.
"We gave nothing to them, and they saw nothing of the publications that we were doing," Aschinger said. "We gave no money to the guys that were running because they really wanted to fund their own things. The whole thing was to accomplish the goal, which we've done and we've done it appropriately."
Now that the goal of both the newly elected officials and numerous citizens has been completed, Hunzeker said all he wants to do is move forward.
That direction definitely involves Sunset Manor, for which Hunzeker said he would like to perform a complex study so that city leaders know exactly what the situation is.
"Just being an old-time accountant, let's do an audit of our situation before we start coming up with a creative process to develop a course of action," Hunzeker said. "I don't want to suffer from analysis paralysis, but I think it's going to take 30 days after we come into the situation to try and get some sort of conditional sense. Do we know what the conditions are of the improvements on each of these parcels? Have they have been boarded up? Has the phone been disconnected? Is there utility service? So I think that's probably the first place you're going to start."