Experience to bolster Mehlville girls' squad
Coach will lean on veterans to lead Mehlville tennis team.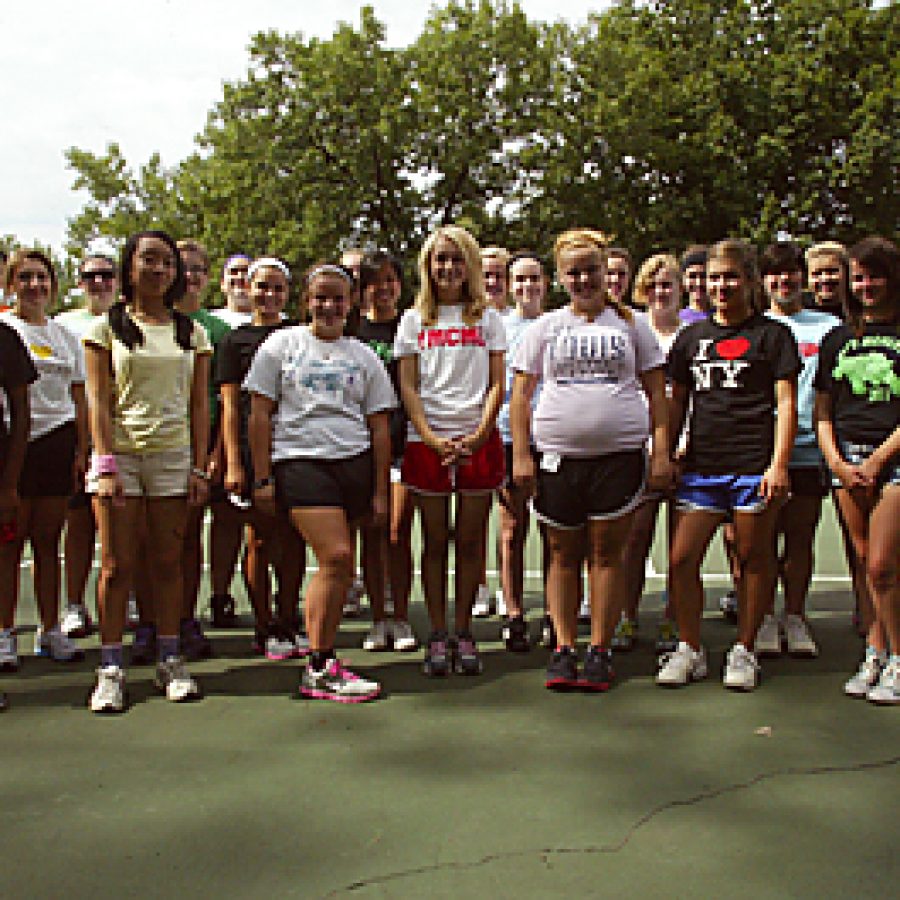 Members of the Mehlville Senior High School varsity girls' tennis team are looking to the 2011 season to hone their skills and improve their overall record.
The Panthers went 4-10 last year under head coach Bill Ebert. He is expecting this year's squad to improve because of its experience.
"This season my expectation is to do better than our record. We always set a goal where we want to at least win about .500 and we hope to accomplish that," Ebert said. "I hope so because these girls are returning. They've had experience. Most of them played doubles last year. So with our experience and everyone coming back, we should improve."
During a preseason interview, Ebert said that he was encouraged with the way his team was shaping up this year.
"I think they are doing fine," he said. "The girls are real enthusiastic in practice. They are really trying hard and they're real excited to be back so that's why I am so encouraged during this first week of practices here.
"As we get into our challenge matches we really see who stacks up with who."
The Panthers are carrying 34 players on the roster, of which only 10 are considered varsity; the remaining players are considered junior varsity.
Ebert is encouraged by that size because there are several sophomores and he is looking for their early development to play a role in helping his team be successful the next couple of years as well.
This year Ebert will lean on his returning veterans to lead the team.
The varsity roster includes sophomore Sabina Okanovic, senior Hue Lam, senior Haylee Thibodeaux, senior Abby Presson, junior Monica Wanninger, junior Suriya Subramanian, senior Jamie Smith, senior Marizela Ekic, junior Laura Connolly and junior Irma Hamzagic.
The experience of the lineup certainly is one of the team's strengths this year, according to Ebert.
"I'm looking forward to a good year. They are good kids," he said.
One area Ebert would like to see improvement from his players is in the techniques of tennis. The Panthers have had a tendency to use their athletic ability to overcome that gap, but if they can elevate that part of their game, they would be even more successful.
Besides an improved overall record in the regular season, Ebert would like to see one of his players qualify for state, which is something the Panthers haven't seen in the past.
"I expect to be at or just a little below .500 by that time. I hope we a have a good placing in our conference tournament and with districts I hope to have— at least I think Sabina (Okanovic) has a good chance of coming out of districts as a top player. Not the top player, but at least one who qualifies for state if she stays healthy," he said.