Dooley, Corrigan to vie in November election for county executive's position
County voters OK measure calling for elected assessor.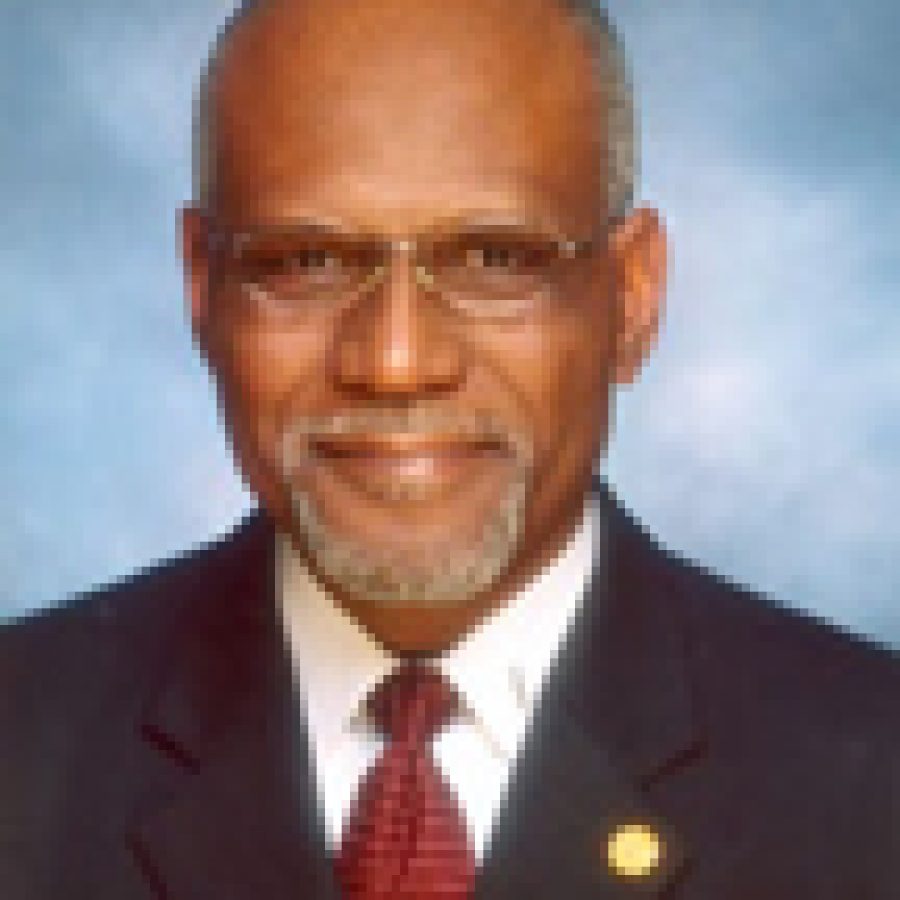 Incumbent County Executive Charlie Dooley and Bill Corrigan easily cinched their respective party's nomination last week to face each other in the Nov. 2 general election.
Dooley captured 47,896 votes — 75.8 percent — in the Aug. 3 primary election to win the Democratic nomination to seek a second full term this fall, according to unofficial election results.
His primary challenger, Ronald Levy, received 15,272 votes — 24.2 percent.
Across the five south county townships — Concord, Gravois, Lemay, Oakville and Tesson Ferry — Dooley received 5,648 votes, or 61 percent, while Levy received 3,618 votes, or roughly 39 percent.
Dooley received his strongest south county support in last week's primary from the Gravois township. There, the county executive received 1,424 votes — 69.1 percent — while Levy captured 637 votes — 30.9 percent.
Levy's strongest south county support came from Oakville Township, where he received 894 votes — 46.1 percent — while Dooley received 1,045 votes — 53.9 percent.
Corrigan won the Republican nomination for county executive in last week's primary with 66,230 votes — 88.6 percent. His primary challenger, Nick Farace, captured 8,558 votes — 11.4 percent.
Across the five south county townships, Corrigan captured a total of 16,003 votes, or 88.6 percent, while Farace received 2,055 votes, or 11.4 percent.
Corrigan's strongest primary support in south county came from Tesson Ferry Township, where he received 4,400 votes — 90.2 percent — while Farace received 476 votes — 9.8 percent.
Concord Township voters gave Farace his strongest local support, with 403 votes — 12.3 percent. Corrigan received 2,867 votes — 87.7 percent — in that township.
Libertarian Theo "Ted" Brown Sr. also is running for county executive this fall.
County Council
In the only contested County Council primary last week, Pat Dolan won the Democratic nomination for the 5th District council seat. Dolan received 6,539 votes — 57.5 percent — while challenger Terri Williams captured 4,837 votes — 42.5 percent.
Dolan will face Republican Randy Jotte Nov. 2 in the race to fill the seat of incumbent 5th District Council Chair Barbara Fraser, who last week won the Democratic nomination to run for the state Senate in Dis-trict 24.
Jotte was unopposed in the Aug. 3 primary.
Proposition 2
County voters last week also overwhelmingly approved Proposition 2, a charter amendment that makes the county assessor an elective office.
Prop 2 received 108,613 "yes" votes — 74.1 percent — and 37,915 "no" votes — 25.9 percent.
County voters will elect an assessor next April. The winner will serve through Dec. 31, 2014. The assessor will be elected to four-year terms beginning with the November 2014 general election.
The county executive would fill a vacancy in the office subject to council approval.
Assessor candidates must be qualified voters who have lived in the county for at least two years before the election.
Voter turnout last week in St. Louis County was 23.5 percent, according to unofficial results, with 158,644 total ballots cast out of 673,809 registered voters.
Missouri House
Looking at last week's contested state House primary results, Cloria Brown won the Republican nomination to challenge incumbent Democratic Rep. Vicki Lorenz Englund Nov. 2.
Brown captured 1,983 votes — 64.1 percent — while her primary opponent, Al Faulstich, received 1,109 votes — 35.9 percent.
Englund was unopposed in the primary.
Jan Polizzi captured 762 votes — 43.1 percent — to win the Democratic nomination for the 97th District state House race.
Polizzi beat primary challengers Jim Barrett, who received 624 votes — 35.3 percent — and Rudy Pulido, who received 381 votes — 21.6 percent.
Gary Fuhr won the Republican nomination in District 97 with 2,017 votes — 43.5 percent. William "Bill" Zobrist received 1,942 votes — 41.8 percent. Jerry Little received 369 votes — 7.9 percent — and Chris Brown captured 314 votes — 6.8 percent.
Polizzi and Fuhr, along with Constitution Party candidate Daniel Fitzhenry, will vie for the state House seat being vacated by Republican Rep. Walt Bivins, who cannot run again this year due to term limits.
Congressional races
In the U.S. House District 2 Republican primary, incumbent Rep. Todd Akin captured 72,206 votes — 84.6 percent — to secure his party's nomination. Primary challenger William "Bill" Haas received 9,491 votes — 11.1 percent — and Jeffrey Lowe received 3,688 votes — 4.3 percent.
Akin will face Democrat Arthur Lieber and Libertarian Steve Mosbacher in the Nov. 2 election.
In the 3rd District, incumbent U.S. Rep. Russ Carnahan won the Democratic nomination with 36,948 votes — 80.1 percent. Primary challenger David Arnold received 6,462 votes — 14 percent — and Edward Crim received 2,691 votes — 5.8 percent.
Ed Martin won the 3rd District Republican nomination with 22,259 votes — 63.4 percent. Primary challenger Rusty Wallace received 7,478 votes — 21.3 percent — and John Wayne Tucker captured 5,375 votes — 15.3 percent.
Carnahan, Martin, Libertarian candidate Steven Hedrick and Constitution Party candidate Nicholas "Nick" Ivanovich will square off this November.