Diehl, Ocello elected to Mehlville Board of Education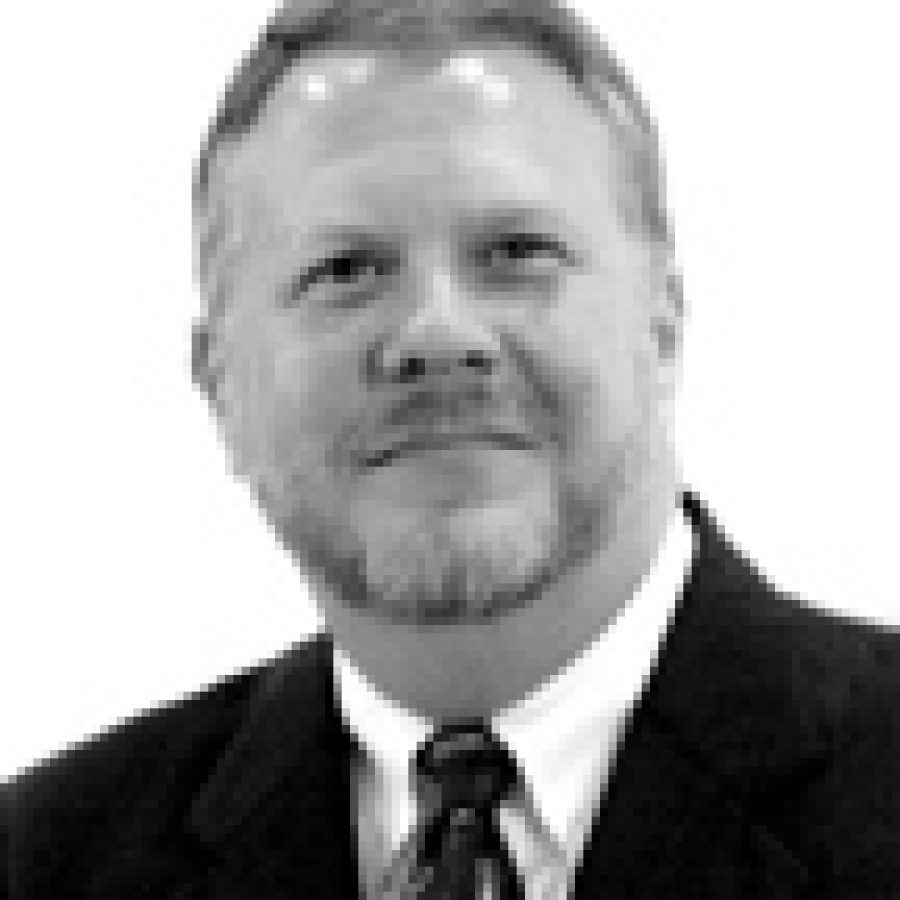 Mehlville School District voters last week overwhelmingly indicated their desire for a change in the way the Board of Education and the district does business, say two newly elected school board members.
Tom Diehl and Micheal Ocello were the top vote-getters for two seats on the Board of Education in the April 4 election, defeating four other challengers, including two incumbents who were seeking their second three-year terms. Diehl and Ocello were scheduled to be sworn in Monday night — after the Call went to press.
Diehl received 5,630 votes — 31.05 percent — and Ocello garnered 4,526 votes — 24.96 percent, according to unofficial results from the county Board of Election Commissioners. Theresa (Saunders) Kleusch received 2,797 votes — 15.42 percent — while board Secretary Mike Heins garnered 1,928 votes — 10.63 percent — and board Vice President Bill Schornheuser received 1,803 votes — 9.94 percent. Mark Counts received 1,449 votes — 7.99 percent. Of Mehlville's 62,827 registered voters, 10,438 — 16.61 percent — cast ballots.
In separate interviews, Diehl and Ocello said they were very appreciative of voters' support and hope to start work immediately to possibly reverse some recent actions of the previous board, particularly the decision to begin charging $375 per student for bus transportation for those who live within 3.5 miles of their school.
District voters in February overwhelmingly rejected Proposition A, a 97-cent tax-rate increase, and the school board has started to act on recommendations made by task force study groups appointed by Superintendent Tim Ricker to help build the 2006-2007 budget in the event Proposition A did not pass. The task force study groups had recommended such things as charging $375 for bus service, charging a fee for playing a high school sport, charging activity fees for elementary and middle school clubs and eliminating team teaching at the middle schools.
The Board of Education has been considering a target of $4 million in budget reductions for the 2006-2007 school year and so far has made $3,497,550 in cuts, including establishing the fee for bus transportation and trimming four elementary physical education/music positions.
"Based on what I've observed with the budget planning process, I believe, at a minimum, we can restore the four elementary teachers which were cut at the last meeting, and restore the bus service," Diehl said.
Ocello said, "I think there's issues that have to be resolved immediately, and one of the things that I do believe that we need to look at just immediately is that we've made some pretty dramatic cuts that I'm not sure we needed to make. And one of the first things that I would like to participate in exploring is possibly undoing those cuts and using some of the surplus. When we're looking at losing teachers, cutting bus service and then we have a $6 million surplus, there's something wrong."
While he said he fully understands that the district needs to maintain a 3-percent balance — roughly $3 million — to stay off the state's list of financially distressed schools, "that still leaves another $3 million. And in my mind, even if we say let's be conservative with that and only spend $2 million of that $3 million, that preserves some of the teachers' jobs, that preserves the busing. And I have said in plenty of places that if ultimately it really got down to teachers and books vs. buses, then the buses got to go. I just don't think we're at that point yet, and it pains me to think that we might have children walking down streets next year without sidewalks and shoulders, no crossing guards and the danger that presents."
Furthermore, Ocello said he believes that south county's roads and the district's schools are ill-equipped to handle an influx of vehicles that could result from parents deciding to drive their children to school rather than pay for bus transportation.
"… We're talking about danger and such a large number of students that I don't even think our infrastructure is truly prepared to handle the burden that's going to happen with that," he said.
Diehl and Ocello both cited hiring a new superintendent as a top priority.
The school board accepted Ricker's resignation during a Feb. 9 closed session. On Feb. 15, a Chicago-area elementary school district selected Ricker to serve as superintendent, effective July 1.
"Our No. 1 priority will be finding a superintendent who is a visionary leader, who is fiscally responsible, who inspires trust and who can motivate our community to support our schools as people in south county have done in the past," Diehl said.
Ocello said, "I think that the next superintendent, one of the skills this individual has to have is the ability to communicate and create teams. I think that this person has to be willing and want to talk to more than just the people that he works with, but to the community, to (community) leaders (and) to the press, and to give our community a sense that we are being transparent, that we are answering their questions, that we do care about what they think. And I think that's going to be vitally, vitally important."
Citing the district's fiscal condition, he added, "… That seems to be one thing that no one's had a great debate on in that everybody seems to agree that we do have some financial challenges. I would like to see someone come on board who has a very strong background in school finance. I feel comfortable that the superintendents that are out there because of their certification and their training are all quality educators and understand that component. But I think we need an excellent communicator and somebody that's very, very well adept at school finance."
School board members are seeking to hire a new superintendent by mid-May, but Diehl and Ocello said they would be in favor of having an interim superintendent if the right person can't be found in time.
Of the possibility of hiring an interim superintendent, Diehl said, "I think that's an option we'll probably have to look at …"
Ocello said, "I am all for an interim superintendent if we cannot find somebody right off the bat that truly meets our needs … I think we have a real opportunity to make the changes that I believe our community just asked for and to get us going in the right direction again, and to misstep right now with a superintendent would just be a devastating blow to that process."
Diehl, 49, 5826 White Pine Drive, 63129, is a fund-raising consultant with CDS Consultants. He and his wife, Barbi, have one child who attends Mehlville schools.
Ocello, 46, 6161 Clifton Oaks Place, 63129, is president of the VCG Holding Corp., an American Stock Exchange company that acquires real estate, restaurants and nightclubs, including adult entertainment nightclubs. Ocello and his wife, Laura, have a daughter who attends a Mehlville school and two grandchildren who attend Mehlville schools.
Both Diehl and Ocello said they were pleased with the outcome of the election.
Diehl said, "I'm grateful to the people of south county who voted for me and helped me through my campaign and I look forward to restoring the reputation and education of the Mehlville School District."
Ocello said, "I'm very happy that the people were able to look at my qualifications and I know that for some people, what I do for a living and some of the holdings that my company is involved with were difficult, but I appreciate that I'm being given the opportunity to serve and help make a difference in our community."
He added, "I appreciate those folks who voted for me and I really want to express that, that I really do. I'm humbled and I feel this is an opportunity for me to live up to the things that I said that I was going to do. And for those who didn't vote for me, I respect their decision and I'm going to do the best I can for them. I'm in this because I really do care and I want to make a difference."