Despite vote, MetroLink probe may not occur
Stenger says internal investigation a more appropriate channel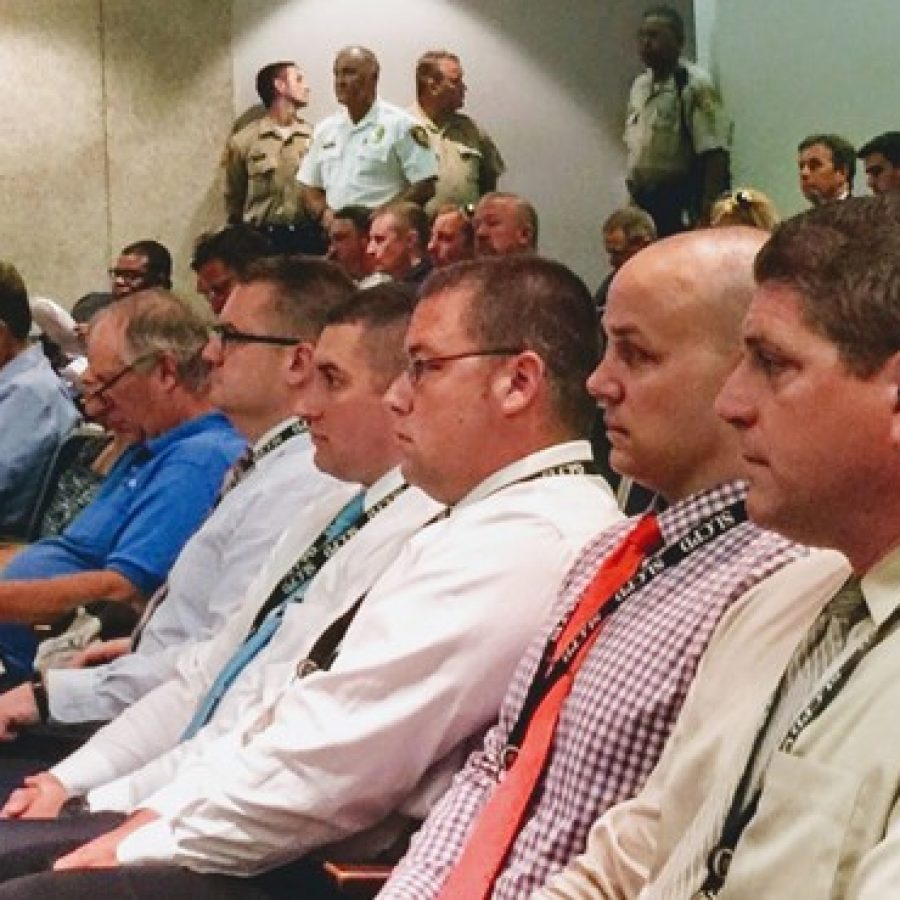 A County Council vote calling for an independent investigation into surveillance videos that appear to show police officers on MetroLink duty covering up cameras and slacking on the job does not necessarily mean that the investigation will actually happen.
Police packed the council chambers at the July 25 meeting as the council voted 5-1 to ask for an independent investigation into the allegations.
The allegations surfaced in recent weeks and brought more attention to an ongoing feud between Metro and the county over police presence on the light-rail system, which spans the county, St. Louis city and St. Clair County, Ill.
Metro claims a surveillance camera it installed in the North Hanley MetroLink police substation caught, over several years, county officers congregating in offices instead of on platforms and trains, texting while on duty and covering up the camera for hours.
A public-records request for the documents and surveillance video was set to be fulfilled after the Call went to press.
"Public confidence, trust and faith in the St. Louis County Police Department has been and will continue to be impacted by these allegations," according to the resolution, which was written by County Council Chairman Sam Page, D-Creve Coeur. "The allegations … should be investigated independently and thoroughly to ensure that county, state and federal laws were not violated."
But the council vote was largely symbolic, with no real weight to force an investigation, County Executive Steve Stenger said. Before the vote, he asked Page what outside agency would investigate.
The council would discuss that after the vote with county police Chief Jon Belmar, Page said.
Stenger also wondered why Metro had never come to the county with its concerns, other than an email in 2015 stating an officer had covered a camera. Stenger and Belmar say they both found out about the allegations by reading a daily publication.
"I read it and I was pretty red-hot mad," Stenger said. "But I also took a step back from it and said one of the things we need to do here is conduct an investigation. And I called Jon Belmar and said, 'Jon, what is going on here? I'm extremely concerned.'"
But at Belmar's request, the county internal affairs division had already taken steps to launch an investigation, Stenger said.
"I want to see the line safe," Stenger said. "I want the Police Department to have the public's trust, and in order to do that you have to clear allegations like this and you have to have a thorough investigation. And if officers have done wrong, they need to be disciplined and punished."
But the county executive believes an internal investigation is the more appropriate channel to pursue a probe, as the internal affairs unit does hundreds of times a year with other allegations of officer misconduct.
The cost for an outside investigation could reach hundreds of thousands of dollars, compared to virtually no cost for handling it internally, he estimated.
"I'm concerned about the cost and taxpayers basically being soaked twice," Stenger said.
The allegations come on the heels of a rollout of a memorandum of understanding between the three counties that police MetroLink to beef up security, overseen by St. Louis County.
Last year, Stenger pledged to double the number of MetroLink officers from 22 to 44, the most of any jurisdiction.
Both sides traded calls for top officials' firings last week. First, Metro Board of Directors member Vince Schoemehl, former St. Louis mayor, called for Belmar to resign or be fired. The next day, the St. Louis County Police Association board called for Metro Public Safety Director Richard Zott's firing.
Stenger threw his full support behind Belmar, along with St. Louis County Police Association President Joe Patterson and representatives of the South County Business Police Association.
"Let's face it, we have professionals here," Rep. Bob Burns, D-Affton, told the council. "If you don't think we have professionals, we just buried an officer last year, Officer Blake Snyder, doing his duty and died in the line of duty. So I don't want anybody telling me this county Police Department doesn't do their job … I'm getting a little riled up."
The chief disputed the idea that MetroLink officers are slacking off: They have responded to 2,000 calls for service so far this year, along with 19,000 other self-initiated calls, he said.
In a statement, county police spokesman Sgt. Shawn McGuire said that Metro released a "limited number of carefully selected images" from the substation, which also serves as a break room and locker room.
The only vote against a separate investigation came from 5th District Councilman Pat Dolan, D-Richmond Heights, while 3rd District Councilwoman Colleen Wasinger, R-Huntleigh, was absent.
"I have full confidence that their internal affairs will look into this and, if they find out they need to go beyond that, I have confidence that they have enough integrity to seek assistance," Dolan said.
But 6th District Councilman Ernie Trakas, R-Oakville, praised the department while calling for a "separate, truly independent" investigation.
"In any discipline, police, lawyers, doctors, accountants, there are always bad apples," Trakas said. "Based on what we've seen to this point, it looks like maybe something is amiss."