Deadline to give feedback on Great Rivers Greenway strategic plan is Friday, Jan. 15
Great Rivers Greenway is celebrating its 20th anniversary and seeking feedback to envision the next 20 years of its mission connecting the region with greenways. Area residents are invited to guide Great Rivers Greenway's work by providing feedback through Friday, Jan. 15 at www.GreenwayPlan.org.
You can download a copy and mail it in, request a copy be mailed to you, take the survey by phone or learn more at the website or by calling 314-436-7009 or emailing info@grgstl.org.
Tracked by electronic counters, visits to the St. Louis region's greenways have risen 72 percent in 2020 compared to 2019.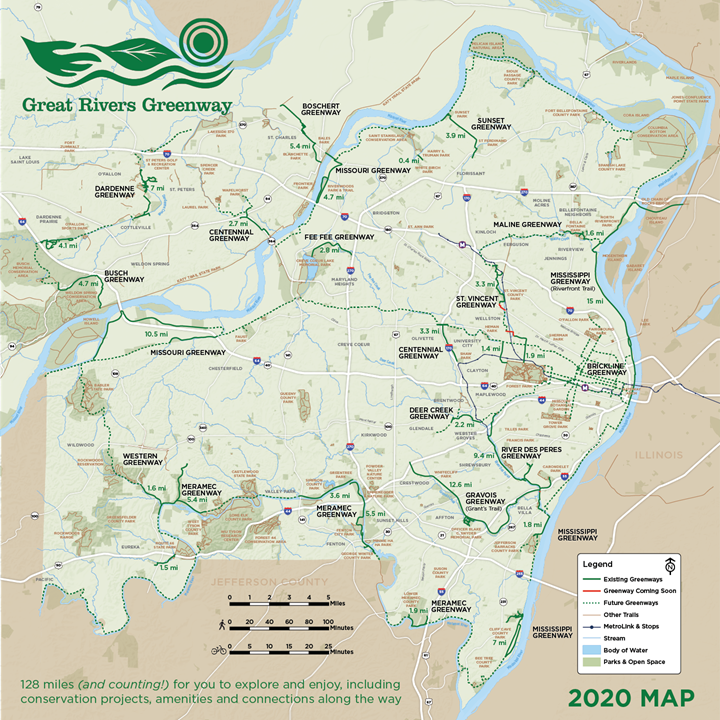 The greenways are funded by sales tax revenue from St. Louis County, St. Louis city and St. Charles County, so people who live and work in those three counties are especially encouraged to participate. One participant will be randomly drawn to receive a $300 grocery gift card.
Over the last 20 years, civic engagement has guided the agency to build more than 128 miles of greenways that connect people to their jobs, schools, parks, rivers, neighborhoods, businesses and transit.
Greenways like Grant's Trail typically include a paved, accessible trail, conservation projects to enhance the environment, amenities like restrooms or benches and connections to nearby destinations.
The agency — created by a vote of the people in 2000 -— updates its long-term strategic plan every five years with community input. See the map above that shows progress throughout the region to date and some of the possible future routes.
"Your voices are central to bringing the greenways to life – these are your tax dollars at work," said Bernard J. DuBray, board president. "A vision this bold takes all of us – thank you to all our partners and community members for their collaboration."
In addition to building the paths to connect the three counties together, Great Rivers Greenway works with partners to promote, activate and take care of the greenways and surrounding habitats. The agency was originally set up to build the greenways, with local municipalities or other entities managing the day-to-day care. Due to varying capacity of partners, the operations and maintenance varies.
Input on past plans led to a team that supports greenway care with staff, vendors, volunteers and training to help maintain the greenways more consistently across the region. That is one of the survey topics, along with project prioritization and how people can get involved with conservation work and relationships in the community.
"We've heard time and again that the greenways are an important part of people's quality of life and our region's well-being overall," said CEO Susan Trautman. "That has been loud and clear in 2020 – more people than ever have turned to the greenways for fresh air, to stay active and connect to nature. These regional assets belong to everyone and we welcome your ideas to envision the next 20 years!"
About Great Rivers Greenway:
Great Rivers Greenway is the public agency connecting the St. Louis region with greenways, with 128 miles of paths built so far. St. Louisans decided to leave a legacy for future generations by connecting together some of our region's best assets with a network of greenways, making it a more vibrant place to live, work and play. With partners, the agency builds, cares for and brings to life the network of greenways, creating healthy habitats and watersheds along the way. For more information, visit www.GreatRiversGreenway.org.