Crestwood uses Community Development Block Grant for city needs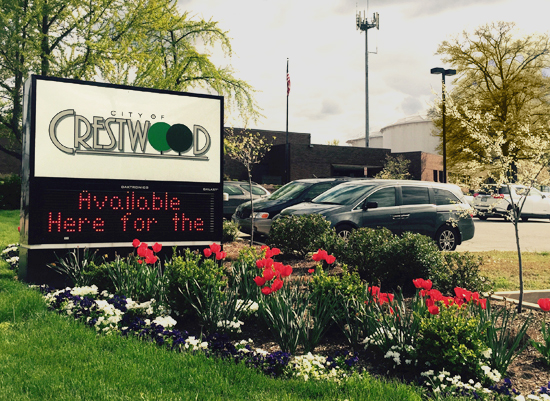 The Crestwood Board of Aldermen unanimously voted last week to use the city's 2020 Community Block Grant funds to defray the cost of constructing handicapped-accessible access to the front of City Hall.
Cities and St. Louis County receive federal funding through the U.S. Department of Housing and Urban Development, or HUD.
The HUD website states the program "works to ensure decent affordable housing, to provide services to the most vulnerable in our communities, and to create jobs through the expansion and retention of businesses. CDBG is an important tool for helping local governments tackle serious challenges facing their communities."
In order to receive the grant funding, cities have to hold a formal public hearing and "disseminate notice of that public hearing widely throughout the community," City Administrator Kris Simpson said at the April 9 meeting.
Crestwood's 2020 grant is $23,400, which is in line with what the city has received in prior years, Simpson said.
The $23,400 is part of a total $4.5 million in federal Community Development Block Grant funds that are allocated to St. Louis County each year. In the county, the St. Louis County Office of Community Development administers the grants, in addition to $2.8 million in federal Home Investment Partnership funds, to participating municipalities and unincorporated areas of St. Louis County. The funds are used to support programs or activities which benefit low- and moderate-income households, among other community improvements.
Other cities, such as Green Park and Sunset Hills, have used the grants to assist homeowners making improvements to their houses. Green Park City Administrator James Mello said that Green Park allocates its grants to St. Louis County's Home Improvement Program. In recent years Sunset Hills has also used the grants for residential home improvements.
In prior years, Crestwood allocated its funds to St. Louis County's Home Improvement Program, a federally funded program which provides advice and financial assistance to homeowners who need home repairs. However, in recent years, the city has used the funds to address city facilities needs that are not funded through the regular city budget, focused on compliance with the Americans with Disabilities Act, or ADA.
In 2018, Crestwood designated the grants to pay for sidewalk repairs in the Sanders Drive area. In 2019, the city used the funds to pay for ADA-compliant picnic tables at Crestwood parks.
"This year staff is recommending that the funds be allocated to defray the costs of constructing an ADA-accessible entrance to the front of the Government Center," said Simpson. "Staff estimates that could cost $60,000 to $100,000, so $23,400 would cover a significant portion of that project."
Simpson outlined other recommendations for the 2020 funds in a memo to aldermen, including using the money for sidewalk repairs or allocating the funds to the county's Home Improvement Program.
"I think last year when we stepped up and did the accessible picnic benches and tables for Crestwood parks, I thought that was a good move," said Ward 4 Alderman Tony Kennedy during the public hearing. "I think the more we can help our citizens who are handicapped access our parks, our Community Center, our Government Center, I think that's a good move."