Crestwood-Sunset Hills presents chamber awards to Wehrenberg, Teddy Bear Christmas Land, Mellow Mushroom
New restaurant, holiday traditions, St. Louis movie mainstay honored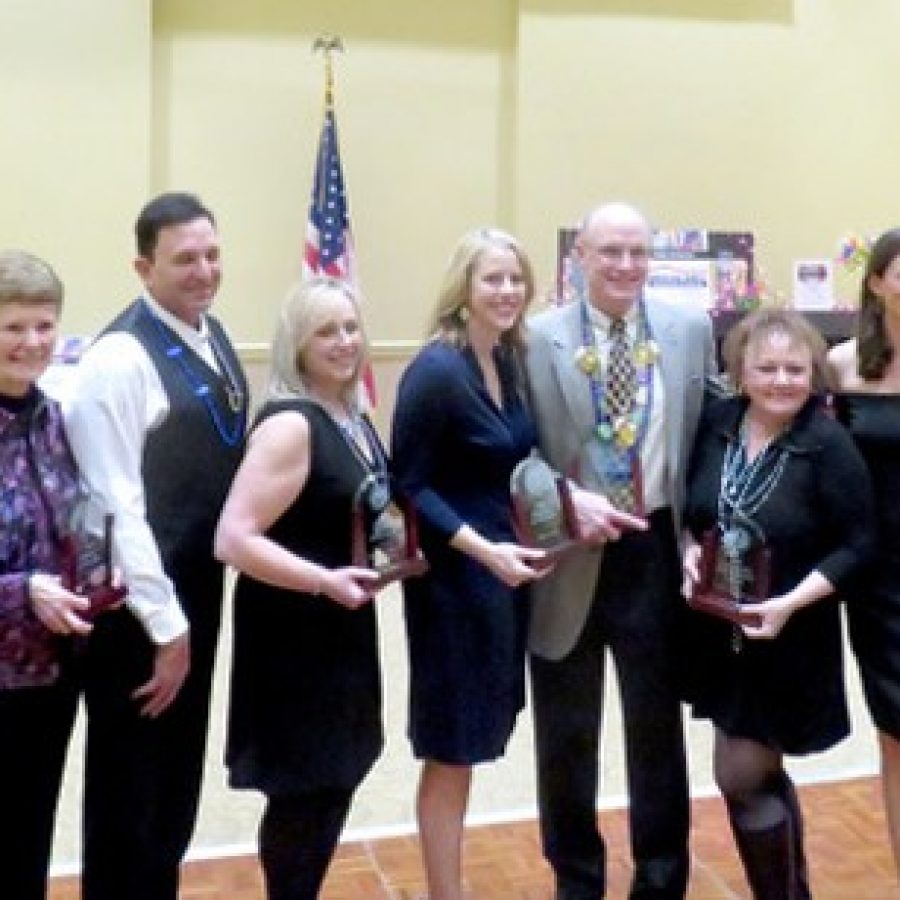 The Crestwood-Sunset Hills Area Chamber of Commerce honored local businesses, citizens and holiday traditions with awards at its recent annual awards gala.
Honorees at the annual gala and auction at LiUNA Event Center in Sunset Hills include:
The chamber is honoring Jasper "Jay" and Susan Trevisano of Crestwood, along with their 12-year-old son Christopher, as Citizens of the Year for their annual "Teddy Bear Christmas Land" holiday lighting display that lights up Pardee Road every year. Through the decades that the Trevisanos have put on their display in Crestwood, they've raised more than $55,000 to help the homeless get back on their feet again through donations to St. Patrick Center.
The Trevisanos started the tradition 25 years ago when they lived in the Clifton Heights neighborhood in St. Louis city before moving their family and their lights to Crestwood. But the idea came from Jay Trevisano's childhood, when he would visit the decorated store windows in downtown St. Louis with his family, said Crestwood Mayor Gregg Roby, who presented the award to the Trevisanos.
The Trevisano house is in the 9200 block of Laurel Hill Drive in Crestwood, off Pardee Lane. On cold nights around Christmas, the street is packed with cars inching by the Trevisanos' display, but the couple said they have never had any problems with traffic or complaints from neighbors.
Now, the family even uses part of their neighbor's lawn for the display of lights and teddy bears, which grows "bigger and better every year," Susan Trevisano said in a video for the chamber.
"They have provided joy to many people who seek out Teddy Bear Christmas Land annually," Roby said. "Their work has become a labor of love as they expand their views and hear the 'oohs' and 'aahs' of thousands who drive by and drop donations in their 'charity kettle.'"
On a typical night, 300 to 500 cars drive by to see the sight of the lights, teddy bears and even Santa. For many of them, it's an annual tradition. Visitors can get out of their cars to see the display, and listen to matching music on "Elf Radio," 90.1 FM.
"It really is a pleasure to see," Susan Trevisano said.
"We're on this earth for a short period of time, and you've got to try to enjoy life and do the best you can," Jay Trevisano added.
The display is also a tourist attraction for Crestwood, bringing people in from across the region.
"It brings people in Crestwood, and they get to see the Crestwood area, maybe go out to dinner and kind of enjoy this area as well," Jay Trevisano said.
The chamber nominated Mellow Mushroom for the Community Improvement Award for bringing a "breath of modern architecture to Sunset Hills" by removing the German-style former restaurant House of Maret, known more recently as Growler's Pub, along Sunset Hills' main drag on South Lindbergh Boulevard.
The locally owned franchise of the pizza restaurant, which opened July 25, is the first Mellow Mushroom in Missouri and has been packed since it opened, with hours-long waits common for months. The hippie-inspired concept, founded in Atlanta around 1974, currently has more than 200 locations across the country, but is harder to find in the Midwest.
"As mayor of Sunset Hills, I am very proud to welcome Mellow Mushroom to our thriving community," Mayor Pat Fribis said as she presented the award to Ward 1 Alderman Dee Baebler on behalf of the restaurant. "The familiarity of the Mellow Mushroom brand has made us a destination stop for hundreds of tourists crossing Missouri."
The Sunset Hills location is owned by Michael Vienhage and John T. Burke of MO Mellow LLC.
Their vision brought a "modern, expansive, eclectic" restaurant to Sunset Hills, Fribis said.
"Their choice of Sunset Hills has brought hundreds of visitors to our town," the chamber said. "We citizens of the area are becoming very familiar with this eclectic restaurant."
More modern than some traditional pizza joints, healthy is the word at Mellow Mushroom with gluten-free, vegetarian and vegan offerings — along with the traditional pizza, just healthier with no additives or preservatives.
In the dining room, which was customized for Sunset Hills to echo aspects of Laumeier Sculpture Park, wavy ceiling decor meshes with colorful tiles and booths, hanging globular lights, funky statues and paintings by local artist Phil Jarvis. The sizeable patio features a full bar, bocce ball courts and plenty of seating, including tables locally crafted by Mwanzi Co.
The Business of the Year Award for 2017 goes to Ellis Dental, 10296 Big Bend, which is run by Dr. Holly Ellis.
"I've always liked the idea of community and being part of the community that I'm working in, and so it worked out awesome that when I moved to Crestwood that there was a chamber of commerce, I just immediately got involved," Ellis said in a chamber video.
Although Ellis has been active in the chamber since taking over her dental office in 2009, she never expected to be named Business of the Year, she said.
"Holly dreamed of being a dentist from the time she was in elementary school," said the award presenter, Mike Bluth of Crestwood Bowl, noting that Ellis' great-great-grandfather had a dental practice in Chicago. "Guess dentistry is in her DNA."
More than 2,000 patients of all ages have gone to Ellis' dental office since it opened in 2009. For more information, visit
.
The chamber is honoring the oldest family-owned movie theatre chain in the country, Wehrenberg Theatres, with its Heritage Award.
"Wehrenberg has become a landmark of municipalities across the St. Louis area since its humble beginning in 1906 to a multi-million-dollar enterprise today," said chamber member Marie Davis as she presented the award to Wehrenberg on behalf of last year's winner, Sunset Ford. "Midge and Ron Krueger, the Wehrenberg/Krueger family, raised both their family and their business in southwest St. Louis County, now known as the city of Sunset Hills. Thank you for the great family memories."
The company's third-generation owner, Ronald Krueger, lived in Sunset Hills and died in 2015. In November, Milwaukee-based Marcus Theatres announced that it was buying Wehrenberg, the largest movie theater chain in St. Louis. The 14 Wehrenberg theatres in Missouri, Illinois, Iowa and Minnesota will keep the Wehrenberg name under the new ownership.
But still, the sale was the bittersweet end of an era for a company long run by a Sunset Hills businessman.
The company started after founder Fred Wehrenberg and his wife, Gertrude, attended the 1904 World's Fair in St. Louis and saw their first motion picture, current Wehrenberg Chief Operating Officer Bill Menke said in a chamber video filmed at the company's south county theatre, Ronnie's 21, at 5320 S. Lindbergh Blvd.
The simple film inspired the one-time blacksmith, who ran a saloon/grocery store, to rent the space next to his saloon, buy a piano and 99 kitchen chairs. As silent movies flickered on the screen after the 1906 launch, Fred's nephew drummed in the background while Gertrude played piano. And in time, Wehrenberg hired "actors" to read lines and perform behind the silent picture screen – the first version of the famous Wehrenberg whispers.
As the business grew, Fred enlisted more family members. His son-in-law, Paul Krueger, ran the company until his death in 1963. Paul's son, Ronald P. Krueger, inherited the business when he was 22 years old, and Ronnie's 20 Cine — which started as Ronnie's Drive-In theater in 1948 — was named after him.
Wehrenberg Theatres embraces its beginnings in the St. Louis area in a montage of historical photos that runs on screen before the start of each movie and ends with its name, Wehrenberg, whispered three times. 

Wehrenberg Theatres, the oldest family-owned-and-operated theater chain in the country was acquired in 2016 by Milwaukee-based Marcus Theatres. They vow to keep the name and the traditions associated with Wehrenberg.
In the 1980s, the drive-in named after the company's future CEO was torn down and replaced by Ronnie's 20, with a replica drive-in serving as a playground for children and a tribute to the theatre's beginnings.
Now, Ronnie's 20 is the "newest and greatest movie theater in St. Louis, that we built in his honor in 1999," Menke said.
The family's charitable contributions were less well-known than their movies, or the three "Wehrenberg" whispers that kick off every movie.
"A lot of people don't know all the good work behind the scenes that Mr. Krueger and his family did," Vice President of Marketing Kelly Hoskins said while standing in Ronnie's 20.
In 2016, the company donated $1.8 million in cash or in-kind to the city of St. Louis and nonprofits, including the Salvation Army, the Will Rogers Institute, Shriners Hospitals and the Great Forest Park Balloon Race.
Former Sunset Hills Mayor Nancy Benson is this year's Chamber Member of the Year, for her volunteer work on behalf of the Crestwood-Sunset Hills Area Chamber of Commerce.
"Volunteer work is very much a part of my life, and it's always been a part of my life," Benson said in a chamber video. "I had a good role model in my mother."
Former chamber Executive Director Steve Boggeman, now with Bopp Landscaping, said, "I don't believe I know anyone who is more giving of their time and resources than Nancy Benson."
A lifelong St. Louisan, Benson has lived in Sunset Hills for more than 48 years. She taught science at Lindbergh High School and was the adviser to the LHS Student Council for 20 years. Her service to the city of Sunset Hills includes nine years as alderman and three years as mayor.
"Why Nancy? Her passion for all organizations she joins," said Crestwood CPA Richard Bayers, who presented the award to Benson.
After joining the St. Thomas /Holy Spirit Lutheran Church 36 years ago, Benson became their chamber representation in 2007.
The chamber's nominating biography states, "Nancy's strong faith, sense of community and belief in helping her fellow citizens is why she is the right person to be Chamber Member of the Year … Nancy is not a joiner, but a doer. She participates on chamber committees, often leading the activities. She helps new member businesses feel comfortable when she meets and greets them at networking luncheons, Connect with Coffee breakfasts, After Hours events and ribbon cuttings."
Besides her church, where Benson is active in the Worship Team, Church Council, Contemporary Worship Planning Team and choir, among other activities, her dedication to the Crestwood-Sunset Hills Kiwanis Club has been ongoing since 1989. She has served as president of the Kiwanis twice, chair of the golf committee for eight years, and chairs both silent and live auction procurement committees.
After retirement, Benson signed on as a docent at the St. Louis Zoo and is a past president of the Docent Association. She also served as a Cardinals usher for nine years.
Higgins' 27-year career in information technology and sales provides an excellent background for his next life adventure: SpeedPro Imaging of St. Louis, located in Green Park. He opened his business nearly three years ago, and has used the Crestwood-Sunset Hills Area Chamber of Commerce as one of his primary means of networking.
"We want to make some friends, make a living and give back to the community," Higgins said.
He recently became a board member after serving on committees. He helps the chamber by providing high-quality banners from SpeedPro for the annual pole banner campaign, and ribbons for the new member ribbon-cutting ceremonies.
A graduate of the United States Military Academy at West Point with a degree in engineering, Higgins served five years as a Field Artillery Officer in the 1st Armored Division and the 101st Airborne Division.
Christine (Chris) Cipolla joined the Crestwood-Sunset Hills Rotary Club in 2013. The Oakville resident serves on the board and oversees many volunteer projects for the club. For the past two years, she has spearheaded CSH Rotary's "Feed the Knowledge" program, which provides weekend meals to 150 elementary students. These students represent the neediest 10 percent of those on free and reduced lunch assistance in the Lindbergh and Mehlville school districts.
Cipolla was instrumental in securing a partner to grow the program called Cardinals Care. The St. Louis Cardinals' nonprofit arm helped expand the program by 30 students in the 2016-2017 school year. Chris heads a committee of eight to 10 Rotarians who plan packaging dates, purchasing orders, delivery scheduling and handles school relationships.
"It's safe to say that the CSH Rotary's 'Feed the Knowledge' program wouldn't be where it is today without Chris's passion and energy," the Rotary said in its nomination of Cipolla.
Rotary President John Higdon said the fellowship was a "true honor for a community leader" when he presented it to Cipolla at the gala, noting that past recipients of the award nationwide include former President Jimmy Carter, Russian President Boris Yeltsin, astronaut Jim Lovell and scientist Jonas Salk.
Sarah Greenwald, a Special School District para at Truman Middle School, is an excellent model of compassionate service to others and a worthy recipient of the Kiwanis Jimmy Fidler Award, which has "respect of country, community and charity" as its cornerstone, said Lisa Marin of the Crestwood-Sunset Hills Kiwanis Club, who presented the award to Greenwald at the chamber gala.
Greenwald spends most of her time helping others in the Lindbergh Schools community, and goes constantly "above and beyond" in her service, according to the Kiwanis' nomination form. She goes out of her way to assist her students at Truman in their learning, demonstrates great compassion toward them, and makes sure they know she really cares.
One colleague describes her as a "shining light for the Truman staff and students." Greenwald's interest in her students extends long past the school day. She can often be found after school hours, working with teachers, parents and students. She attends orchestra, band and choir concerts to show her students she supports them, Marin said. For a decade, Greenwald has volunteered as a sponsor of the Builders Club at both Truman and Sperreng middle schools. She has been a Girl Scout leader and currently is a teacher at her parish church.
"Service to all is a good motto that exemplifies Sarah Greenwald," the Kiwanis Club said. "We Kiwanians are proud to present this award to Sarah. She is a great example of citizen service."