Crestwood mall aid could be retired in 15 years, planner says
Last of two parts: All-retail project won't work at site, planner for city says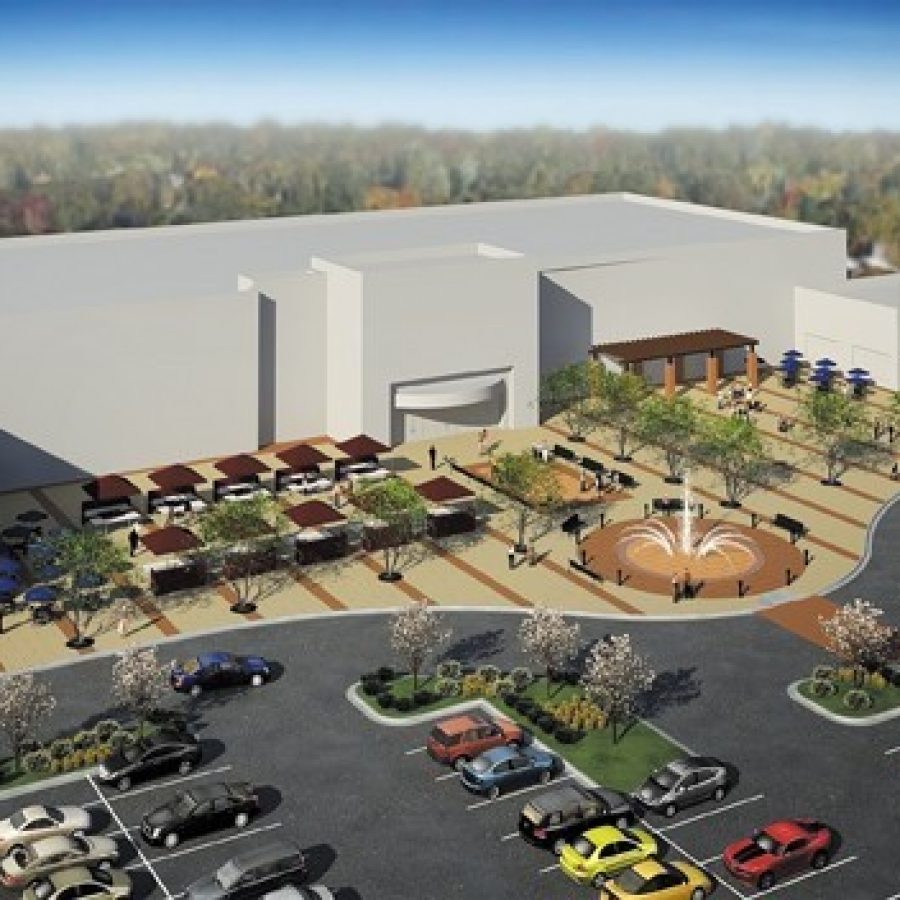 The roughly $25 million in economic assistance requested by the owner of the former Crestwood Plaza to redevelop the site could be retired in about 15 years, according to the city's planner for the project.
Peckham Guyton Albers & Viets Vice President John Brancaglione told the city's Tax-Increment Financing Commission Jan. 20 that the economic assistance could be retired in roughly 15 years, based on the project being "substantially complete" by Jan. 1, 2019.
A public hearing on the mall owner's proposal to redevelop the former Crestwood Plaza will take place at 7 p.m. Wednesday, Feb. 3, at the Community Center, 9245 Whitecliff Park Lane.
UrbanStreet is proposing a $104.3 million mixed-use redevelopment of the mall site, and is seeking $15 million in tax-increment financing, or TIF, funds; $5 million in Community Improvement District, or CID, funds; and $5 million in Transportation Development District, or TDD, funds for the project.
UrbanStreet's proposal for the mall site, most recently called Crestwood Court, includes one large retail facility that could contain a grocery store, a multi-screen movie theater, a fitness center, two dine-in restaurants, an office building, a 225-unit apartment complex currently envisioned as senior housing and 11 to 13 acres of open space and community gardens.
Bob Burk, UrbanStreet managing partner, told the TIF Commission in December that no commitments from potential retail tenants for the proposed redevelopment can be secured until economic assistance is granted for the project. He also said the project will not proceed without the requested economic assistance.
Lindbergh Schools officials support the redevelopment of the mall, but have concerns about UrbanStreet's proposal, particularly the residential component and Burk's contention that no commitments from potential retail tenants can be secured until economic assistance is granted. School officials also believe that Crestwood's first-ever comprehensive plan should be completed before a decision is made on whether to grant economic assistance to UrbanStreet.
In presenting his firm's cost/benefit analysis of UrbanStreet's proposal to the TIF Commission, Brancaglione said, "… The basis for these numbers comes from our investigations and assumptions, and certainly they're educated guesses because we don't know exactly who's going to be there yet. We do know the types and in some cases the particular potential tenant that the developer's talking to. So the important thing to remember is that these numbers reflect the build-out as it's intended with the uses that are intended …"
Some of the numbers in the analysis are based on actual sales figures for other projects his firm has done, he added. Projections indicate that the entire $25 million in economic assistance could be retired in about 15 years, Brancaglione said.
The planner also outlined a no-build scenario for the site, "which assumes for purposes of this that nothing happens."
"Now, would something happen? I don't know," Brancaglione said. "Here's the conundrum in terms of trying to make that assumption — nothing, in our opinion, will happen unless this property's demolished. You can't effectively do anything with what's there now, and if you tried the cost would exceed whatever it would cost to build whatever new … There just isn't anything to save here. So when you have a cleared site, you have the ability to develop (it) with something. So looking at it from our standpoint, if you clear this site — and we think that it's in everybody's interest to get that done as soon as possible. It's a liability both for the developer and I think for the city — then what do you put there?
"We know that the market doesn't support all retail. We've looked at that every which way but upside down …"
TIF Commission member Kara Horton, who serves on the Lindbergh Board of Education, asked why the site won't support an all-retail development.
"… The retail market has been saturated since before the recession, which is one of the reasons so much retail vacancy occurred when that hit. Most major markets, and St. Louis appears to be no exception, were overbuilt," Brancaglione said. "So while you have capacity and in fact the market assessment we did for Crestwood for what we call the trade area and which updated the Chicago firm's (Melaniphy & Associates Inc.) work from like 2005, shows the same thing and that it is that there is a market for certain kinds of retail, many of which by the way, are what's targeted in this proposal, but not … enough to fill up this site — not given what's already in the market and/or vacant. I mean, trust me, I would have loved nothing better than to have that be an outcome, but it's just not — it's not there."
Another factor, he said, is the impact of the outlet malls in Chesterfield.
Commission member Charles Triplett, who serves as Lindbergh's chief financial officer, asked the planner about the fiscal impact of the build versus the no-build alternatives in the cost/benefit analysis.
"… The developer's talked before that this could be done in phases. So the real numbers in this are probably someplace in between the two alternatives?" he asked.
"We phased these numbers to some degree when we phased in the users," Brancaglione said. "But, yes, your answer is correct. It depends on how fast the build up is."
Triplett said, "OK. So the 15-year (period) is kind of best-case scenario to pay off the TIF …"
Brancaglione said, "… The 15-year (period) is assuming that this is built out over a two-year period."
Triplett said, "OK. And is that reasonable?"
Brancaglione said, "Yeah. I mean, from day one, a two-year build out — when I say two-year, I'm talking about two years so that the last one … may be starting construction at the end of the two years. You're probably looking at three years when you're thinking revenue …"
Horton cited a lack of uniqueness about the uses UrbanStreet is proposing for the site and whether the development would not create new revenue, but shift revenue from existing businesses.
"… You have a theater, a gym, a grocery store, a bowling alley, and how is that the highest and best use and benefit to the taxing area when we have a number of the same businesses very close to this development?" she asked. "A concern is that it will just not be — what we're going to be doing is just shifting business from our existing gym, our existing Schnucks, our existing Dierbergs, our existing Ronnie's, or are we not just going to be shifting businesses that are already generating taxes to this new development and then subsequently putting these other guys out of business?"
Brancaglione said, "Well, I don't know that you'll put them out of business. The answer to your question is that depending on who it is and what it is, there may be some initial shift — usually is. I haven't looked at the numbers, but when Wal-Mart opened their doors in Shrewsbury, I'm certain it had some initial impact on Dierbergs. If we look at experience on at least some retailers … there'll be a capture initially from some competitor, and then eventually it levels out — if the competitor is a strong competitor …"