Crestwood Board of Aldermen approves salary increases for itself, mayor, judge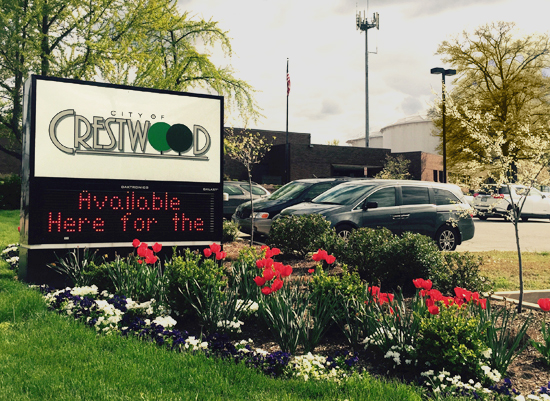 The Crestwood Board of Aldermen voted to increase pay for itself, the city's municipal judge and mayor at its March 8 meeting. The increase is the first in 22 years.
The ordinance increases Municipal Judge Jason Denney's annual pay from $12,000 to $13,500; the mayor's from $8,400 to $10,200 starting at the next mayoral term in 2023 and aldermanic pay from $4,200 to $5,100 starting at the beginning of each new term. Mayoral will increase to $12,000 starting in 2026 and aldermanic will increase to $6,000 starting in 2025.
The pay increase was originally slated for the consent agenda, but was pulled by Ward 4 Alderman Tony Kennedy, who is up for re-election on April 5.
"I was just a little concerned about the timing," Kennedy said. "I kind of don't feel comfortable voting for a raise … even though it's minor."
Kennedy said he would have preferred to wait to pass the ordinance until the Crestwood Crossing development opens up and more income starts flowing into the city. He said if the ordinance did pass and he won his election, he would likely pledge his extra $900 to charity.
Mayor Grant Mabie said an increase in pay has been "kicked down the road" for years and is overdue based on the history of the city. Prior to 2000, a raise had been approved every 15 years, and with inflation, elected officials have had a "pay decrease" every year.
"We want to make sure that our elected offices are open to people from all walks of life in Crestwood, not just those that can afford to take or not take a paycheck," Mabie said. "It really is not much of an impact (on the budget), the city can afford it and if we want to continue to attract quality people to serve, and we want to make our municipal judge position attractive, then I think we should pay accordingly."
Ward 2 Alderman Mary Stadter, whose term expires in April, said every time an increase comes up someone will be in Kennedy's shoes and that shouldn't be a reason to delay it. Ward 1 Alderman Jesse Morrison agreed with Stadter, noting the issue would only compound with each delay.
Ward 2 Alderman Justin Charboneau was not in favor of approving the pay at the meeting, instead proposing to move the vote back to April so four aldermen would not have the ability to vote for a raise for themselves.
"Effectively, you could pass this and four of us could … vote for it consciously and never receive a pay increase," Charboneau said.
The board voted 6-1-1 to pass the proposed raises, with Charboneau voting no and Kennedy abstaining.