Court order may be needed to place smoking-ban issue on Nov. 3 ballot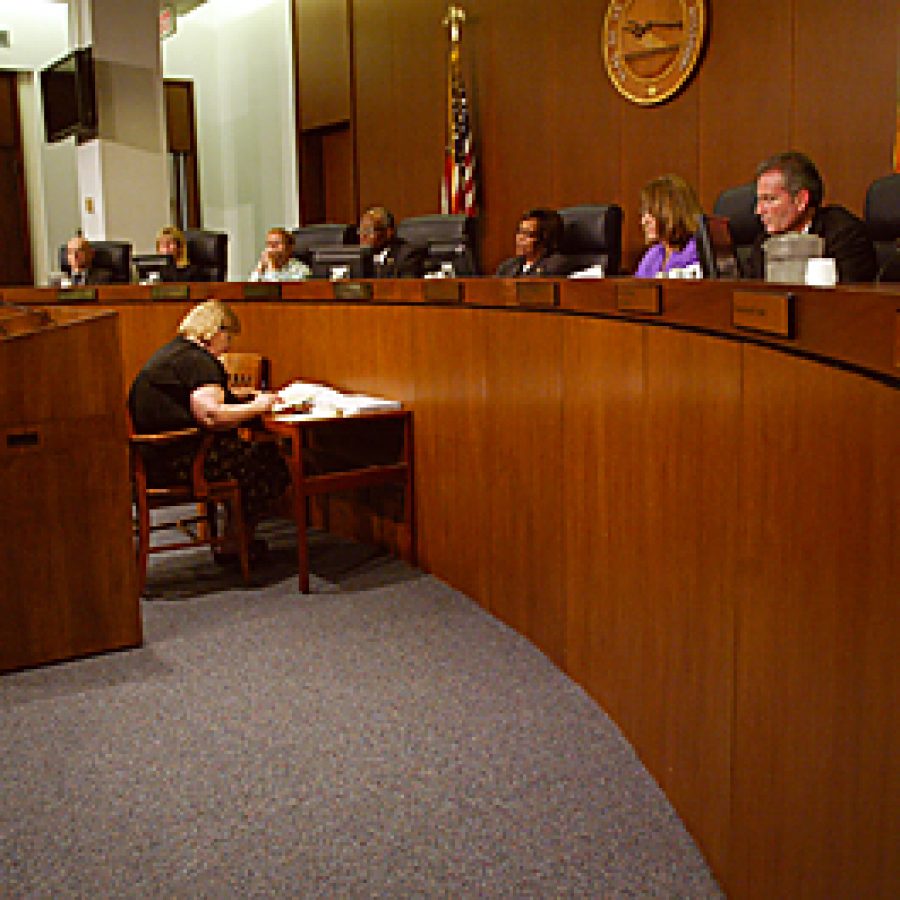 A countywide public smoking ban referendum may need a court order to show up on the November ballot.
The effort's sponsor, Fifth District Councilman Barbara Fraser, D-University City, planned to reintroduce the proposition legislation Tuesday, after press time, following the County Council's tentative approval of the bill last week.
Under the new time frame, the measure couldn't receive final approval until at least Aug. 25 — the county's deadline to file propositions for the Nov. 3 general election.
Because the council's meeting falls one hour after the 5 p.m. cutoff, the county counselor would need a court order to put the issue on the ballot, provided the bill makes it through councilmen and County Executive Charlie Dooley.
Councilmen voted 4-3 Aug. 4 to perfect an indoor smoking ban bill that exempts casino gambling floors and certain bars.
Besides Fraser, voting in favor of the bill were Third District Councilman Colleen Wasinger, R-Town and Country; Sixth District Councilman Steve Stenger, D-south county; and Seventh District Councilman Greg Quinn, R-Ballwin.
Opposed were First District Councilman and Chair Hazel Erby, D-University City; Second District Councilman Kathleen Burkett, D-Overland; and Fourth District Councilman Michael O'Mara, D-north county.
After that decision, Fraser received council approval to wait until the Aug. 18 meeting to take a final vote on the measure, but concerns about the way the council handled the issue led her to reintroduce the bill at Tuesday's meeting.
The council initially rejected, 4-3, a "clean-air" substitute bill, which exempted only private residences, nursing-home rooms and clubs. Fraser then introduced a second substitute bill, which was adopted.
However, O'Mara questioned whether the failure of the first substitute bill defeated the legislation altogether and prevented Fraser from introducing the second substitute bill.
County Counselor Patricia Redington did not issue an opinion on the situation, but Stenger told the Call Friday Fraser decided to reintroduce the legislation to avoid any potential "legal challenges."
The measure appeared under both "introduction of bills" and "final passage of bills" on this week's council agenda.
As initially approved Aug. 4, the smoking ban that would go on the ballot exempts casino gambling floors and bars where alcohol comprises at least 75 percent of total sales — and food sales don't account for more than 25 percent.
The bill also contains a provision that would remove its casino-floor exemption if both St. Louis city and either St. Charles city or county, or the state of Missouri approved bans that prohibit casino floors.
A similar clause appears under the bar exemption: If either St. Louis city or the state of Missouri decide to ban smoking in bars, the county would do the same.
However, Stenger said Friday that Fraser may take out those contingency statements before she reintroduced the bill Tuesday.
Bars that wish to be excluded from the ban must not allow smoke to infiltrate into "areas where smoking is otherwise prohibited" and must be open for operation on or before Jan. 2, 2011 — the date the ban would become effective.
An eligible bar must submit to a review by the Department of Revenue and, if approved, post a DOR-issued exemption certificate "in a place visible to the public from its exterior."
Further, the DOR "may charge a fee commensurate with the services rendered for review of an application for issuance of the certificate of exemption," according to the proposed ordinance.
Before the start of the Aug. 4 meeting, about 20 advocates from Smoke-Free St. Louis City rallied outside the county administration building, chanting and holding signs that read "Honk if you want St. Louis to be smoke-free" and "I'll croak if you smoke."
A smoking ban in St. Louis city is contingent upon the county ban's passage.
Inside, another crowd of people surrounded the council chamber doors in hopes of getting good seats to the meeting when they opened.
Two hours of public comments preceded the council's initial vote on the ban.
Sixty-five speakers — among them employees of Harrah's St. Louis casino, business owners, parents of young children and people with lung illnesses — testified in often-emotional statements for and against the ban.
"I'd like to talk about fairness," said Marty Ginsberg, owner of the Sports Page Bar and Grill in Chesterfield, which would not be exempt from the smoking ban because its food and alcohol sales are half and half. "Casinos are exempt, private clubs … Could someone please explain to me how if you're in a nursing home, they would allow you to smoke? Could somebody please explain to me how, if this is about health and safety, Ms. Fraser, how you can exempt casinos?"
Bill Hannegan, director of anti-smoking ban group Keep St. Louis Free, warned the council that a casino exemption could be successfully challenged as "unconstitutional" in court.
Smoke-free advocates, though, continued to push for a comprehensive ban.
Manchester resident Carol Becker said such a law could "save thousands of lives."
"Remember my face, because I'm a statistic you don't often see," said Becker, who is a lung-cancer survivor.
Other supporters said a statewide smoking ban, which Dooley has indicated he prefers, won't happen unless the county acts on the issue first.
Fraser's legislation represents the third attempt by a councilman in recent years to move toward a smoke-free county.
However, some councilmen appeared frustrated with the seemingly rushed effort to get the smoking ban through the council and onto the ballot.
"We have not gotten to the table with both sides here. Just like the last two times we've thrown a bill out here for, and I'm gonna say it, for political purposes," O'Mara said to a round of applause. "There should be some compromise at the table for businesses, casinos, the non-smoking group, to make this a better county. And we have not done that in the last three tries with this bill.
"It's not fair to the council, it's not fair to you as taxpayers, it's not fair to the businesses in St. Louis County."
O'Mara later moved that the legislation be sent to the council's Justice and Health Committee for further review. His motion failed.
Erby, who said the previous week she'd support a ban with no exemptions, voted against both substitute bills because both versions of the ban contained exemptions.
"I'm for a clean-air bill with no exemptions," Erby said. "But I'm also for a fair bill that we've taken some time to draft before we put it out to the voters. I believe in giving it to the voters and letting the voters decide, but I believe we cannot do that in one week's time. We received this bill last week about 10 minutes into the meeting. That is unfair."
Stenger, whom a number of the evening's attendees called the legislation's "swing vote," told the Call after the meeting the second substitute bill contained "forward-thinking" language and was a "very big step in the right direction."
He previously said he would support a public vote on the smoking ban, but was concerned about the well-being of south county's small bars, as well as the Pinnacle River City Casino opening early next year in Lemay.
Asked if he believed the ban could be challenged as unconstitutional in court, Stenger, an attorney whose firm specializes in unfair competition business litigation, said, "Bills are challenged every day … This bill isn't immune from challenges."
However, he added, "I think it's a solid bill."