Compound butter adds zest to steak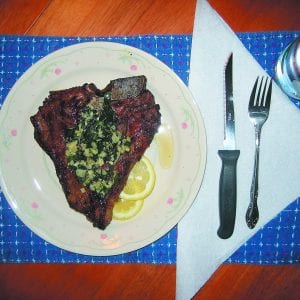 By Bill Milligan
For the Call
Compound butter is a quick, easy way to add a new taste dimension to any dish.
I don't know what someone like esteemed French chef André Soltner would call it, but to me a compound butter is a mix of butter with herbs.
Any herb available will do as long as you like its taste. For instance, it wouldn't do to mix butter with fennel bulbs if you don't like licorice flavors.
Steakhouses used to serve compound butters with their meals, much to the de-light of their customers.
While it is a culinary cheap trick, it is still a great addition to any steak you cook on the grill and about the only thing I do to improve on steaks.
Steak With
Compound Butter
1 stick butter
6 garlic cloves, minced
4 porterhouse steaks
¼ cup fresh oregano leaves, chopped
¼ cup fresh basil leaves, chopped
Melt butter in small heavy saucepan over medium heat. Remove from heat. Add garlic. Season to taste with salt and pepper.
Season steaks with salt and pepper to taste. Grill steaks to desired doneness, at least four minutes per side for medium rare. Place pan with garlic butter on edge of heat to rewarm.
Transfer steaks to plate. Spoon garlic butter over the meat and sprinkle with oregano and basil.