Community's 'beating' of Fred Weber not justified, Morgan says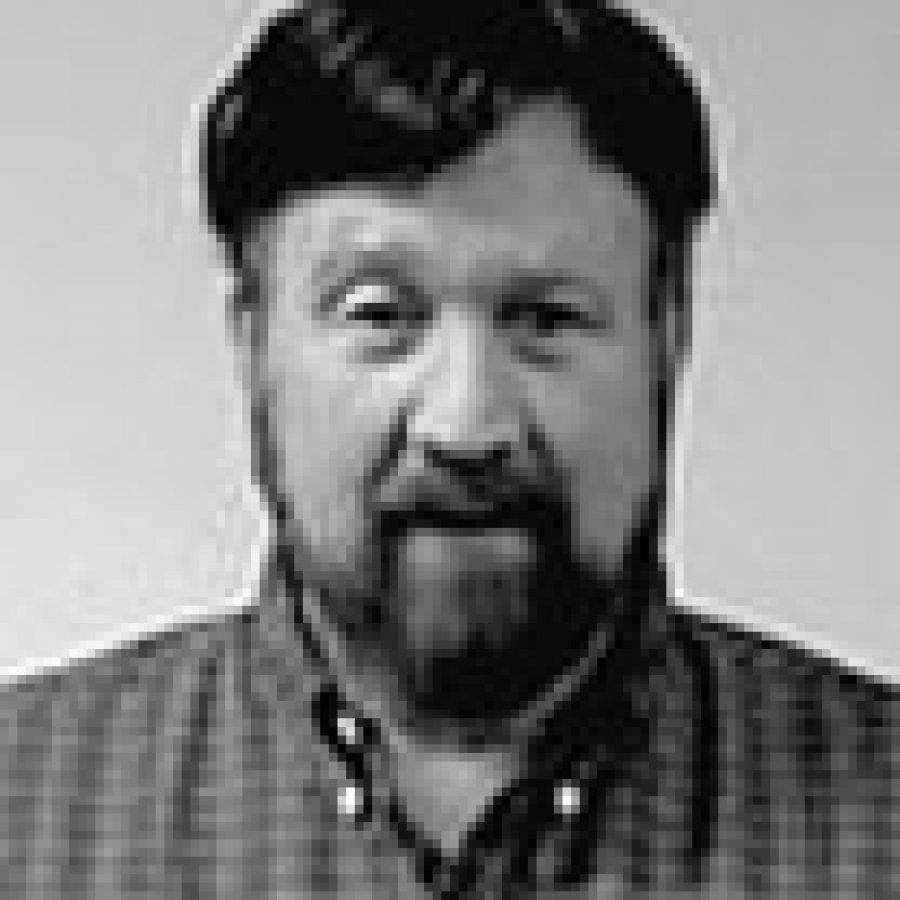 Despite the county Planning Commission's decision to recommend denial of a rezoning request for an Oakville trash-transfer station, Fred Weber Inc. is a good corporate citizen, and the community's "beating" of the company "wasn't really justified," according to commission Chairman Doug Morgan.
The Planning Commission voted 7-0 last week to recommend denial of Fred Weber's request to rezone a tract in its south quarry on Baumgartner Road in Oakville.
While the Department of Planning recommended denial to commissioners May 10 because the station would operate too close to the Meramec River, a planning department employee also asserted that a recently implemented county ordinance is an ineffective tool in determining sites for trash-transfer stations.
Fred Weber last year submitted a request to the Planning Commission to rezone a 24.9-acre tract to the Flood-Plain Planned Industrial District from the Flood-Plain Non-Urban District. The tract is about 300 feet southeast of Baumgartner Road, east of the Burlington Railroad and bounded by the Meramec River to the southwest. The 6,400 square-foot structure that would have served as the trash-transfer station would be 40 feet tall and made of metal, according to Fred Weber Inc., with a 500-ton daily capacity.
Upon review of the department's recommendation for denial two weeks ago — which noted that the department did not want to set a precedent with industrial zoning in the quarry, along with the undesired potential violation of the Meramec Greenway Concept Plan — Fred Weber submitted a response, indicating it would alter certain aspects of its proposal to ensure approval.
"Subsequent to the release of our staff report, the petitioner submitted information, which is before you at this time. In this document, the petitioner discusses a revised plan, which relocates the trash-transfer station further … away from Mattese Creek," Mike Zeek, department planner, told commissioners last week. "The petitioner also states they would be willing to tie the closure and reclamation of the transfer station to the closure and reclamation of the quarry site. The department has reviewed all of this new information, but finds nothing to warrant reconsideration of our recommendation of denial."
Fred Weber believes that the planning department's reasons for recommending denial could have been addressed with appropriate development conditions, Tom Dunne Jr., the company's senior vice president of waste management, stated in a May 10 news release, also contending that the station would have been at least 600 feet from the Meramec River.
"While we appreciate the amount of time the commission spent considering this application, we are very disappointed with its recommendation," Dunne stated. "We believe we have demonstrated that this is the best and least obtrusive site for the facility, as well as one that meets all legal requirements."
Dunne added, "If the commission was concerned about the facility's visibility from the river, we were certainly prepared to work with the parks department to address those concerns … We are unwavering in our commitment to provide a much-needed trash-transfer facility for south St. Louis County."
Beyond notifying commissioners of the planning department's reasons for recommending denial of the petition last week, Zeek discussed a current county ordinance that regulates the positioning of trash-transfer stations. The department determined the proposal would not have violated a county ordinance, authored by County Councilman John Campisi, R-south county, that now prohibits waste-processing facilities from operating within 1,000 feet of residences, churches, schools, adult- and child-care centers and other related facilities.
However, Zeek also told commissioners he believes the ordinance needs to be "re-examined."
"With regard to this requirement, the department reiterates its stance that the distance requirements are not an effective means of siting trash-transfer stations and recommend that this rule be re-examined," he said.
During commissioner discussions, Morgan questioned Zeek further about the department's opinion on the 1,000-foot buffer zone of which operators of waste-processing facilities must now comply.
"This is surely one of the most difficult petitions we've had in the history of St. Louis County," Morgan said, noting he was concerned about the future of waste management in the county, asking Zeek, "What do we do about trash-transfer stations? … You referred to the ordinance. Are you talking about the ordinance that created the 1,000 feet?"
Zeek answered, "That's the ordinance I'm referring to."
"Are you saying … what are you saying about that ordinance?" Morgan asked.
Zeek said, "We've taken the view that trash-transfer stations, along with a number of other sites, require us to look at each site individually, hold a public hearing for it, weigh the options and apply development conditions to each site individually. Just setting a distance requirement of 1,000 feet or 800 feet in any circumstance across the board does not allow us to do that. All it does is eliminate some sites which, quite frankly, may be more appropriate than others."
"I agree," Morgan replied, noting that he knew of an upcoming petition that will request approval to raise a west county landfill by 7 feet. "I think it shows the need for trash-transfer stations. I don't know where we go from here to accomplish trash-transfer stations in St. Louis County … Trash is not going to go away … It's an uncontrolled utility and we have to use it," Morgan said.
He said he understood how the issue became so political and he realized many citizens had concerns.
A show of hands at the end of a March 1 public hearing on the matter revealed 131 people opposed the rezoning request, while 39 people supported it. Members of the public who spoke that night noted noise, traffic, odor, vector and property value concerns regarding a potential trash-transfer station at the quarry.
"But their concerns being expressed here were really not the concerns that we expressed in our report. Is that correct?" Morgan asked.
"That's correct," Zeek said.
"I mean the truck traffic — those things were really not the issue … so I mean I am concerned with what happens to St. Louis County with trash-transfer stations," Morgan said.
He asked commissioners if the south county trash-transfer station controversy had essentially "killed" trash-transfer stations for all of St. Louis County despite the need for the stations.
Commissioner Bill Sneed told Morgan, "No one knows the answers at this time," but noted there is a countywide waste-management study being conducted, which should shed some light on the issue and soon offer the county some direction.
"We have an ordinance that is ineffective is what we're saying and so I mean, you know, that's how we got … into this situation … We had an ineffective, improper ordinance brought to us and I commend you (Zeek) for coming forward and saying it's not well-thought and well-done …," Morgan said.
Planning Department Director Glenn Powers told commissioners that through the public hearing, many residents contended that there is no need for trash-transfer stations — but that is not the opinion of the planning department.
"We generally are of the opinion … that there is a need for trash-transfer stations," Powers said, noting that when the department mapped the proposal to determine if the site violated the 1,000-foot restriction, the department discovered that the only areas that were not in violation were near rivers, streams, flood plains, parks and in rural areas of the county.
"You know, that stands as a contradiction," Powers continued. "… I think that we have to have a more flexible regulation … Perhaps there are some sites elsewhere that are in a low-density area, but may not necessarily be more than 1,000 feet from residences, but are still low-density …"
Morgan then re-emphasized that the county will have to deal with trash-transfer stations in the future, despite the public's desire.
"I know it's going to be even more unpopular than it's ever been," he said, noting that the issue had stirred a lot of "misinformation" in the community. "I understand that people don't want these in their back yards," he said.
But he hoped the county could "get back on track," he said and address the county's waste-management issues.
Morgan then addressed those in the audience representing Fred Weber Inc., including Gary Feder, an attorney with Husch & Eppenberger, and Derrick Standley of the Genesis Solid Waste Group, a consultant for the company.
"I have something I'm going to say, maybe I shouldn't, but I'm going to. I think Fred Weber in the community took a beating that wasn't really justified," Morgan said. "I think they've been a good corporate citizen for years. I don't know what their motives were. Obviously anybody who goes into a business is in it to make money, so I don't know if that necessarily makes them bad people. But I understand for people this was an issue that was really very near to their hearts and I understand that and I appreciate it, I just hate to see so much negative …"
Commissioner Maureen Ramshaw said, "I would agree."
Commissioner Tom Albus said despite the planning department's conclusion that most of the public's concerns easily could be addressed and were not the department's reason for recommending denial, he contended that the overwhelming majority of citizens who opposed Fred Weber's proposal heavily influenced his vote to deny the rezoning request.
"With respect to this case in the report, at least from the staff's perspective, (the staff) is satisfied that all of these practical considerations in terms of traffic and noise and things of that nature could be remediated," Albus said. "And that certainly wasn't the opinion of all of the residents that came out to the public hearing … In this particular case, frankly, my analysis was simply because the staff thinks that these things could have been remediated, in my opinion, doesn't necessarily mean that's the end of the day. And I gave, in my making my vote, I gave some weight to the folks that came out and spoke about the traffic."
Albus told commissioners he drove to south county, visited Baumgartner Road and, based on his observations, had not "satisfied himself, like the staff has, that traffic with the trucks wouldn't affect this neighborhood. So, I guess my analysis was that to the extent that we ask for public comment and to the extent that it is recorded at these meetings, I cannot imagine any more unified public comments in respect to this station and so forth. So, if we're ever going to give any credence to what the public has to say about what goes on in their neighborhood, then we need to do it in respect to this petition … I think I heard what the public had to say and I'm going to be influenced by it in making my vote."
Residents who attended the May 10 meeting said they were pleased with the commission's unanimous rejection of Fred Weber's petition, but disagreed with some of the statements made by Morgan and Zeek.
"If they're saying that the 1,000-foot ordinance is a bad ordinance, then I think we need to stiffen the ordinance up," Joe Guelbert of south county told the Call, noting he believes the ordinance should be changed to mirror Environmental Protection Agency guidelines.
"The EPA says 1,500 feet. And the EPA's guidelines have churches, schools, rivers, lakes — so yeah, if we're going to do anything let's stiffen it up and make the ordinance what the ordinance was supposed to be originally," Guelbert said.
Campisi originally drafted legislation that would have included a 1,500-foot buffer zone vs. the current 1,000-foot buffer, and it also included rivers, wetlands and creeks, according to Guelbert.
"It was stripped out of there by other members of the County Council," he said.
Tom Diehl of Oakville told the Call that while he could not comment on many aspects regarding Fred Weber because of a pending $5 million lawsuit, of which he is the defendant. The company is alleging that Diehl distributed fliers labeling Fred Weber as a "trash terrorist" and is seeking punitive damages for defamation.
However, Diehl, who attended last week's commission meeting, said he could provide comments regarding the planning department and commission.
"My disagreement is that the ordinance is not what caused this application to be brought up," he said. "What brought this application back to the table was the ruling by the planning department that determining that the parcel of ground had a separate physical address than the previous quarry application. While I am happy with the decision of the Planning Commission, I would have to agree with Tim Albus' contention that the concerns of the residents do need to be considered in this process."