Clydesdale Park renamed in honor of fallen police officer
Signs already up for Officer Blake C. Snyder Memorial Park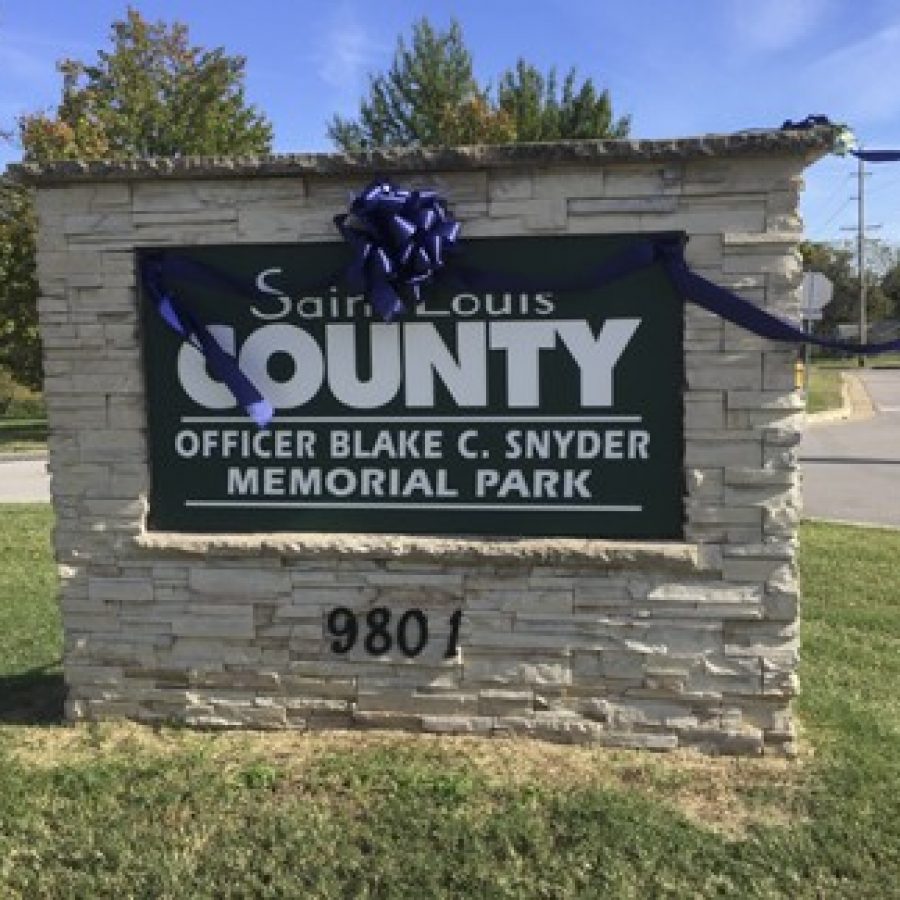 In what has to be record-setting speed for St. Louis County government, in the span of a few days this week, Clydesdale Park got a new name, new signs and a new purpose as a lasting memorial to fallen police Officer Blake Snyder.
On Monday, Green Park officials were busy planning their kickoff "Groovin' in the Green" event in the 117-acre park that was then known as Clydesdale Park — a park so key to the city's identity that it takes its name from the green expanse. On Tuesday, County Executive Steve Stenger responded to thousands of residents who had signed a Change.org petition to rename Clydesdale Park for Snyder with an executive order that changed the park's name to Officer Blake C. Snyder Memorial Park, effective immediately.
By Thursday, that change took a more visible form: The Clydesdale Park signs were switched out and new ones were installed, with blue ribbons honoring law enforcement swirling in the wind around them.
The signs were switched out exactly two weeks after Snyder was killed in what might have been an ambush responding to a domestic disturbance call in the 10700 block of Arno Drive in Green Park just after 5 a.m. Oct. 6. The block where Snyder died is one street over from the park.
Stenger signed and issued an executive order mandating the name change at Tuesday's County Council meeting, attended by Snyder's wife, Elizabeth, Chief Jon Belmar and Elizabeth's brother, county Officer Justin Sparks. The signing got a standing ovation from Elizabeth and from the crowd of dozens of police officers who came for the occasion.
The county executive thanked residents for their unprecedented outpouring of support for Snyder, shown through countless memorials and more than $100,000 in donations to BackStoppers in memory of the fallen officer.
"We will not forget Blake Snyder's sacrifice, and we will not forget his family," Stenger said.
As the county executive rode in the 10-mile-long funeral procession after speaking at Snyder's Oct. 13 funeral, the outpouring of love for Snyder and law enforcement was obvious, with people lining every overpass in the 50 miles from Chesterfield to Snyder's hometown of Godfrey, Ill. Watching the people from all walks of life lining the roadways, Stenger told the Call that he searched for the perfect way for the county to properly memorialize Snyder.
The unprecedented turn of events that followed kicked into motion over the weekend, as Stenger became aware of a petition to change the name of Clydesdale Park for Snyder. The petition was spiraling through social media, gathering thousands of signatures, topping out at over 6,000 by the time Stenger made the change.
The petition was started by nearby Affton residents Kathy Bosch, who drives by the park every day, and Dawn Oppy, who lives next to it.
It was the perfect way to honor Snyder and his sacrifice, Stenger said.
"We saw the tremendous groundswell, and it's clearly what the residents want. I think it's fitting in so many ways to do, so we move forward with it," Stenger told the Call. "It is in the area where he patrolled, it was not far from the place where he lost his life, and the residents want to show their support."
As soon as Stenger came in Monday morning, he asked the county's legal team to research whether the park name could be changed and whether it could go into effect through executive order.
The idea was inspired by Bosch's daily drive past the park, which is often patrolled by St. Louis County police officers. Driving by Clydesdale Park after Snyder died, Bosch said she wondered how many times he had watched over the park.
She also realized that Affton residents needed a lasting way to memorialize Snyder, instead of the temporary, growing memorial on his police car at the Affton Southwest Precinct on Gravois Road.
"That memorial is beautiful and it's still growing, but it won't be there forever. It's going to have to go sometime or the other," she said. "My thought was there's got to be something permanent. We have to have something that keeps him in the community."
Clydesdale Park opened in 1976 as Gravois Creek Park and was renamed as Clydesdale Park in honor of August Busch Jr.'s horses in 1983.