Cleanup, recovery from historic flood could take weeks
Ernst credits local students with saving five residences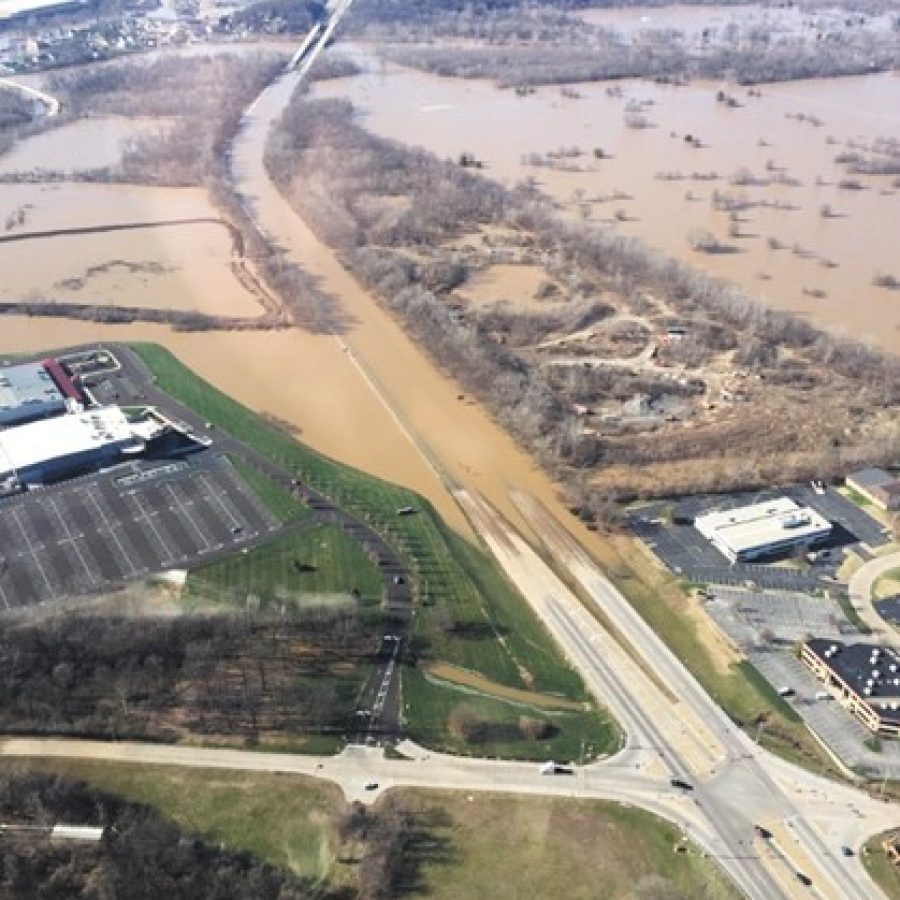 With rivers receded from record highs, life has mostly returned to normal after a historic flood hit south county and the region last week, but the massive cleanup and recovery effort could take weeks.
The unusual winter flooding — caused by more than 10 inches of rain in a three-day period — is blamed for the deaths of more than 24 people in Missouri and Illinois, but in south county, damage was limited to property.
As rivers receded, President Barack Obama signed an emergency declaration Saturday that paved the way for federal disaster funds to pay most of the cleanup bill, which could run into the millions.
Before the Meramec River crested, volunteers banded together to sandbag and try to prevent flood waters from reaching low-lying homes and businesses.
In Sunset Hills, the Public Works Department provided employees, trucks and sand to save houses in danger of flooding along West Watson and Old Gravois roads.
Ward 4 Alderman Donna Ernst credited the sandbagging efforts of Lindbergh Schools students with saving at least five houses in her subdivision, Forest View.
Determined to do all they could to help, the student volunteers — who were on their winter break — even went to sandbag more at Tapawingo after they finished filling more than 6,000 pounds of sandbags at Forest View, Ernst added.
"I cannot possibly thank you enough for what you did for these neighbors," Ernst wrote in a thank-you note to Lindbergh. "Students and some Lindbergh parents saved at least five homes from being flooded … If it wasn't for you, these home owners would still be working — and most likely not have been able to stop the rising waters."
In Oakville, as water creeped to the edge of the Telegraph Road bridge to Jefferson County and flood waters reached levels not seen since the Flood of 1993, some residents evacuated and others helped sandbag in subdivisions in Oakville and across the river in Arnold.
Mehlville Board of Education member Jamey Murphy told the Call he was impressed by the kindness of people who showed up to sandbag on Starling Airport Road in Arnold, near the business owned by his father, Oakville resident Jim Murphy.
"It was amazing how many people were helping out," he said. "One guy lives off Christopher (Road) and just graduated college. Another was a seminarian, a father and his kids just giving back. People were fighting for their homes, and the community showed up in a big way. It was really amazing to watch. The group started out with about eight people and just kept growing."
Obama's federal disaster declaration paves the way for the federal government to pay for 75 percent of disaster recovery costs through the Federal Emergency Management Agency, or FEMA.
Gov. Jay Nixon activated the Missouri National Guard to support the emergency response across the state, including sandbagging, security, monitoring levees and directing traffic away from road closures.
Although the flooding was concentrated in St. Louis and southern Missouri, it caused 15 deaths, hundreds of road closures and over 1,000 power outages across the state.
At the request of County Executive Steve Stenger, the St. Louis County Port Authority kicked in $500,000 of the funds from its lease agreement with River City Casino to fund no-interest loans to county business owners who were damaged by the flooding.
Both Nixon and Stenger declared a state of emergency during the flooding. At its New Year's Day peak, the surging Meramec reached its highest level since the El Niño of 1982. For the first time since that previous record high, a 24-mile stretch of Interstate 44 west of Highway 141 was shut down for days.
Despite round-the-clock sandbagging by employees of the Missouri Department of Transportation, or MoDOT, Interstate 55 was also shut down in both directions at Meramec Bottom Road Dec. 31, and the diverted southbound traffic and semi trucks brought traffic on Telegraph Road to a halt until it reopened later that night.
With Interstate 55 looking like it would close New Year's Eve, Mayor Mark Furrer posted on Facebook Dec. 30 that since many of the city's public works employees live in Jefferson County, he authorized payment for them to stay at the Holiday Inn so they could get to work the next day.
"I am happy they were willing to stay in the city," he said. "We are blessed to have wonderful staff, always willing to go the extra mile."
In addition to Fenton, the hardest-hit areas in the county were Valley Park and Eureka, where former Mehlville Superintendent Eric Knost — now superintendent at Rockwood — toured the flooding damage at Eureka High School by boat.
Mehlville and Lindbergh schools did not experience any flooding damage.
MSD plants underwater
At press time, Missouri American Water still had a conservation request in place for its customers throughout south county because its South County Water Treatment Plant at Maurer Industrial Drive and Highway 30 was having difficulty keeping up with extra demand after losing some of its pumps to flooding.
As a precaution, Missouri American drew water reserves off a creek along Highway 30 on New Year's Eve in case its pumping capacity from the Meramec shut down altogether, Furrer said. In a Facebook post, he added that the Missouri American manager said they had never had to make such a move in his 38 years with the company.
The Metropolitan St. Louis Sewer District, or MSD, struggled to keep all its water treatment plants operating during the crisis, and two of them shut down completely after they went underwater.
Millions of gallons of untreated sewage will continue to overflow into the Meramec River from MSD's Fenton Wastewater Treatment Plant until it is up and running again, which could take weeks. The Grand Glaize plant in Valley Park closed, but re-opened Monday.
As an extra precaution, Ameren Missouri shut down the Meramec Energy Center in Oakville during the flooding, although the company had no issues at the power plants it kept open — Sioux, Rush Island and Labadie. Flooding shut down Fine Road near the Meramec plant, which prompted concerns from environmental groups that Ameren's coal-ash ponds at the site could have overflowed into the road or the river, as they have in the past.
But despite the record flooding, coal ash did not seep out in Oakville last week, Ameren spokesman Bryan Daniels said.
"My perspective was the ponds didn't overflow or anything," he told the Call.
At the height of the flood, Ameren employees parked at Rogers Elementary and boated to work, but the flooding was limited to the power plant's entryway, Daniels said.
In the past, Ameren has reported "unauthorized discharges" from the coal-ash pits to the Missouri Department of Natural Resources, or DNR, as required by law.
Most recently, heavy rain caused coal ash to flow onto Fine Road in June 2013, but that spill did not cause "any significant adverse impact," Ameren reported to DNR.