Centrum unveils preliminary plans to redevelop Crestwood mall
Unique open-air entertainment, retail venue proposed for mall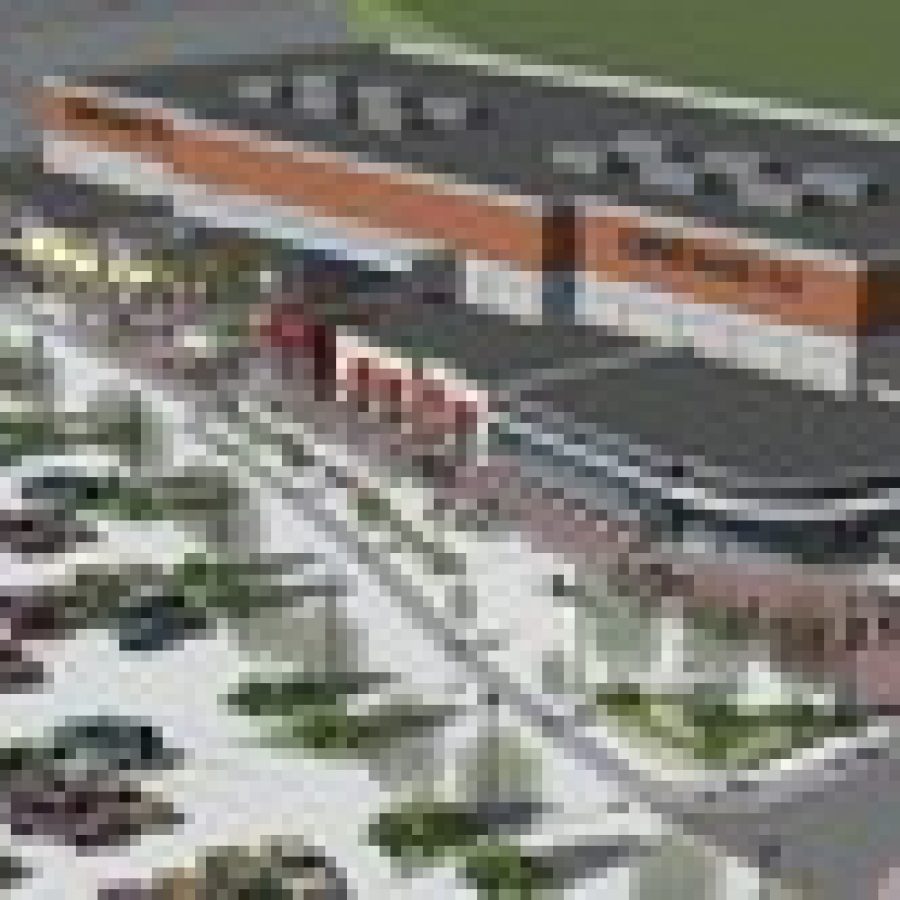 The owner of Crestwood Court is proposing to redevelop the mall into a unique open-air entertainment and retail venue — a one-of-kind experience in the metro area.
Sol Barket, of Centrum Properties, unveiled preliminary plans to redevelop the mall during a Crestwood Board of Aldermen meeting last week.
"… Our goal is to create something unique and special to the entire St. Louis region, a true outdoor community focused on dining, entertainment and community gathering … The focal point of our project will be a multipurpose plaza that will host concerts, farmers' markets, book fairs, arts and crafts, dance and theater …," he said.
As proposed, the nearly 50-acre shopping center site at Watson and Sappington roads would be developed in two phases.
The first phase would encompass roughly 30 acres and would include the demolition of most of the shopping center's existing structures with the exception of the former Macy's building, which could house a grocery store, health club and entertainment spaces.
Including the three-story former Macy's building, the first phase of the project would feature about 310,000 square feet of space.
Vic Pildes, of Centrum Properties, told aldermen the redeveloped mall tentatively will be called the District at Crestwood.
As proposed, the District at Crestwood will feature a nearly 47,000-square-foot theater, a 24,000-square-foot upscale bowling concept and a roughly 18,500-square-foot Toby Keith's I Love This Bar & Grill that will include a concert stage. In addition, the redeveloped mall will feature a variety of restaurants, outdoor dining areas and a 25,000-square-foot main plaza.
"… We're phasing the development because we did not want to wait for the market to absorb a full 600,000 square feet, which is what … a 47-acre parcel could support in terms of entertainment and retail," Pildes told aldermen. "We have tenants for approximately 310,000 square feet … who are willing to commit to our first phase now. So we've designed the site to create an entertainment district in the first phase …," which extends to basically where the Sears building stands today.
Regarding the second phase, he said, "The uses and the tenants in that second phase we're working on now. They haven't been determined yet. There might be further entertainment tenants. There might some retail. There might include some residential …"
While the former Macy's building will remain, Pildes said, "… The rest of the existing buildings are being torn down, simply because they were built originally as an outdoor center, with an enclosed mall added on. They are not of the depths or in the locations where we would put exterior retail or entertainment today …"
Barket said this was the first time he was presenting a preliminary concept for a redevelopment project in a public setting.
"… This is the first time I have presented something in a public format in a community surrounding like this on a preliminary basis, and we've done hundreds and hundreds of projects over a 30-year period," he said. "And we would not be here had we not felt confident that this is a project that can and will move forward with the support of the aldermen and the community. We had not felt that way necessarily six months ago. We've owned this a little over four years now and so what happened in the last six months to make us comfortable today versus six months ago?
"What happened primarily is the fact that Sears made the final decision to exit, leave the property. And that was huge because Sears has been a staple in this community for I don't know how many years — a long, long time. We did not want to be the people that pushed them away … They did not necessarily fit into our new format as we envisioned it, but we would have made it work, and we just felt like it was too big of a decision for us to push one way or another …"
When Sears announced in late December it would close its Crestwood Court location, Barket said, "… We eliminated their building because their building was a three-level, 70,000-foot floor plate and it dictated us doing things that were not necessarily easy to do …"
Once Sears made the decision to leave, Centrum essentially had a "fresh slate" to proceed with its redevelopment plans.
"… It gave us the ability to look at it as if there were no restrictions. We didn't have to work around anybody …," Barket said.
While he was not prepared to discuss the financial details of the proposed redevelopment, Barket said Centrum will request public subsidies, including tax-increment financing. Public assistance will be needed to redevelop the site, he said, primarily because of its topography.
"… Although I don't want to focus, I also don't want to brush over the fact that we will be requesting subsidies in this project. It's going to be necessary to fill the void in the financing for this project for a variety of reasons. One is that the topography of this site is probably the worst that I've ever encountered in my development career from the level of Watson (Road) down to the lowest level of the site," Barket said.
"Many people don't even realize what this topography is all about because typically — especially in the last 10 years — you found parking on the surface lot. But there are multi levels of garage that have brought this up to the level that you see it from the eye from the street. And in our redevelopment, tiered parking, deck parking is not the best route to go in doing a development that is user friendly, and we want this to be very, very user friendly.
"And so there's extraordinary costs in dealing with the demolition of not only the mall, but the existing garage in trying to create a topography where we can redevelop a new center that's very friendly and has primarily surface parking. So I just want to bring that out there. We are not presenting details of the TIF tonight … We want this to be a cordial, friendly engagement. We really, sincerely, want to hear some feedback from the community, good or bad … But the TIF, because we're not able to provide real details tonight, we just think it would be a more productive meeting to talk about the plan and the uses …," he added.
Ward 2 Alderman Tim Trueblood asked Barket what type of time frame he envisions for the redevelopment project.
"… A huge part of it is dictated by the entitlement period … Once we have our entitlements, we will immediately, very quickly, go to construction drawings and develop this project … We know there's going to be a lot of discussion about this project and about the subsidies that we will be requesting," Barket said.
"That's normal. That's expected and it's appropriate. Ideally, we will get through that process within a year or less … The only good thing about that process taking the amount of time that it does is that we will have that time to do our preleasing.
"So you're not necessarily losing time, they're happening concurrently and we would hope to break ground within six months of (receiving approval of) entitlements. A year to do the major infrastructure and another six months to build out. So maybe 18 months before you're open from that point in time … What I would love to see here, it would be to have this project open by summer of 2014. That is aggressive, but it's possible …," Barket said.