Center for Advanced Medicine to be fully open next week
Medical center a partnership of four medical organizations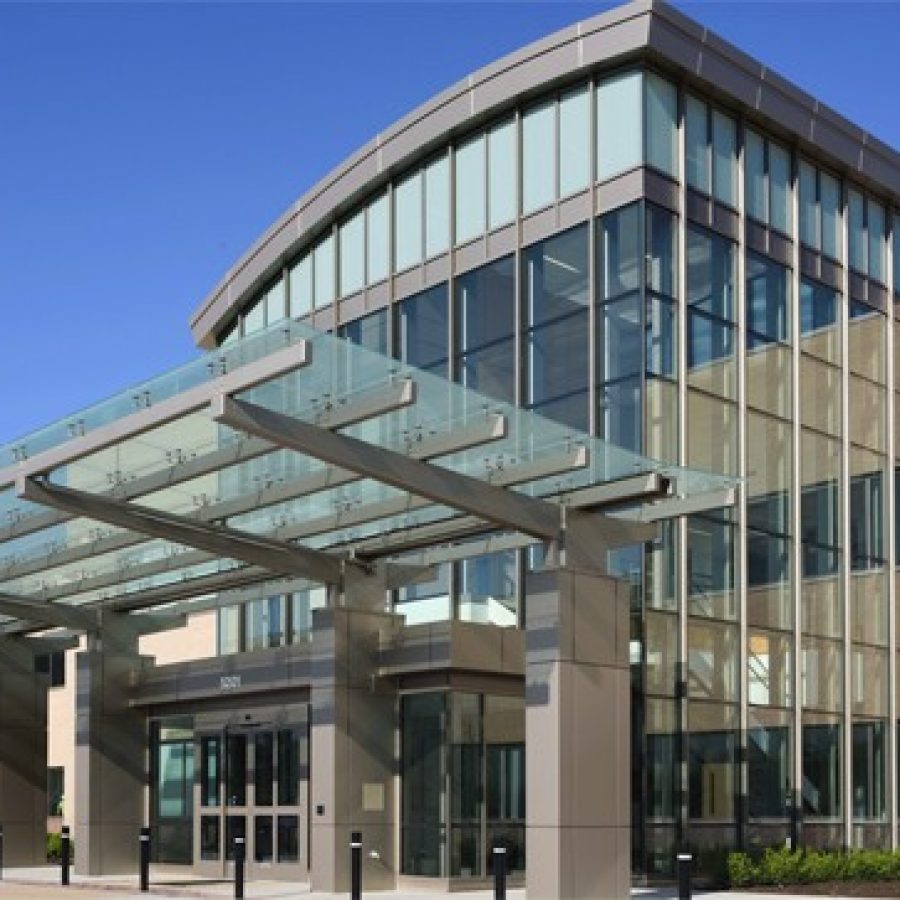 After a rolling opening over the last month, every specialty of Washington University School of Medicine and Barnes-Jewish Hospital's expansion into south county will be fully open for patients next week.
A final surgery suite will open Tuesday, May 16, at the 85,000-square-foot Center for Advanced Medicine-South County.
Located next to the Siteman Cancer Center at Interstate 55 and Butler Hill Road, the Oakville outpatient-care facility offers a range of medical services, including outpatient surgery, orthopedics, internal medicine, ophthalmology, neurosurgery, imaging, laboratory, OB-GYN and physical therapy.
The expansion gives patients in south county, Jefferson County and southern Illinois closer access to the same doctors and many of the same services they previously could only find at the much larger main campus in downtown St. Louis.
Just like another satellite CAM location, Barnes-Jewish West County Hospital, CAM-South County is closer to home and easier parking for many patients, said Kelley Mullen, senior director of clinical operations at the medical school, who oversees all Washington University operations at the facility.
"That's the charm of these places is that they're not that big and it's not that overwhelming," Mullen said. "It really is more of a neighborhood doctor feel than what you'd get downtown."
The medical center focuses on specialists, with no primary care doctors. The staff is comprised of specialists from Washington University, the Barnes-Jewish campuses downtown and in west county and Athletico Physical Therapy.
Tara Hearns, director of operations for CAM-South County, said Barnes-Jewish and Washington University expect that the 16 specialties at the Center for Advanced Medicine-South County will be busy this year, with projections of 700 to 800 surgeries, 20,000 office visits and thousands of medical imaging scans. Two doctors, in ophthalmology and cardiology, will be based in south county.
One advantage for patients is that once they see a specialist who orders further treatment, they can return to the same building for surgery, tests or imaging.
Since CAM-South County is a partnership of four organizations, a patient could go from the care of one to another within the same visit, Hearns said.
"To the patient that seems seamless: I'm just following Dr. Hunt downstairs," Hearns said. "But Kelley and I know that that person is going from a Wash U space to a Barnes-Jewish Hospital space. Since from the patients' perspective it's all one building, we're really trying to promote partnership, collaboration, teamwork and ability for each one of our different areas."
Although the staff are employees of multiple organizations, they undergo joint training and orientation and sat together at the architect's table to design the new south county center, Hearns said.
Since CAM doctors, managers and employees have seen the south county location take shape from their ideas to architect's renderings to the real thing, they've taken pride in building a unique community and culture at the south county campus, along with designing a building that residents have welcomed to the neighborhood, Mullen noted.
"We really tried to figure out what would help us fit in at south county," she said. "We really wanted to be part of the community down here."
As county planners approved plans for CAM-South County, they mentioned how happy they were that it was opening because the medical center's services meet a need in south county that currently goes unmet, Hearns said.
Washington University and Barnes-Jewish also own and operate the Siteman Cancer Center next door.
With Siteman also undergoing an expansion, the new building fits in with the mission of the existing cancer center by offering more advanced services and imaging to cancer patients at Siteman. The two medical centers are connected by a covered walkway to make it easier for cancer patients to move back and forth between doctors and treatments.
One of the unique additions to the south county campus is a mobile pad where the medical center can bring in any mobile truck that offers any advanced medical treatment, some of which may not have even been invented yet.
Previously, patients needing more advanced cancer radiation services had to go to the west county hospital to access them, Hearns said.
"I think that's a really neat feature and a great thing to add to south county," Hearns said.